Prior to a couple of months ago, arguably the biggest crisis in the airline industry was the the Boeing 737 MAX, which has now been grounded for over a year, following two 737 MAXs crashing.
A Twitter user asks about the Boeing 737 MAX grounding, in light of the coronavirus situation. Who is hurt most by this?
https://twitter.com/MikeJMacco/status/1239760568803876864
Airlines are now happy the 737 MAX is grounded
Without a doubt, at this point airlines that were previously "suffering" from the grounding of the 737 MAX are very "happy" the plane is grounded (I put "happy" in quotes because I'm sure they'd rather that times were just better, but given the situation…).
Most airlines have grounded at least percentage of their fleet, so they're probably pleased that the 737 MAX isn't certified to fly yet, because that would just be more planes that they'd have to ground.
One thing to keep in mind is that up until now some airlines have kept older planes in their fleet while they wait for the 737 MAX to return to service. At this point those airlines have a good opportunity to retire those planes immediately to reduce capacity.
Airlines have largely been negotiating settlements with Boeing over the 737 MAX being grounded. My guess is that for the coming months those settlements will be significantly less in light of planes being grounded. In other words, airlines can't as easily argue that they're losing revenue due to the 737 MAX being grounded, when they're grounding most of their fleets.
Could COVID-19 be worse for Boeing than airlines?
Airlines are obviously in a terrible situation at the moment, though arguably Boeing is in at least as bad of a situation, if not a worse situation. In many ways the good fortunes of Boeing over the past few years have been fully reversed at this point:
Boeing has the 737 MAX grounded, which continues to be an uphill battle
They have hundreds of 737 MAXs ready to be delivered to airlines, though we'll see how many of those airlines are in business/able to pay for the planes when this is all over
We can expect a huge number of aircraft deferrals for planes that have been ordered but not delivered
I would be shocked if Boeing sees any substantial number of aircraft orders in the coming year or so
Not that the stock market ever fully sums up what's going on at a company, but it's telling that Boeing's stock has performed even worse than most airline stocks in the past few weeks.
On February 12, Boeing's stock was at $347, while now it's at under $130.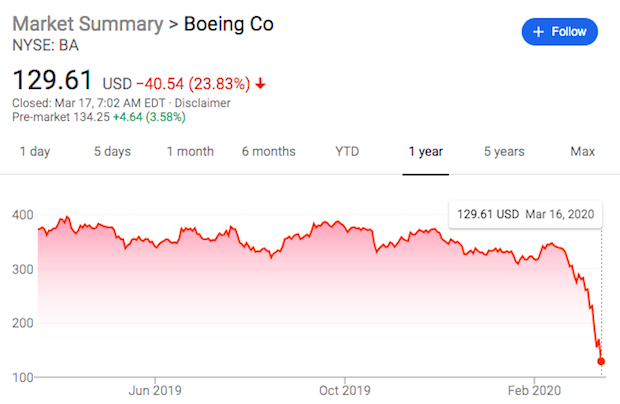 Then again, Boeing's stock has had an incredible rise the past few years (and in retrospect I think we can make sense of what caused that), so even at ~$130 it's now back at mid-2016 levels, which was otherwise still a reasonably good time for the company.
Bottom line
In many ways I suspect this will be a turning point once again for the airline industry, just like 9/11. Fortunately airlines are better positioned overall than they were a couple of decades ago, but airlines achieving record profits and then begging for a $50 billion bailout from the government isn't a good look.
Up until now, many airlines have thought they could do no wrong and would make money no matter what, so I think this situation will at least temporarily reset the approach airlines take towards aircraft orders, etc. The industry on the whole will likely go from a growth stage to a sustainability stage.
To airlines, the 737 MAX being grounded right now is a blessing. But for Boeing it's very bad news — expect aircraft deferrals, and many of their customers may also go out of business. The company is even asking for a $60 billion bailout from the government.
I think that's very much reflected in Boeing's current stock trajectory…
What do you make of Boeing's situation in light of the coronavirus crisis?