I have the tendency to get a bit obsessed with random airlines. For example, last year I took an interest in Air Astana, and then a few weeks later I flew them.
Well, my newest airline obsession is a transatlantic airline, and they operate what I perceive to be the most random transatlantic route. They're also one of the only airlines to operate Airbus A310 passenger planes on transatlantic(ish) routes.
I'm talking about Azores Airlines, formerly known as SATA. As the name suggests, they're based in the Azores (an archipelago in the mid-Atlantic that belongs to Portugal), and operate flights to both North America and mainland Europe from there. Here's their routemap: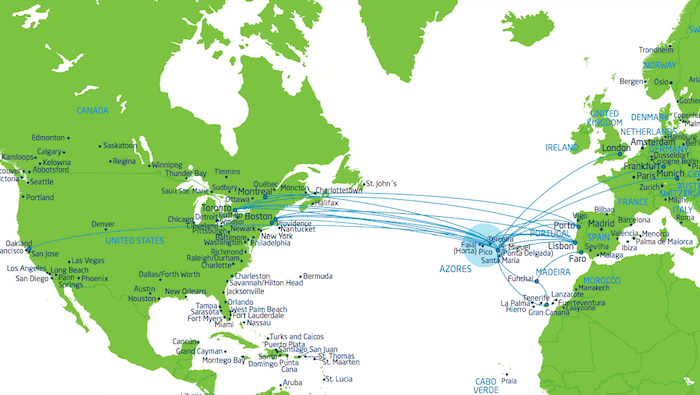 I had heard of the airline before, though can't say I ever researched them much. However, I'm in the process of planning a horrible trip with my friend Andrew B. (we're talking Spirit, Aerolineas Argentinas, etc.), and in the process he brought up Azores Airlines.
For example, you can fly them from Lisbon to Boston via Ponta Delgada for $866 in business class. Perhaps I'm the only person excited about two flights on an A310.

They also fly from Lisbon to Ponta Delgada to Toronto, should you prefer that.

Or they even fly from Lisbon to Toronto nonstop, so aren't just serving the Azores.

Ready for the most random route of all, though? They fly from Terceira to Oakland. Say what now?!

To put all those routes on a map: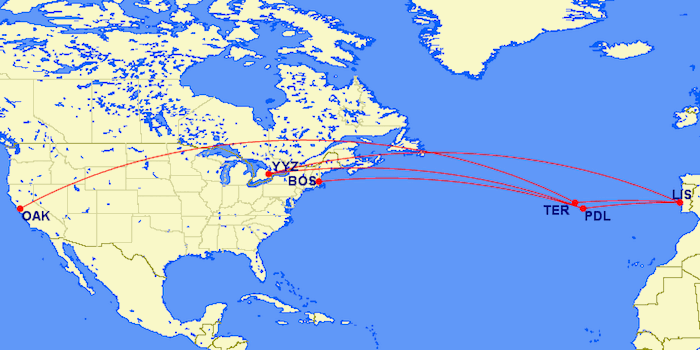 Azores operates a fleet of seven planes, including three A310s, three A320s, and one A330.
The business class product on the A310 looks a bit better than domestic first class in the U.S. FlyerTalk member Carfield has an excellent trip report about the product.
Meanwhile it looks like Azores Airlines acquired their A330 from Royal Jordanian, and it has angled seats in business class, which are a bit more comfortable.
Then for the Oakland flight it looks like Azores uses a leased Hi-Fly A340, similar to the ones we've seen Finnair and La Compagnie use.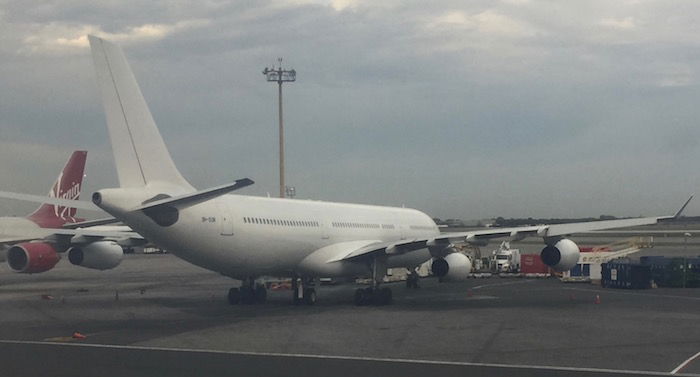 Call me crazy, but as an aviation geek I think I'd prefer to fly an A310 over the more modern A330 or A340.
Perhaps what tempts me most about booking one of these fares is the ability to have a short stopover in the Azores. For example, on the Lisbon to Boston itinerary, it's possible to get a ~32 hour layover in Ponta Delgada. Hotels are even easy — the Azor Hotel isn't far from the airport, and is a Starwood Design Hotels property.
Bottom line
Not all of my airline obsessions are especially logical. For some reason, Azores Airlines fascinates me, though. I'm not sure if it's that they offer what I consider to be the most random transatlantic route, if it's that they fly A310s, or if it's that they have cheap business class fares that allow me to easily visit the Azores for the first time. Regardless, they sure have my attention.
Has anyone been to the Azores, or flown Azores Airlines/SATA?