My friend Mike has written about his travel experiences on the blog, including:
Mike is back to share one of the most awkward conversations he has had while planning a trip with friends, and will hopefully be posting more regularly going forward.
---
As I mentioned in my previous post about our stay at the Hyatt Olive 8, our family recently enjoyed a cruise to Alaska.
Before our trip, I was researching excursion options in Ketchikan and a floatplane trip to see bears stood out as a great idea. I really enjoy seeing and photographing wildlife and have never been on a floatplane. That's a pretty solid twofer for me. So, we went ahead and booked the excursion.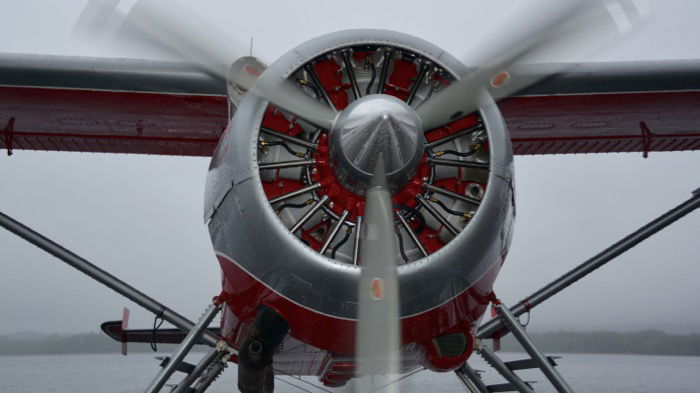 A few months later, my friend's wife decided she also wanted to do a flightseeing tour from the same company and since I was already in touch with them, she asked if I could get a quote.
The awkwardness begins
I was happy to follow through with the tour operator until the booking agent came back with an important but incredibly awkward question for me: "how much does she weigh?"
I know better than to run around asking women their weight. Hell, I don't want to run around advertising my weight. But, I really needed the information because the pilot has to properly distribute the weight in the plane.
I envisioned this all working out something like this:
Being a millenial and preferring less direct interaction rather than more, I quickly decided I'd text the question instead of asking in person or over the phone. But, how would I ask?
I wrote that text at least 20 times. Here are some of the drafts:
Hey, the pilot needs your weight?
So, this is awkward, how much do you weigh?
What age did you lose your virginity? Just kidding, I only need to know your weight for the Alaska flight.
Let's pretend I never asked this, but how much do you weigh?
Pretty much the top of the list of things I should never ask: what is your weight?
I'm positive my grandmother is rolling over in her grave for the following question: what is your weight?
My grandmother was an actual concern for me. She was a wonderful woman and spoiled me. But, she was very proper and a really tough woman when she needed to be. It's been awhile since she's passed, but there are times where her threats to haunt people (we think she was joking) replay in my head. This was definitely one of them.
I called my wife and asked what she thought. She conceded it was awkward but said I was blowing it out of proportion. And perhaps she was right.
But, she didn't stand up and volunteer to ask anyone their weight either. So, I fretted about it some more.
Later that day, I was on the phone with my mom and mentioned it to her. She laughed about grandma's threats to haunt us and then reminded me of the awkward situations grandma put us in over the years. I'd forgotten the time when she continued asking a server pointed questions about ALL of her piercings, even after the server politely made it clear to us some of the piercings were in more intimate areas.
My mom had a point. Even my mostly proper grandmother survived some awkward situations. So, I went ahead and asked about my friend's weight and gave her the option of providing it directly to the tour company.
She had no issue telling me and it was ultimately a fairly anticlimactic end to the story. But, it sure felt like a big deal at the time.
More drama
While the weight issue wound up being anticlimactic, the floatplane was still a source of anxiety for some of us because shortly after paying our deposits for the tour, a similar flight from Ketchikan tragically crashed into the side of a mountain killing all 9 people aboard.
We considered cancelling but decided to stick with the tour. I'm really glad we did.
The flight

The flight was a blast. And I was surprised by how smooth the take off and landing were in the floatplane.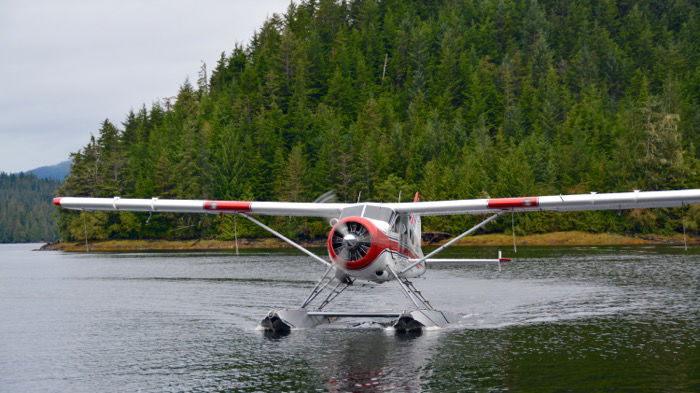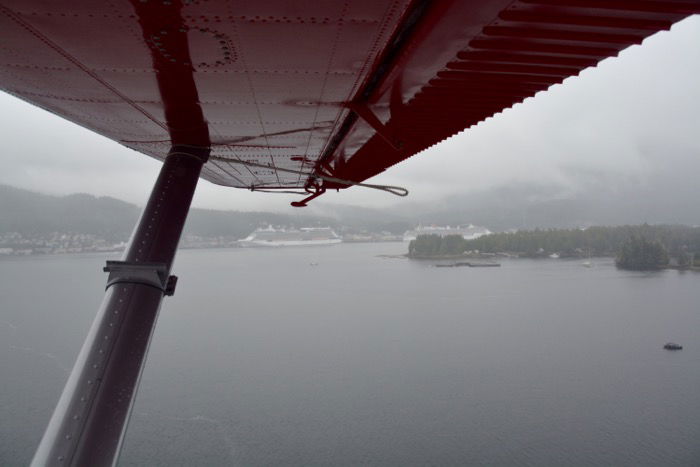 The scenery around the bear viewing area was spectacular.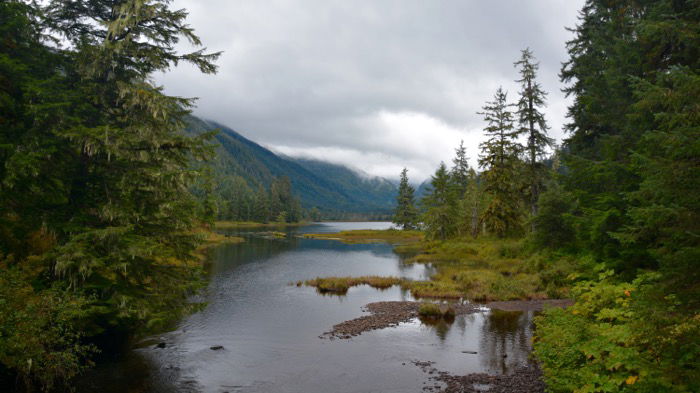 And while we only saw one bear, it was still fun watching it try to snag a few salmon out of the river.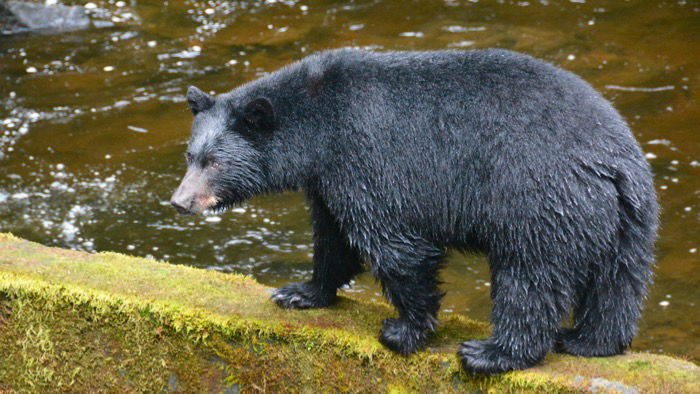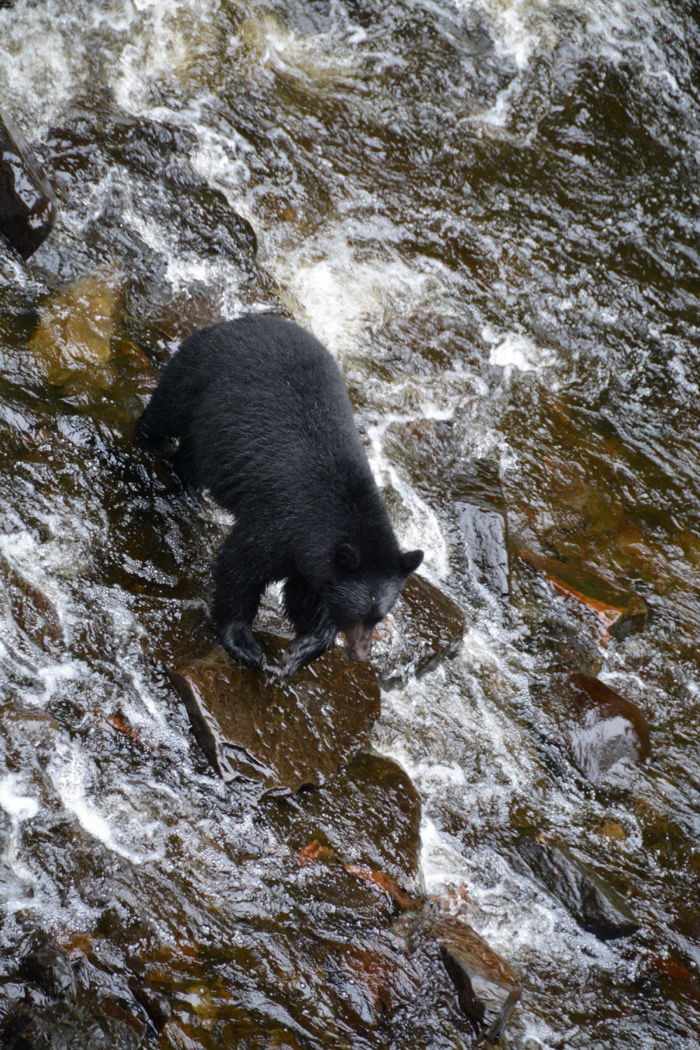 For the flight back to Ketchikan, the weight distribution worked out well for me because the pilot wanted more weight at the front of the plane. She put me up in the copilot seat with a great vantage point (even if this picture is a terrible example).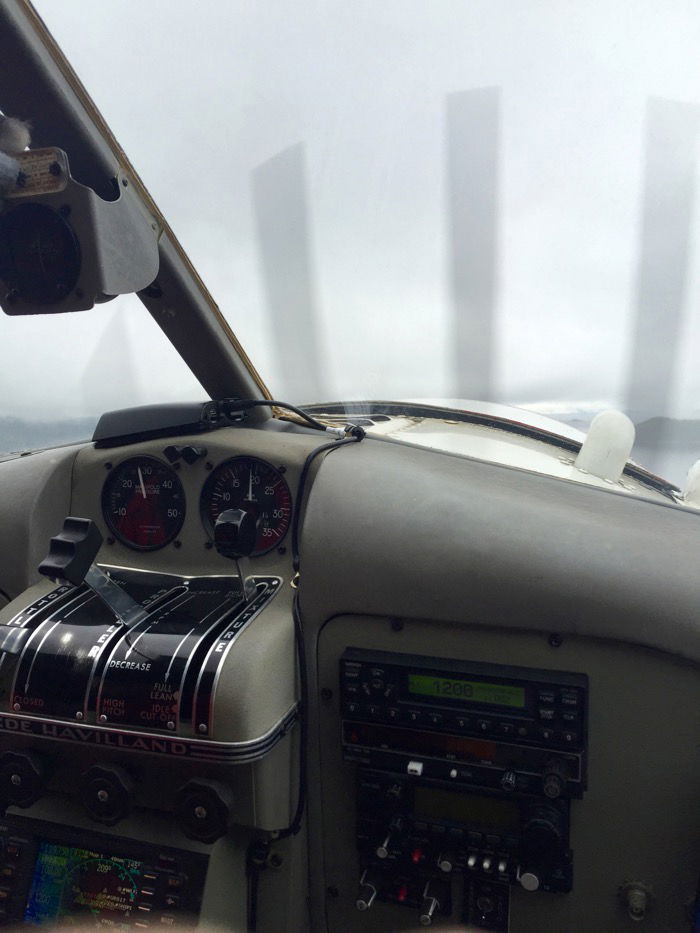 Have any of you been put in a similarly awkward situation when traveling?