While I've written about SPG Moments in the past, I still haven't had a chance to attend one of the concerts myself. I've heard great things from others though, and they seem to be as well-run as the US Open events SPG hosts.
Ultimately I think they're a fantastic redemption option. Not only can they be an amazing value in absolute terms (compared to the retail cost of tickets), but more importantly they're a great way for members to create memorable experiences with their points. After all, for many super frequent road warriors, the best use of points might be one which involves not traveling more.
My friend Mike attended the recent Paul McCartney concert in the SPG Luxury Suite at The O2, and offered to share his experience.
---
There is no doubt Starwood Preferred Guest points are one of the most valuable currencies out there. With great hotel redemptions and airline transfer partners, there are a lot of ways to get great value out of your SPG points.
Another, perhaps lesser-known, redemption option from Starwood is their SPG Moments program, which offer fixed price redemptions and auctions for a host of sports, music and other cultural events.
While Ben is holding out for a Real Housewives cast meet and greet to be his first SPG Moment, I recently took advantage of the program for the second time to see Paul McCartney in concert at the O2 in London. Here's a little bit about my experience:
Redemption
After a fantastic experience with my first SPG Moment, I setup a ChangeDetection.com notification to email me whenever SPG added new Moments to their website. Since they tend to add many new events at once, it's a quick and easy way to stay on top of the new offerings as they become available and before they sell out.
When I was alerted recently that a bunch of concerts at the O2 were available, I looked to see if any of them overlapped with a trip I already had planned for Paris. Sure enough, the Paul McCartney concert would work and it would be a great option. The trip was for my mother-in-law who is the right age to remember the Beatles on Ed Sullivan.
She loved the idea so we redeemed 20,000 SPG points total for two tickets in the SPG Suite and then booked a couple of Eurostar tickets to get us up to London for the day.
The Suite
Similar to their arrangement at Staples Center in LA and Madison Square Garden in New York, SPG has a suite at the O2 in London.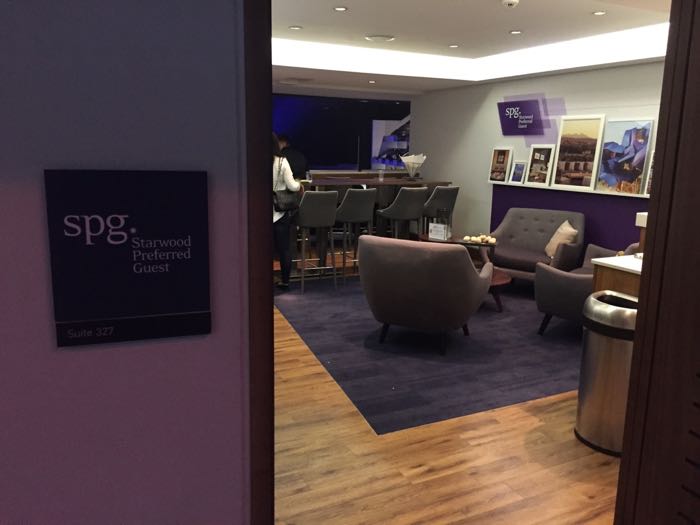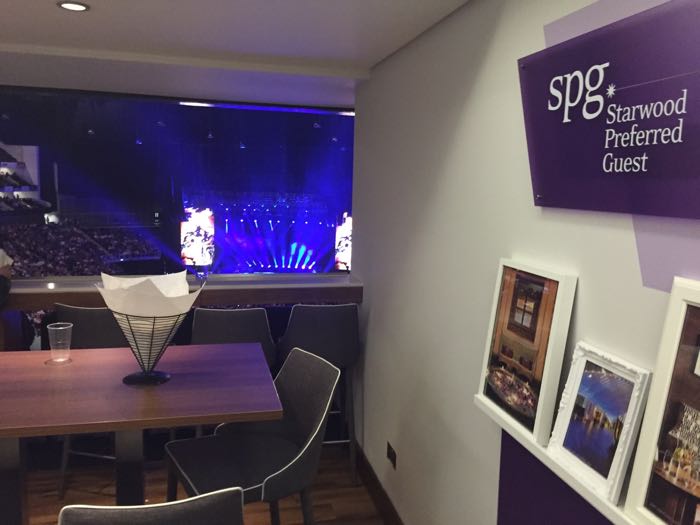 The suite has a direct view of the stage. But, you are quite a distance from it. We were both fine with that since it meant not craning our necks all night.
If you're looking to be so close that the band sweats on you – I'm thinking Ben and One Direction here – these are not the best seats for you.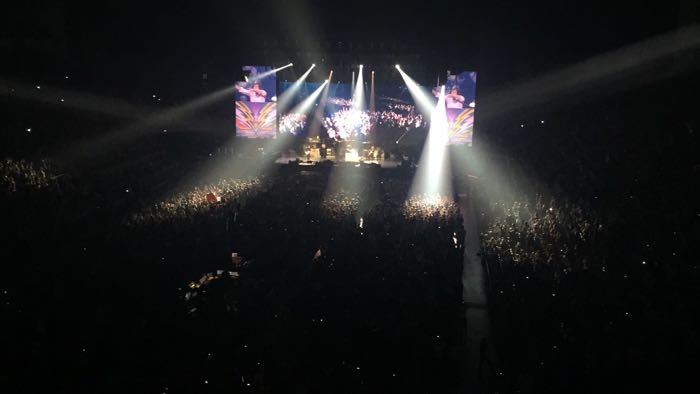 (Note: The camera exaggerates the distance as it didn't feel nearly this far in person)
Upon our arrival, the host and bartender each introduced themselves. They explained the food and beverages were all included in the experience.
The food spread included two types of burgers, loaded potato skins, nachos, salad, chicken fingers, etc. Beer, wine, soda, several types of bottled water were on offer.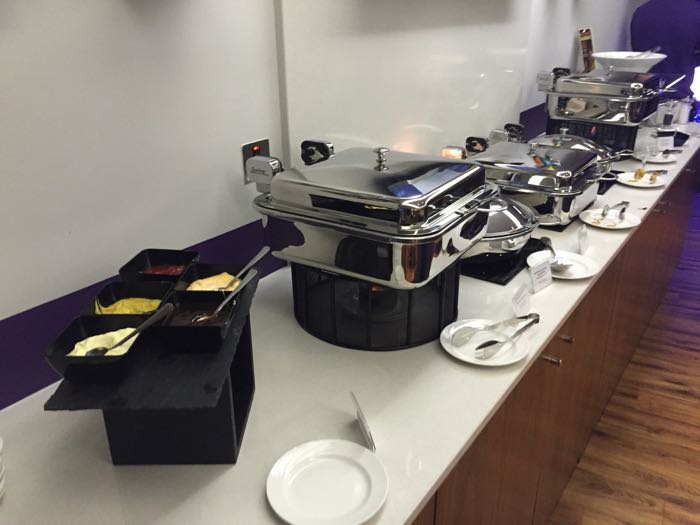 Restrooms were roughly 50 feet away, which was helpful after having a few drinks from the bar.
One potential issue that night was the fact a married couple was assigned seats 5 and 6. With three rows of 5, this meant one of them would have to sit at the end of the first row while the other would sit at the beginning of row 2. We offered to switch seats with them, but they opted to sit at the table top bar in the suite where they seemed to be just as comfortable.
The Concert
Very simply, the show was incredible. I still can't believe a guy a few weeks shy of his 73rd birthday could rock the house the way McCartney did.
With 41 songs, I was tired just watching it and I'm less than half his age. The fact he could perform it all and sound great was amazing. It was easily one of the top 3 shows I've ever been to.
Bottom Line
For a second time, SPG Moments has come through with an experience money would not have been able to buy. My mother-in-law had a wonderful time, which was the goal of this whole trip. For her, this wouldn't have been possible without the extremely comfortable setting of the SPG suite.
Even if it means paying for a hotel room occasionally instead of using points, I will continue to look for more great opportunities to use my SPG balance on experiences like this McCartney concert thanks to SPG Moments.
Has anyone else redeemed points towards an SPG Moment? What was your experience?