My friend Mike is back with another review, this time sharing his experience with three stays at the Hyatt Olive 8 in Seattle. In the past Mike has shared his experience at an SPG Moments event, whereby he got two tickets in the SPG Suite at a Paul McCartney concert, followed by his experience using the American Express Platinum concierge to secure reservations at Jules Verne, the restaurant in the Eiffel Tower, followed by his stay at the Saxon Hotel, Villas & Spa Johannesburg, where he got an incredible room upgrade.
Thanks for sharing your experiences, Mike!
---
Ben has done really thorough reviews of the Hyatt Olive 8 in the past since it is his go-to hotel in Seattle. So, I'll try not to dwell on stuff he's covered in the past if it was similar to my experience.
The real reason I wanted to write up this stay was the exceptional customer service provided by the hotel staff. Our stay was a prime example of how small gestures and thoughtful customer service can generate customer loyalty.
After booking a weeklong cruise to Alaska from Seattle with our kids, my wife and I decided it was best to stay in Seattle for a night on each end of the trip to make sure we didn't run into any issues with our flights from Phoenix and back.
Great first impression
I had to be in Seattle for work about 2 months before the cruise and figured it was good excuse to check out the property. At check-in, I got my first taste of their great customer service when the assistant manager Teresa proactively asked about my upcoming stays and whether I needed anything for that trip since my family would be with me.
I happened to be in the middle of trying to figure out what to do about car seats for the trip (the joys of traveling with a 2 and 4 year-old) and mentioned it to her. Within an hour, I had an email from the concierge with several options for airport transfers that would have car seats available.
Ben has written before about how easy it is to welcome a guest back to a hotel because stay history is available to the check-in agents. This, however, was the first time I've had a hotel employee take the initiative to check on an upcoming stay and care enough to ask if we needed anything. I was impressed and sent a note to Hyatt's Twitter team to acknowledge Teresa's help.
Flash-forward to the trip with the kids, we had a fairly uneventful stay before the cruise. One minor complaint was the long(ish) wait at check in to find a room with two beds. But, we were checking in late and the hotel was completely full. Eventually they found us a room and the rest of the stay was fine.
There are two things worth noting that differ from Ben's previous review. This room had a combination tub/shower. I wish I'd taken pictures of our room for the first stay, but we were dealing with fussy kids that were awake long after their typical bedtime. So, you'll have to take my word for it.
Also, the Wi-Fi process is a little different since Ben last reviewed the hotel. One of the Hyatt Platinum benefits is premium Wi-Fi. To upgrade, you simply accept the premium chargers while connecting to the hotel's Wi-Fi and then it is taken off your bill before checking out.
Check-in for our second stay
After the cruise, we left the ship early and tried 5 times for an Uber driver who would actually show up or not be bought off by another passenger at the cruise terminal. We finally made it to the Hyatt around 10am. As we expected, no rooms were available yet, so we dropped off our luggage and killed a couple of hours wandering downtown and at the market.
It's worth mentioning the lobby had a water dispenser and fresh apples at the check-in desk. We took advantage of both since apples are a great way to keep little hands occupied while walking through the market.
When we made it back to the hotel at 12:30, the bellman Ian noticed our bags were still waiting and asked the front desk about it. So, they were already working to move around some blocked rooms to put us into a very nice corner room with two queen beds. After handing over our room keys, Brittany waited until our girls were out of earshot and asked whether we'd like milk and cookies sent up to the room.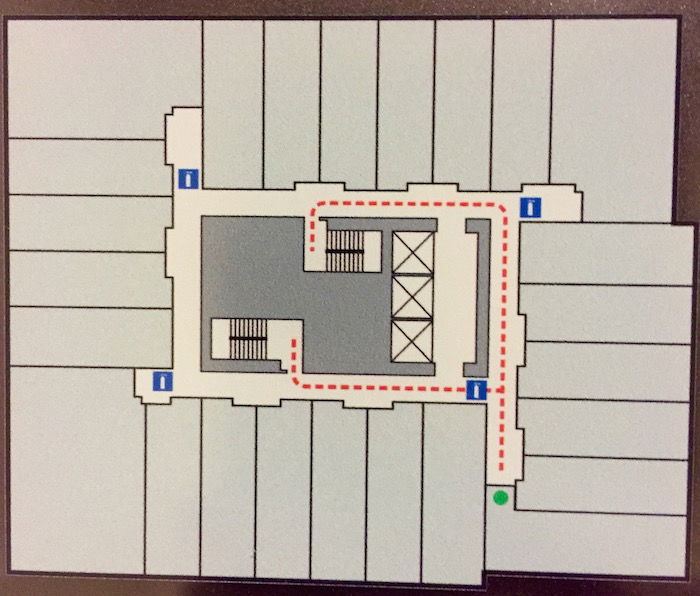 The kids had been troupers so far and certainly deserved the treat, so we asked if they could be sent up a bit later after they'd had a chance to rest/nap. Brittany scheduled the delivery for 4pm.
On our way to the room, Ian mentioned the hotel would like to comp a movie for the kids and also gave my wife and I free drink coupons for the bar. I'm not quite sure why we got to celebrate Christmas in September courtesy of the hotel, but all of these very nice gestures were starting to really add up.
The Room
As I mentioned, we were assigned a corner room. This worked well for us because we had so much stuff. While my wife and I always stick to small carry-on bags, when we have the kids it means extra clothes, strollers, a car seat, a booster seat, snacks and games that all take up a ton of space.
The room had a nice long entryway and then another space along the wall of windows where we could leave our gear.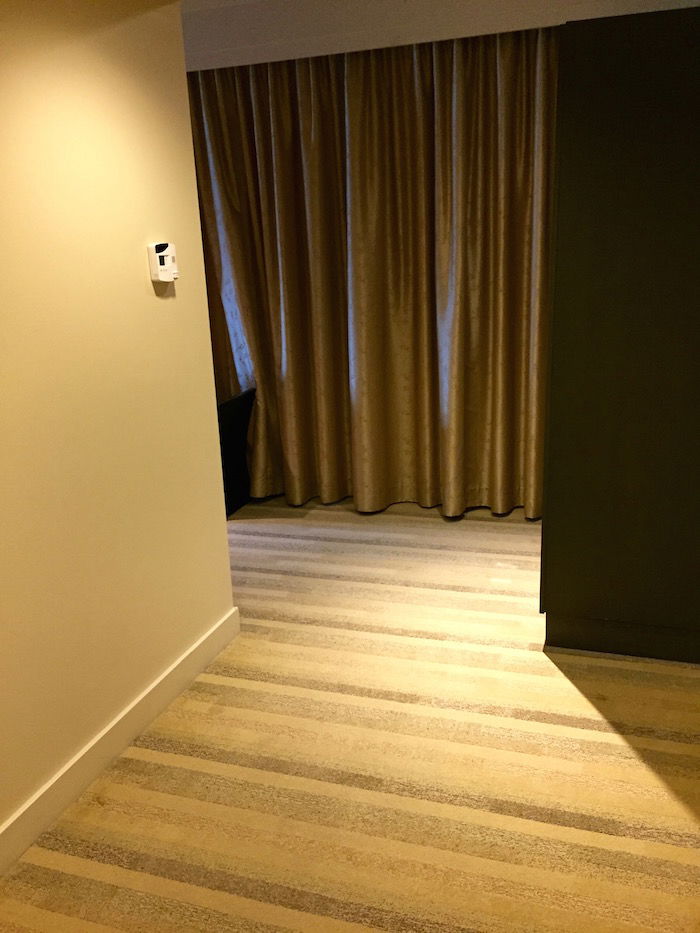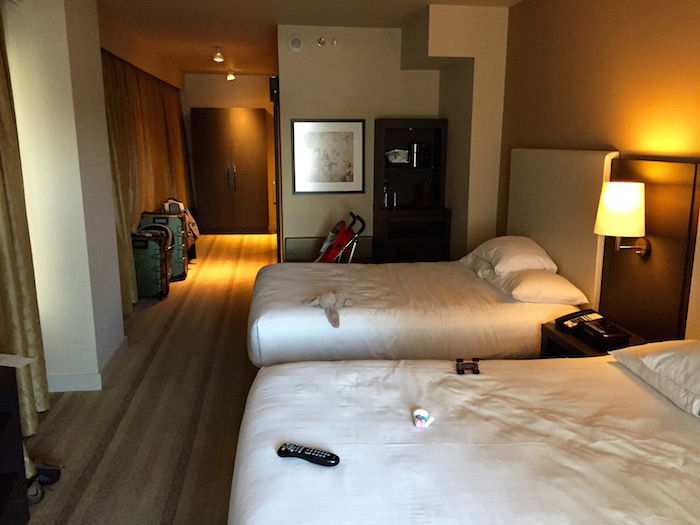 On other trips, we've stayed in tiny rooms where we end up tripping over all of the kid accouterment. Here, there was enough space for a (quiet) game of hide and seek.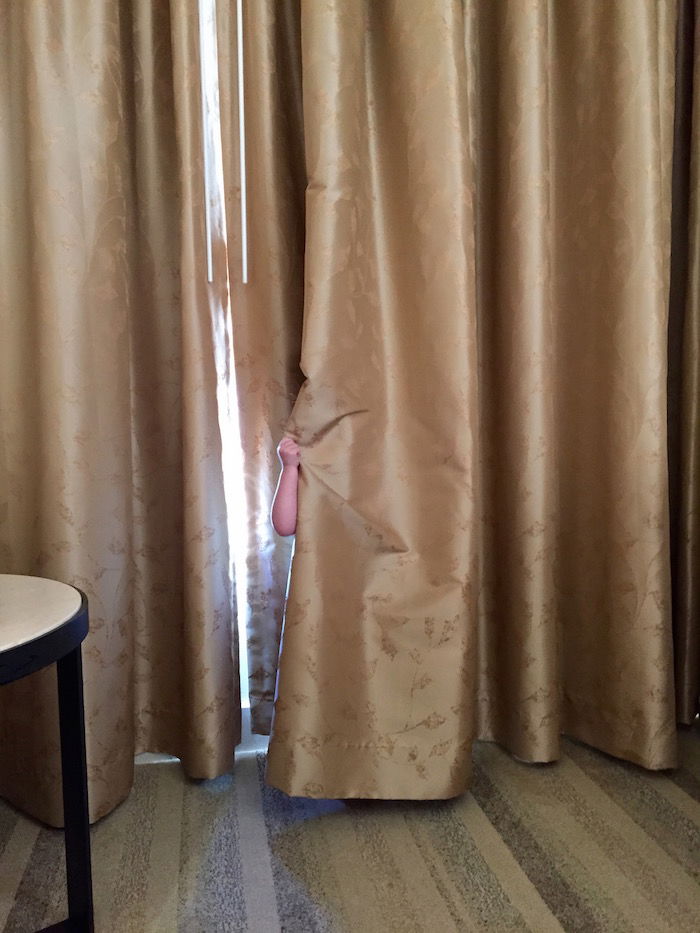 The views aren't the best. In fact, the longer wall of windows faces an office building, which I'm sure offers them interesting glances of hotel guests.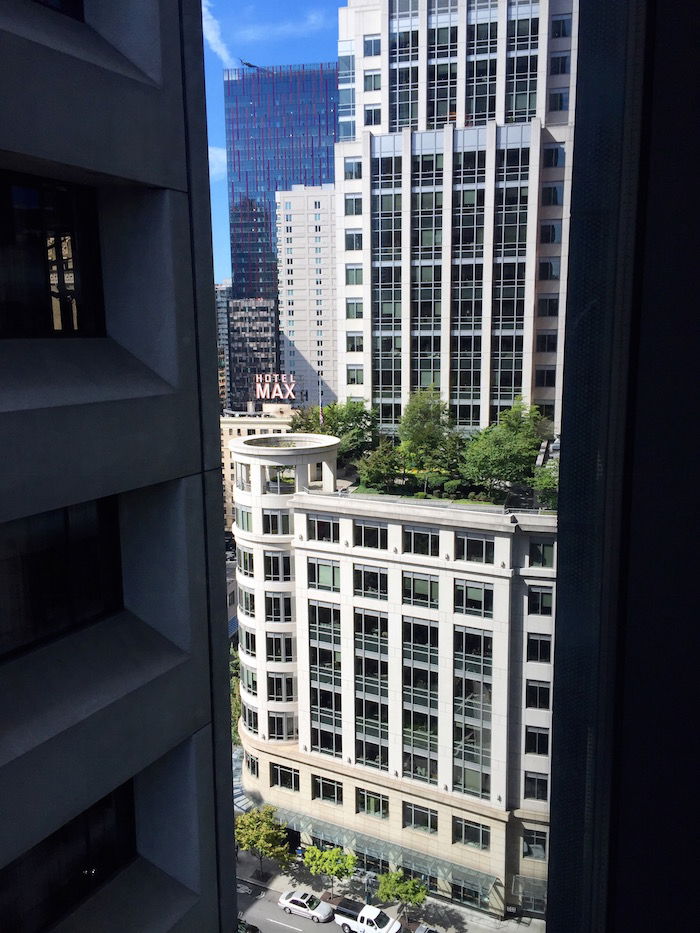 The other window had more views of downtown buildings. Views aren't a deal breaker for me but there are other hotels downtown with better views.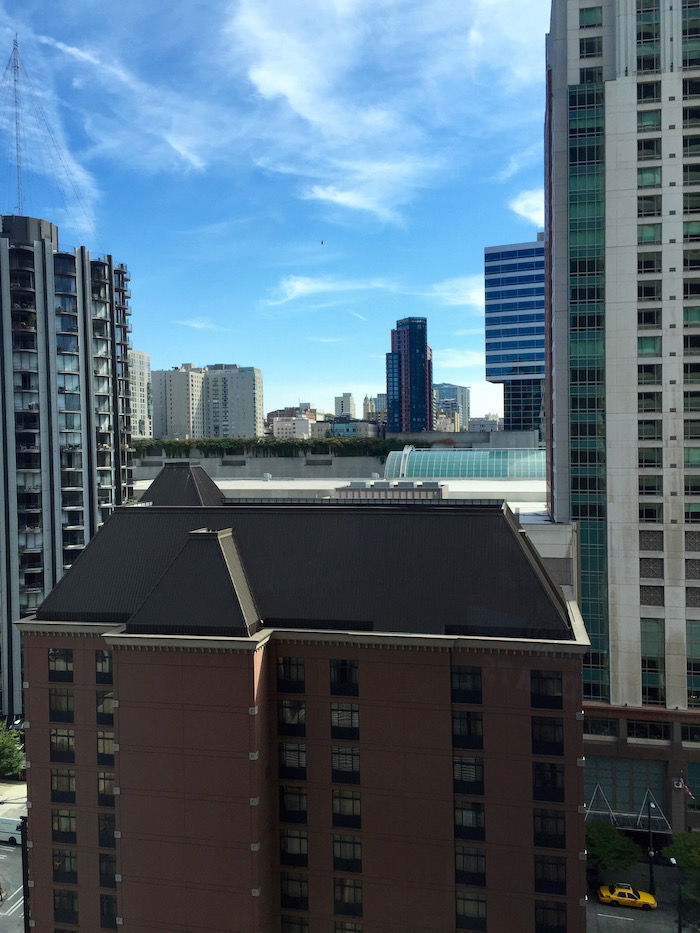 The rest of the room was what you'd expect, with three thoughtful things worth pointing out:
1. Shower controls. The shower controls are on the opposite wall so you can turn on the shower and select a temperature without getting sprayed. Their architect deserves a gold star for thinking about what it's like to actually use the space s/he is designing.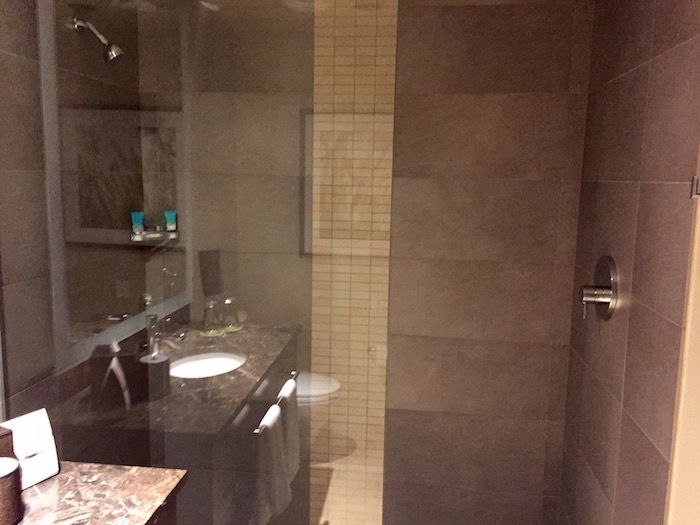 2. A complimentary bottle of water. A free bottle of water always stands out to me whenever a hotel provides it. Too many hotels try to use water as a revenue source. It's always a tipoff to me about whether you are the hotel's guest or if you are their customer. I think that's an important distinction and there was no question we were guests at Hyatt Olive 8.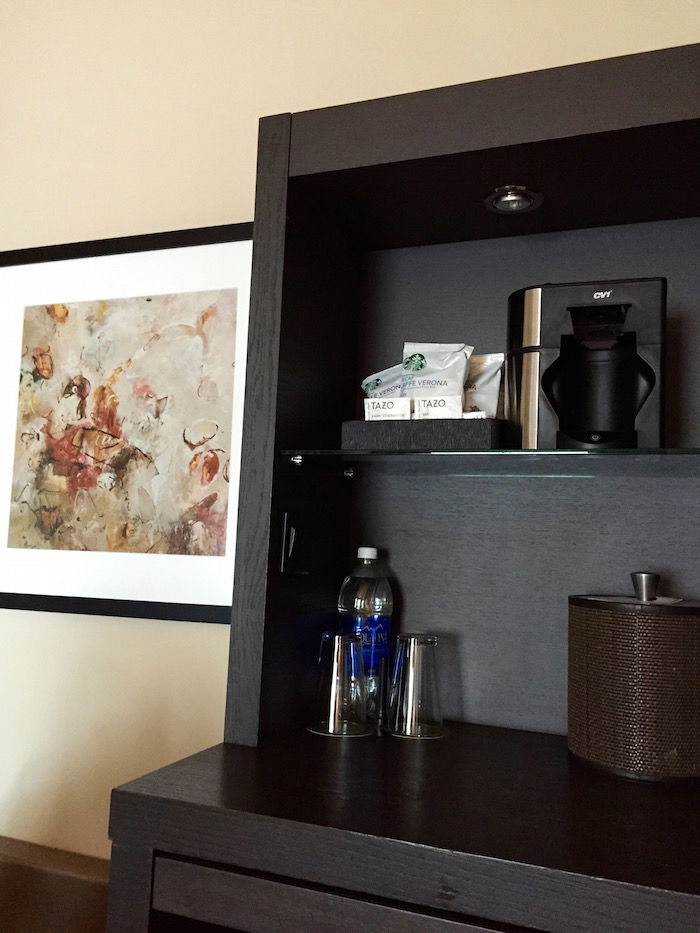 3. Outlets. With the kids playing games and the adults catching up on email, we all needed to charge up our devices. There were four plugs on the desk and two more conveniently located near the bed and minibar.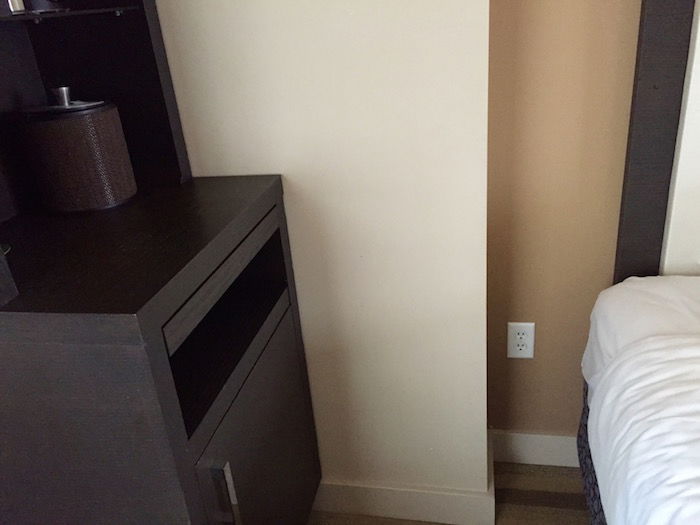 After we all rested a bit, the cookies and milk Brittany scheduled for us arrived at exactly 4pm. Thankfully, I was able to fend off the pack long enough to snap a picture. The cookies were delicious and didn't last long.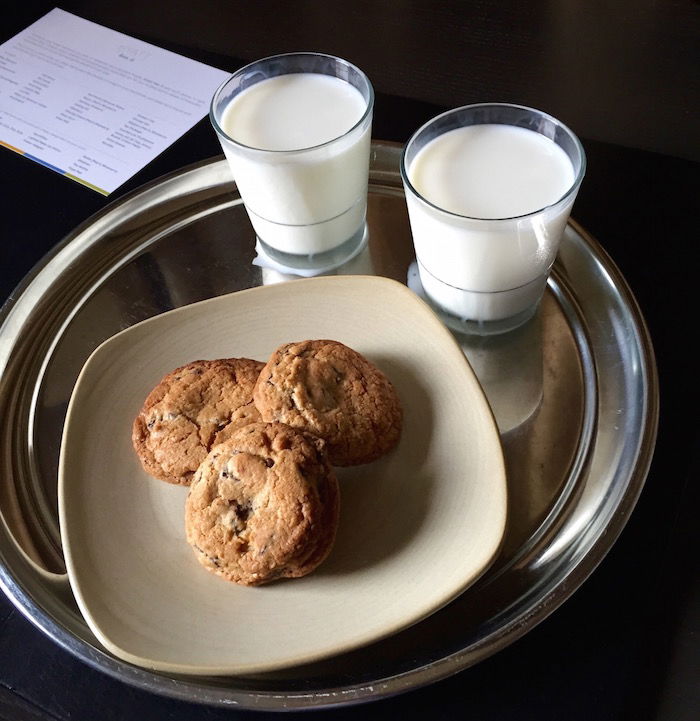 Later that evening, we decided to take the hotel up on the offer of a free movie. After seeing what in room entertainment costs ($19), we thought it was best to confirm with the front desk that we didn't mishear them. Once they gave us the go ahead, we watched Inside Out. It was fantastic and turned out to be the perfect way to wind down after a long day on the move.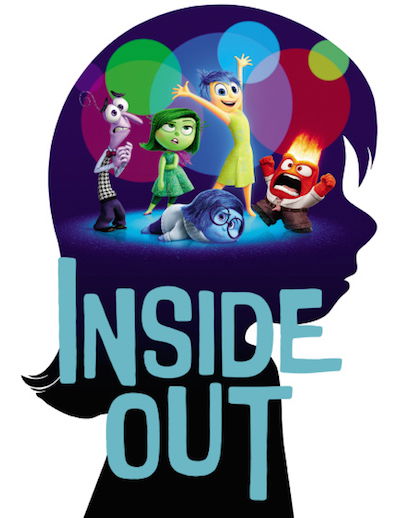 The next day we had a nice lunch at the hotel restaurant Urbane. We were able to use the free drink vouchers we'd received at check in. On the way back to the room, we requested a late checkout and were able to confirm a 3pm checkout. That allowed us to pack up and get in a nap before heading to the airport and suffering through the incredibly warm N gates at SeaTac.
While checking out, Brittany remembered us from the day before and asked if the girls enjoyed the cookies. I was happy the girls had a chance to say thank you. I also made sure to shoot a note to Hyatt's Twitter team to acknowledge Brittany and Ian. They were both very helpful and deserved to be recognized. Plus, I always feel like less of a whiny baby when I complain about a service failure if I'm balanced and acknowledge the successes along the way.
Reality check
Before I'm accused of being too much of a cheerleader for the hotel, I'll point out that the hotel isn't perfect. Ben, Travis and Nick all posted about the award night shenanigans that were happening earlier this year. Thankfully it appears Hyatt has fixed this issue. But, we did initially have issues booking our room on points because of this.
Also, as I mentioned above, our check-in for the stay before our cruise took quite a while and we were asked if we really needed the second bed. I think that's a silly question to ask when a family of four is standing in front of you.
Bottom line
But, the overwhelming feeling from our time at Olive 8 is they have a fantastic team who understand how to warmly treat guests and they go out of their way to ensure you have a nice stay. I now know why this is Ben's Seattle hotel of choice and can assure you it will be mine moving forward. As a pretty loyal Starwood guy, that's saying a lot since there are 3 SPG properties within blocks of the Olive 8.