Avelo Airlines is one of the newest airlines in the United States (along with Breeze Airways). The airline launched operations as of April 2021, initially flying from Burbank to 11 destinations on the West Coast, while offering incredibly low fares. The airline recently introduced a handful of new West Coast routes.
Several months ago Avelo revealed that it would expand to the East Coast. In mid-August the airline announced its first four routes out of New Haven, then in mid-September the airline announced a fifth route, and now the airline has revealed a sixth route.
Avelo's plans for a New Haven base
Avelo Airlines is setting up its first East Coast base at Tweed New Haven Airport (HVN). The airline is starting operations in November 2021, hoping to bring choice, low fares, and convenience, to Southern Connecticut.
Avelo is investing $1.2 million into the airport to help upgrade and modernize facilities and operations, and will also employ more than 100 crew members at the airport by the end of the year, including pilots, flight attendants, customer support personnel, and technicians.
Avelo's investment is part of a $100 million project that the airport has for a new terminal, and an extension of the runway at the airport. As Avelo Airlines CEO Andrew Levy described this decision back in May:
"We are very excited to partner with HVN as we begin to build our East Coast operations. Our surprisingly low fares and refreshingly smooth travel experience are sure to be embraced by residents of Southern Connecticut. Tweed New Haven has enormous potential, and our first East Coast base is great news for Avelo, New Haven, East Haven and other local communities."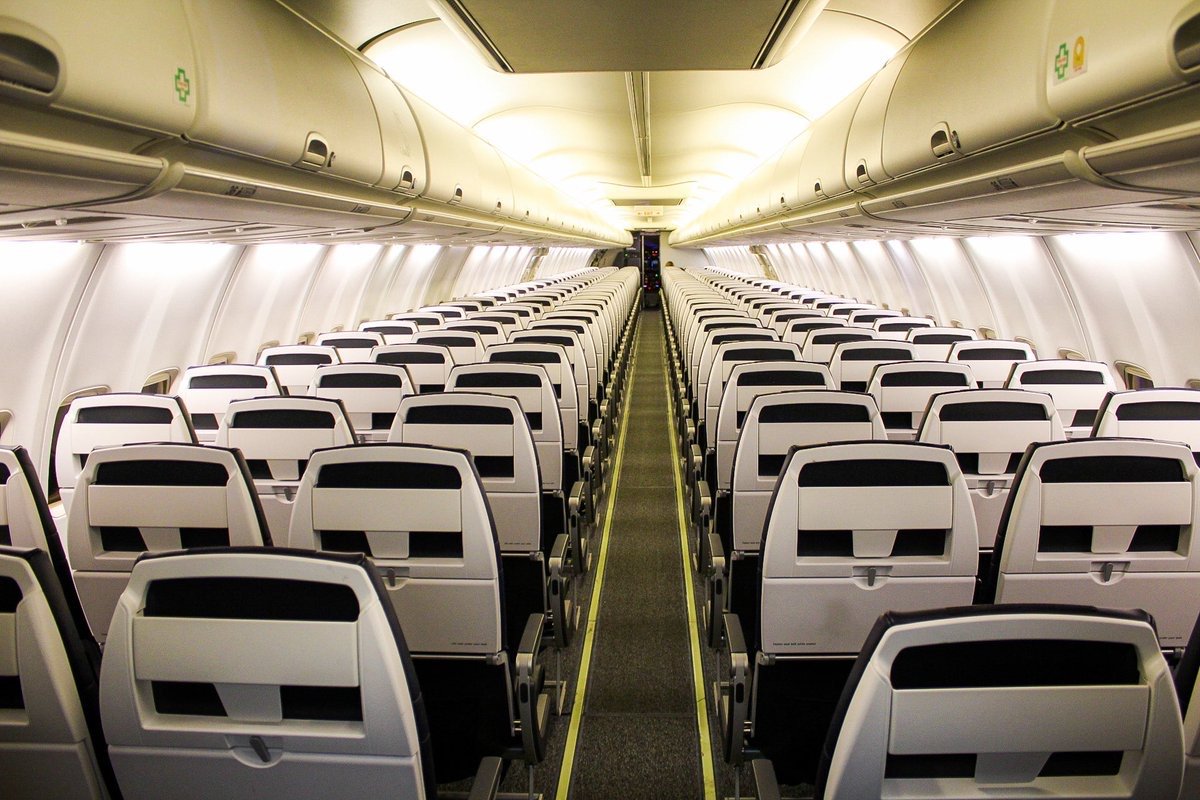 Avelo's routes from New Haven
Avelo Airlines has put tickets on sale for its first destinations from the New Haven base. Specifically, Avelo Airlines will fly between New Haven (HVN) and six Florida cities:
Orlando (MCO) as of November 3, 2021, with 5x weekly flights
Fort Lauderdale (FLL) as of November 5, 2021, with 5x weekly flights
Tampa (TPA) as of November 8, 2021, with 3x weekly flights
Fort Myers (RSW) as of November 11, 2021, with 2x weekly flights
West Palm Beach (PBI) as of December 16, 2021, with 5x weekly flights
Sarasota (SRQ) as of January 13, 2022, with 3x weekly flights
Five of those routes had already been announced, while the Sarasota route has newly been announced. Furthermore, the airline has expanded service over peak holiday travel days — between December 16, 2021, and January 4, 2022, the airline will run daily flights to Fort Myers, Tampa, and West Palm Beach.
Fares on these routes start at $59 one-way, though of course vary, and could go up over time.
With these new routes, here's Avelo Airlines' overall routemap: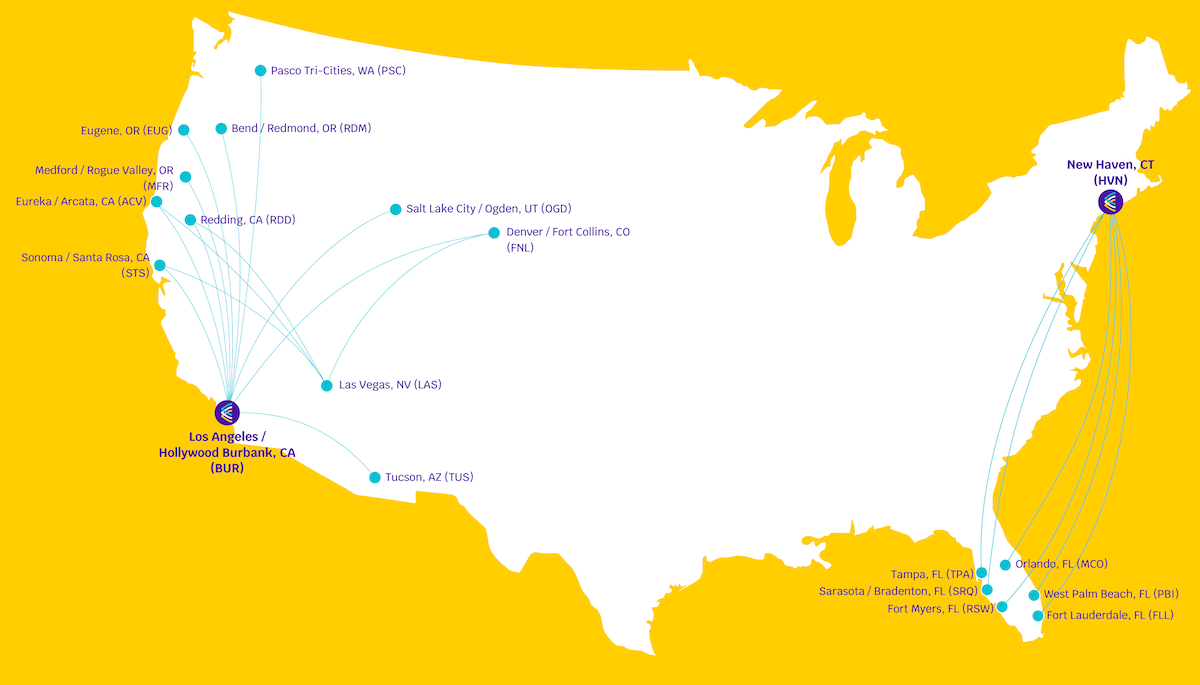 All of Avelo's flights out of New Haven will be operated by Boeing 737 aircraft, including 147-seat Boeing 737-700s, and 189-seat Boeing 737-800s.
My take on Avelo's New Haven base
Avelo Airlines is an ultra low cost carrier, and we knew from the beginning that the airline intended to primarily serve markets that aren't served by other airlines.
Avelo started operations by setting up a base in Burbank. Los Angeles is a major market, and Hollywood Burbank Airport is an incredibly convenient airport for so many people. While Avelo's routes were largely unique, the airport as such was already fairly well served.
The new base in New Haven is much more fascinating and riskier, if you ask me. For context, Tweed New Haven Airport serves just around 50,000 passengers per year, and the airport has a single commercial route, on American Eagle to Philadelphia (and that was even recently suspended).
There's so much potential value here, but also risk:
Avelo is run by some smart people, and I'm sure they've run the numbers on these routes, and they believe this will make sense
At the same time, it's fascinating to essentially set up a base at an airport that otherwise doesn't get much service
I'm sure the cost structure for Avelo at the airport is amazing, and much lower than in Burbank
Tweed New Haven Airport is just under an hour drive (around 55 miles) from Hartford-Bradley International Airport, so presumably the airline is primarily hoping to poach passengers who would otherwise fly out of there; the airport is also just a few miles from Yale, so I'm sure this will be popular with college students
It shouldn't be too surprising to see that Avelo's first routes out of New Haven are all to Florida, especially with flights operating in the fall and winter. If this coming winter is anything like last winter, Florida could once again be the hottest leisure destination for the season.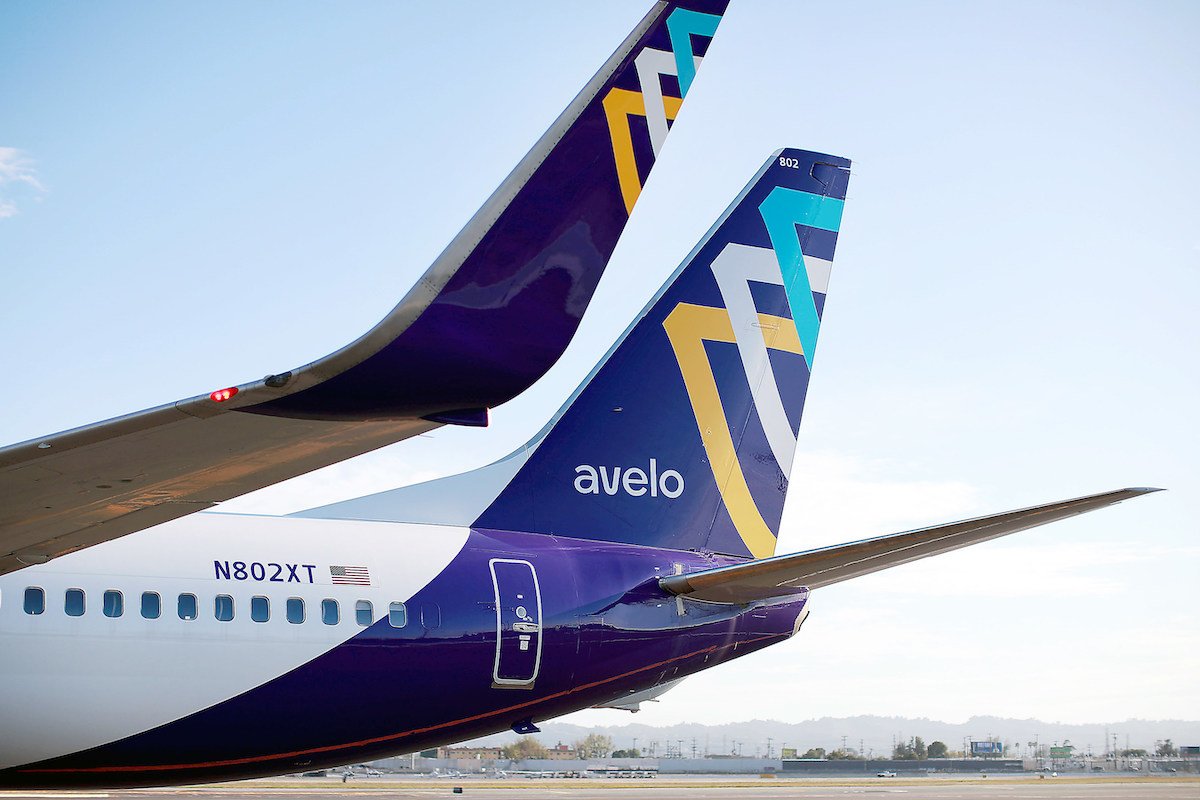 Bottom line
Avelo Airlines is setting up its first East Coast base at Tweed New Haven Airport. The airline will connect Connecticut with six destinations in Florida, offering 2-5x weekly flights in each market (and up to daily flights during the peak winter holiday). Tweed Airport is currently a tiny airport that gets very little service, and it's just under an hour drive from Hartford. The airline is betting on South Connecticut and the surrounding area, and I hope the bet pays off.
What do you make of Avelo Airlines setting up a base in New Haven, and the initial Florida routes?