I'm all about maximizing premium cabin awards, whether it's finding the most direct routing, the most fun routing, the routing which maximizes Krug consumption, etc. 😉 "Best" means different things to different people. So I figured it would be fun to look at reader Todd's specific situation, as he's planning a special trip to Asia in March 2017 (and hopefully this helps others planning trips in similar situations):
We'll be taking a special trip to Asia in March 2017 and I'd love some help ranking the most spectacular or most aspirational flight options.

My shortlist includes:

Emirates A380 in F
Singapore A380 in F
Singapore B777-300ER in F
Cathay Pacific B777 in F
Korean A380 in F
Korean B747-8i in F

I was also considering Japan Airlines, ANA, and Asiana, but the above seemed the most exciting and special after some research.

How would you rank my list? Would you include Japan Airlines, ANA, or Asiana ahead of any of the ones in my list?

The only one I've already flown is Emirates A380 in F but I'm really excited to share that with my husband, so it's definitely still on my list.

Thanks very much for your help — this is going to be a special trip for us and I want to get it right! We have all the necessary miles/points on Alaska, American, Citi, Chase, Amex, etc. We'll be flying from Seattle, but positioning to SFO, LAX, or YVR to have access to the best products. We'll fly to BKK and return from HKG; we have a cruise in the middle from Singapore to Hong Kong. So really just looking for the most incredible flights from the US to Asia (BKK, though really mostly concerned with the longhaul segments) and back (from HKG, though really mostly concerned with the longhaul segments).
Which airlines have two first class award seats?
The first question isn't even which airline offers the best product, but rather which might have two first class award seats available. It's still outside the booking window for March 2017, and patterns can change, but here are my general thoughts on two first class award seats:
Emirates A380 First Class — This should be extremely easy to snag with 100,000 Alaska miles per person, both from the US to Dubai and from Dubai to Asia
Singapore A380 Suites Class — While Singapore can be inconsistent, they do quite often make two award seats available from Los Angeles to Tokyo Narita to Singapore, so this isn't out of the question
Singapore 777-300ER First Class — Historically this shouldn't be too tough out of one of Singapore's US gateways, though the added wrinkle is that the airline is in the process of reducing the first class seat count on the plane from eight to four, which is impacting availability
Cathay Pacific 777-300ER First Class — This is probably the toughest of all, as Cathay Pacific typically only releases at most one first class seat between the US and Hong Kong in advance nowadays, so I'd probably eliminate this option
Korean Air A380 or 747-8 First Class — Korean Air is fantastic about making first class award space available, so assuming you're not traveling over blackout dates, this one is a sure bet in terms of availability
Which option would I select?
Given the situation — that it's a special trip, they aren't in a rush, and seem to want to have fun — I think flying Emirates first class in one direction is an absolute no brainer. I think Emirates first class is the "funnest" first class product out there, between the onboard shower, onboard bar, and all the over-the-top bling.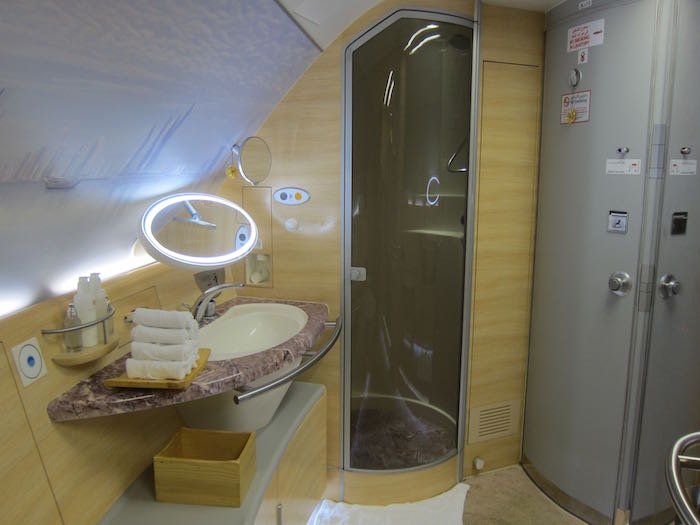 And I'll take it a step further — Emirates first class is more fun if you're traveling with someone than alone. Unlike other modern first class products, the great thing about Emirates is that you can sit next to someone and be able to talk to them, so you can really enjoy the full experience together.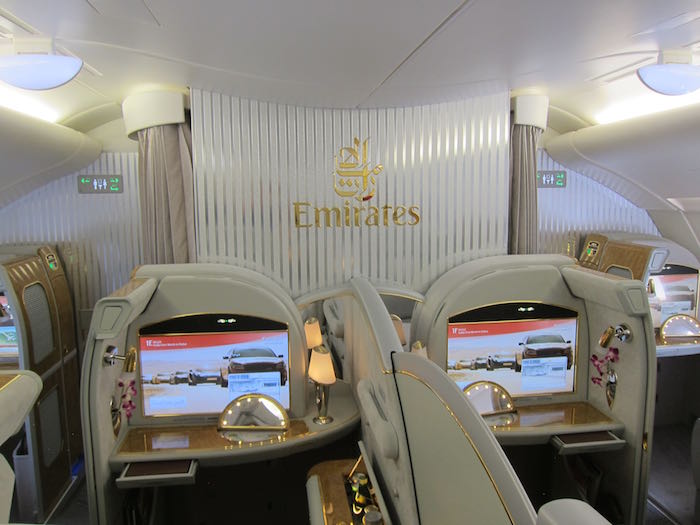 My first choice in the other direction would be Singapore Suites Class. I mean, what's not to love about a double bed in the sky?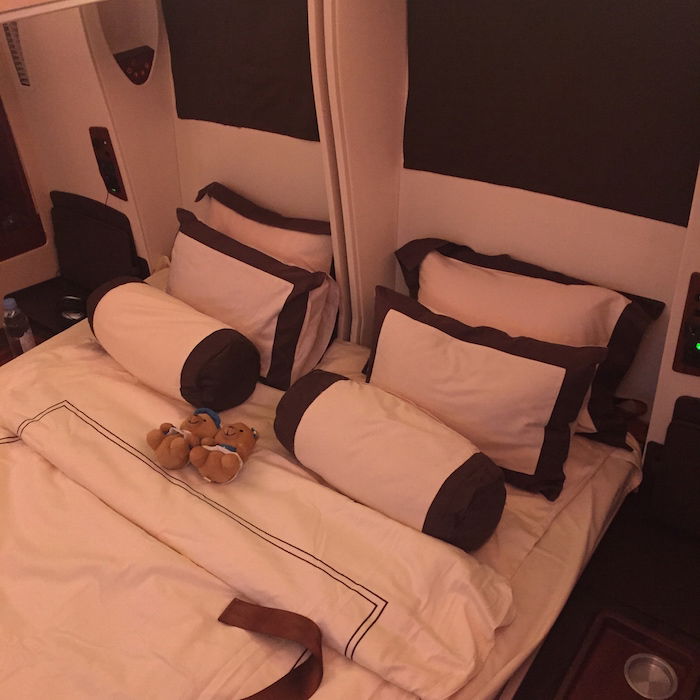 Singapore Airlines has incredible service and food as well. The question is whether you'll be able to find availability. For example, several weeks ago I wrote about how Singapore was making two Suites Class awards available between the US and Asia on many flights if booking as the schedule opens.
I don't see that availability right now, in the sense that I don't see flights when the schedule opens with two Suites Class seats. Todd still has a bit over a month before the schedule opens, so that could change. I'd keep a close eye on that.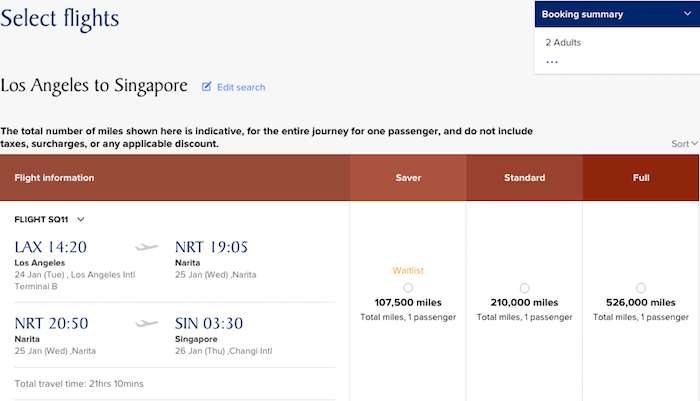 The tricky thing about Singapore Airlines is that they don't allow holds, and points transfers aren't instant. This presents an issue, since you don't want to speculatively transfer points, only to have the space be gone. So in Todd's shoes I'd be monitoring, and if there's space for the previous few days, I'd probably speculatively transfer points in hopes of snagging those seats, as you should be able to transfer them in less than 24 hours.
But what if Singapore Suites isn't readily available? What would my second option be for travel in the other direction?
My initial instinct is to say Singapore 777 first class, though in looking at availability, I don't see more space in Singapore 777 first class than I see in Singapore A380 Suites Class. In other words, if Singapore makes more awards available over the next several weeks (which is very possible) I'd select the A380, but it doesn't seem your odds are necessarily better of even snagging space on the 777.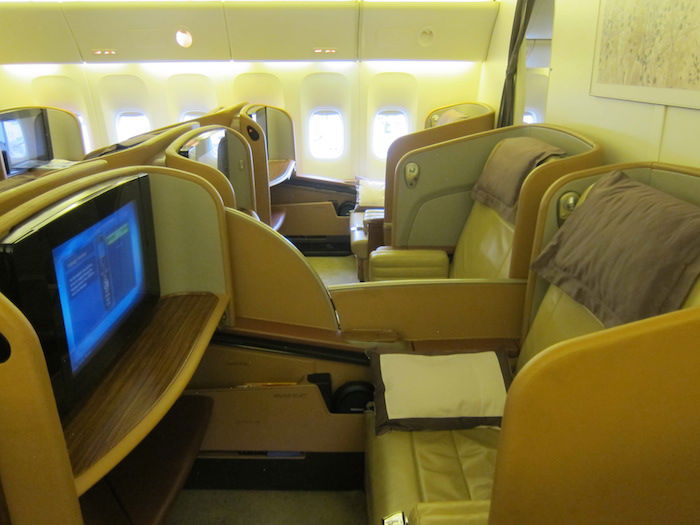 I'd say my next option is Korean Air first class. Why?
Award availability is typically wide open for Korean Air first class
There are no peak season dates in March, which is one of the few challenges when it comes to redeeming Korean Air miles
You could fly A380 first class all the way to Bangkok, given that Korean Air operates an A380 between Seoul Incheon and Bangkok as well as Hong Kong
Korean Air allows free changes up until departure, so this gives you a lot of flexibility, and also lets you switch to something else if there's another option which pops up that you prefer

But I'd mix it up. Why not fly the 747-8 from San Francisco to Seoul, which offers the more private first class product, and then the A380 from Seoul to Bangkok, which offers the A380 first class product you'd otherwise get from the US?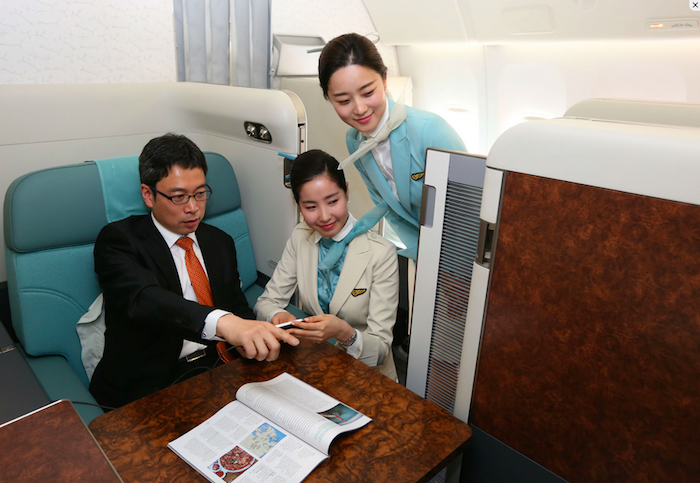 Bottom line
When it comes to flying first class internationally, there's not really a way to go wrong. However, if I had to make the ultimate "first world decision," Emirates first class would always be my first choice, especially if traveling with someone for a special trip. After that I'd choose Singapore Suites Class, then Singapore first class, and then Korean Air first class, given the specific situation, and that they fly the A380 to Bangkok and Hong Kong.
What would you choose to fly in Todd's situation? Any good value which I left out?