This past Saturday ANA had a really good fare for business class tickets from Vancouver to Sydney in which you could fly round-trip for right around $700. The deal only lasted for a few hours, so we didn't have a chance to cover it here on OMAAT. I was out with the kids at the time, but my wife did manage to find five seats for our family, which was quite a feat — yes, she's really that awesome. We later decided that the dates wouldn't work for us though, and ended up cancelling the tickets within the 24-hour cancellation window.
The big question with this fare was whether the airline would honor the tickets. That became even more relevant when it was leaked that someone at ANA had basically left a 0 off the end of the fare, meaning that it was indeed a mistake fare, not an intentionally crazy flash sale. As a result, everyone who booked — and probably plenty of folks with no skin in the game — have been waiting anxiously to see what happens.
Well, it turns out that ANA is quietly honoring the tickets, which is great news. A few people have reported having conversations with ANA phone agents — long after the deal was dead of course — in which the agent said that anyone with a ticketed itinerary will get to fly, subject to the rules of the fare. So those with an e-ticket number should be set to go.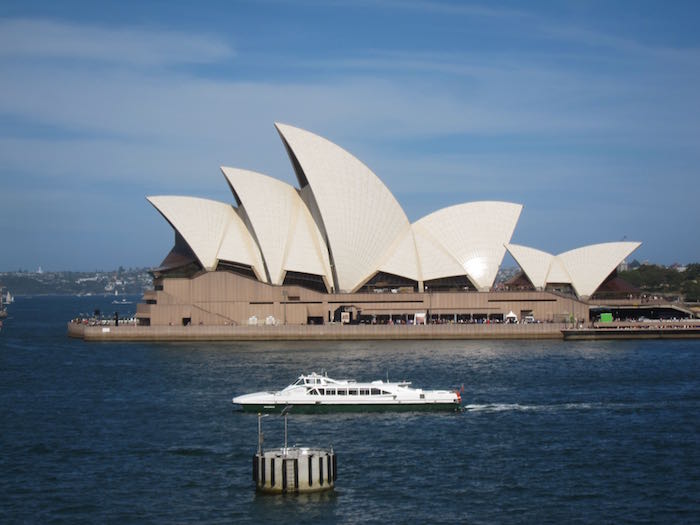 Sydney Opera House
Why I expected this fare to be honored
I expected that this mistake fare would be honored for two key reasons. First, it was bookable directly on the ANA website (as well as on United's, their joint venture and Star Alliance partner) and didn't require any shenanigans to do so. That's in contrast with other mistake fares that are essentially glitches with online travel agencies. In this case, it was a classic fat-finger mistake where you mean to type one number, but hit another, or in this case no key at all.
Not only was bookable through the airlines' direct channels, it also wasn't free. Spending $700 for a ticket, while a fraction of the correct price, still isn't chump change for most of us. I'm not a lawyer, but my understanding is that paying something helps to establish a contract between two parties. That's why the Rangers traded sold Ernesto Frieri to the Seattle Mariners for $1 yesterday rather than giving him away.
ANA collected money from their customers, and issued an e-ticket. Claiming it was a mistake may not have looked so great in the court of public opinion, even if the DOT has since stopped caring so much. So if you have the choice between paying something for a ticket, and getting it for free, you should always want to pay.

Mileage earning for my ANA ticket to Sydney booked on United
But not everyone's booking was honored
While ANA is honoring those bookings that were fully ticketed, they have cancelled many of those that were merely booked, confirmed, or on-hold. So if you don't have an e-ticket, you might be out of luck. The tickets my wife booked on the United website ticketed within minutes. The same was true for those who went direct to ANA. But many of the bookings that went through online travel agencies ended up getting put in a queue to ticket later, thus giving ANA time to cancel them.
A similar thing happened with the Qatar business class mistake for tickets out of Vietnam. Folks who ticketed them immediately will get to fly, while those who put them on hold had them cancelled.
The key is that you should always want to get an e-ticket as quickly as you can. That doesn't guarantee that your tickets will be honored, but it puts you on a lot firmer ground.
What is ANA business class like?
Overall, I would expect a fantastic experience as ANA is really one of the best airlines in Star Alliance.
That said, my experience with ANA has mostly been in economy, including Tokyo to Manila and Taipei to Tokyo. I think my only flight in ANA business class was Shanghai to Tokyo, which was their regional product, and it was years ago anyway. But as a longtime United Premier 1K, I've certainly spent a lot of time in their Narita lounges over the years. In fact, the ANA lounge closest to the United gates was the foreign airline lounge that my wife and I ever visited — so it always feels a bit like going home. (And hasn't changed a bit in the last ten years, for better or worse.)
Ben, on the other hand, flew ANA business from Hanoi to Haneda last fall in a 787. I believe his configuration should mirror what you can expect on these fares.

ANA 787 business class
Bottom line
It's great to see ANA honoring this fare. I believe that it's really the right thing to do, and sets an excellent precedent for other airlines to follow. At this point, I would say that's safe to book positioning flights, as well as hotels or activities in Australia. I'm a bit disappointed that my family won't get to join you, but that's mostly because we have a bunch of other travel coming up, so I can't really complain.
And if you missed it, don't worry, another will come along soon enough.
Did you book the ANA business class mistake from Vancouver to Sydney?