In the interest of full disclosure, OMAAT earns a referral bonus for anyone that's approved through some of the below links. These are the best publicly available offers (terms apply) that we have found for each product or service. Opinions expressed here are the author's alone, not those of the bank, credit card issuer, airline, hotel chain, or product manufacturer/service provider, and have not been reviewed, approved or otherwise endorsed by any of these entities. Please check out
our advertiser policy
for further details about our partners, and thanks for your support!
One of the best perks of The Platinum Card® from American Express and The Business Platinum Card® from American Express is access to Centurion Lounges. These lounges are generally far nicer than what's offered by US airlines, as they offer complimentary drinks and real food. Some of them even have spas, which is really awesome.
When American Express first opened these lounges, they allowed cardholders to bring two guests or their immediate family into the lounge for free. Additional guests were charged $50 per person. The policy stayed the same for several years.
Then around a year ago, Amex abruptly changed the policy to allow only two guests, period.
Have just one kid? Fine — you, your spouse, and junior can come right on in.
More than one kid? Sorry, no chorizo for you.
This was supposedly done to help alleviate overcrowding in the lounge — which admittedly can be an issue at some clubs — but still, I didn't think this would help much, given that there never seem to be that many families in the lounge anyway. Then again, as a father of three kids, I'm obviously biased.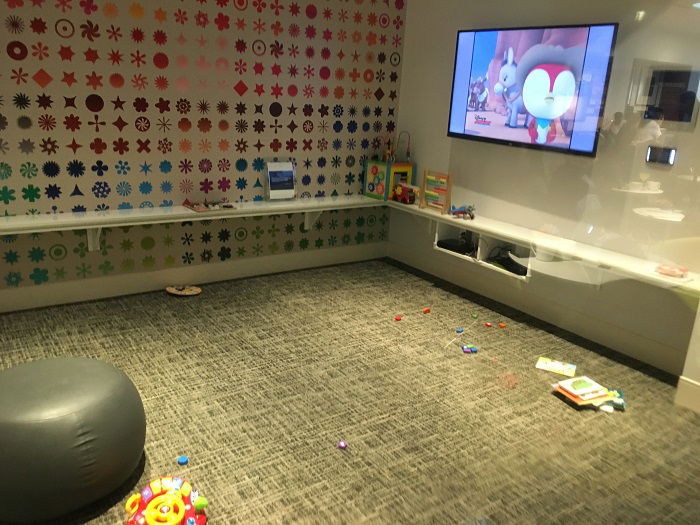 The very crowded family room at the Centurion Lounge San Francisco
But whatever, my opinion doesn't matter. Amex gets to make the rules and then it's up to us to decide what we should do next.
Analyzing our situation
I'd had the American Express Business Platinum Card for a couple of years at that point and was mostly happy with the benefits. This card has a $695 annual fee, but it costs $300 for each authorized user (Rates & Fees), so I would end up paying substantially more for my wife and I to both have cards. There was no way I could justify that.
I first considered switching to the Platinum Card. It has a $695 annual fee (Rates & Fees), but authorized users are much cheaper — you can add up to three for a flat $175 (Rates & Fees). That wasn't much better though.
Worse, it felt inefficient to pay $175 for a single authorized user, when I could get three for that price. Trouble was, I didn't need three.
That's when I remembered that one of my best friends in this world — and the one who introduced me to frequent flyer miles over 15 years ago — had been a Platinum card member for years. And sure enough, he had never added any authorized users, meaning he had three slots available.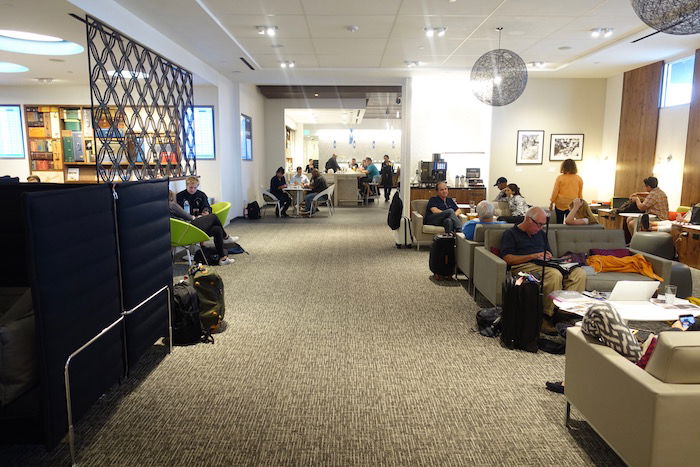 The Amex Centurion Lounge in Houston
Making my friend an offer
I offered to pay the $175 authorized user fee on my friend's card if he would add me and my wife.
The value to us would be obvious, as we'd both receive Platinum benefits at a far lower cost than we'd have otherwise paid. Most importantly, we'd each be able to bring two guests into the Amex lounge, meaning my wife could guest in one kid, while I'd guest the other two. We'd also both have Executive status with National (though we really only need one of those in the family, since we almost always travel together).
My friend would benefit too.
Since my wife and I would only be occupying two of this three authorized user slots, he would have one left to do with as he wished at no added cost. Because remember, you pay the same $175 fee regardless of whether you add one, two, or three authorized users.
So now he could add his wife (or his mom, also an avid traveler) for free. Since he already had the card, and was planning to keep the card, the annual fee was basically a sunk cost, though I'm sure a few are going to argue otherwise.
That seemed like a good enough deal to him, so we did it.
Amex Platinum benefits as an authorized user
I was a bit concerned that it would be a pain to re-link my National account to the new Platinum card. But that turned out to be no big deal. I also linked my Hilton account to maintain my Gold status, though I recently got the Hilton Aspire card to get Diamond status, so that became sort of moot.
I also wondered a bit if the Amex lounge staff would ask any questions regarding our authorized user status. But in fact, I'm not sure they know. We're greeted the same as we always were.
The one other minor benefit that I didn't think about originally was that these cards would receive their own set of Amex Offers. If there's a particularly lucrative one such as for Google Express, I check to see if my buddy wants it, and if not, I use it and then pay him back the balance. In that case, he gets a few extra Membership Rewards points out of the deal too.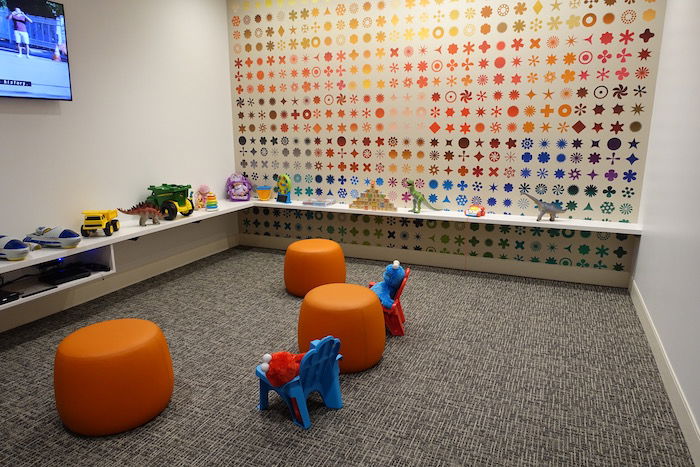 The family room at the Amex Centurion Lounge in Houston
Bottom line
I certainly wasn't very happy when Amex changed the guest policy at their Centurion Lounges. But at least for me, it worked out in the end — I'm getting essentially the same benefits as before, but at a much lower cost. You could even argue that I'm actually getting more benefits since now my wife has her own card. My friend benefits too, since his wife now has her own card, at no new cost to him.
I realize that I'm probably in the minority with how we worked this out, but I doubt that I'm alone.
How is your family accessing the Amex lounge in light of the new guest limits?
The following links will direct you to the rates and fees for mentioned American Express Cards. These include: The Business Platinum® Card from American Express (Rates & Fees), and The Platinum Card® from American Express (Rates & Fees).