As most of you probably know by now, American and US Airways aligned their domestic catering as of September 1, 2014. For American flyers, these changes haven't been pretty.
Beginning on Tuesday, November 18th, there will be some further updates to the domestic first class catering for both American and US Airways.
Which is a good thing, because while I'm not usually someone that has a lot to say about domestic airline food, I've been pretty vocal about these changes, based on my flights since September 1: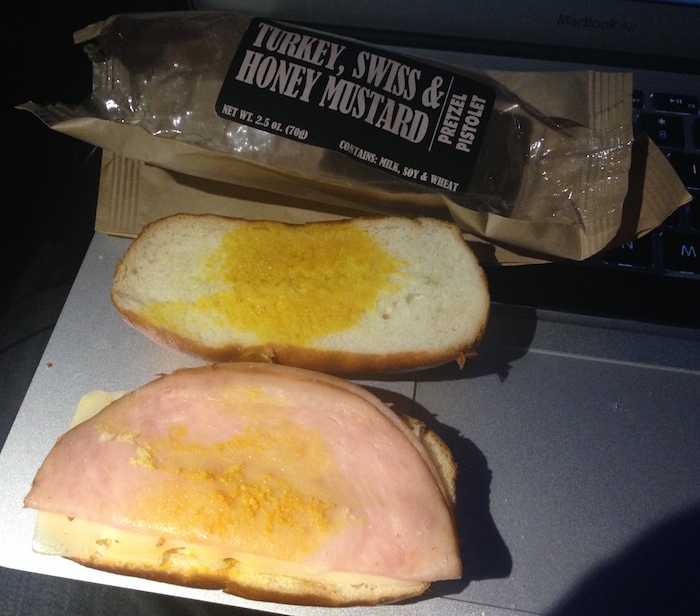 American's current first class "sandwich"
American updated their website today to reflect the upcoming adjustments:
So what exactly is changing here?
The minimum flight time for a meal switches from about 2:45 to about 2:30, and American is adding further exception markets
On flights of 2:00 to 2:30, American previously just offered a snack basket, but will now offer hot nuts and "higher quality sandwiches" (which isn't going to be a challenge, sadly)
Ice cream will return on flights of over 3:30, as opposed to the cake American has been serving since September 1
Beginning on December 1st, the breakfast window will be rolled back to 9:45, rather than 9:01, so more morning flights will actually have breakfast rather than lunch
Bottom line
Kudos to American on these changes. They're ultimately not game changers, though it's nice to hear that they're listening. I certainly welcome the return of hot nuts and ice cream (even if my waistline doesn't), along with the return of meals on slightly shorter flights. And I'm also happy that they specifically reference "higher quality" sandwiches.