As part of their merger, American and US Airways have aligned their catering standards as of September 1, 2014. As you might expect in the case of a merger, they're meeting somewhere in the middle in terms of the standards compared to the two airlines' previous policies.
Here's a chart with their new meal window policy: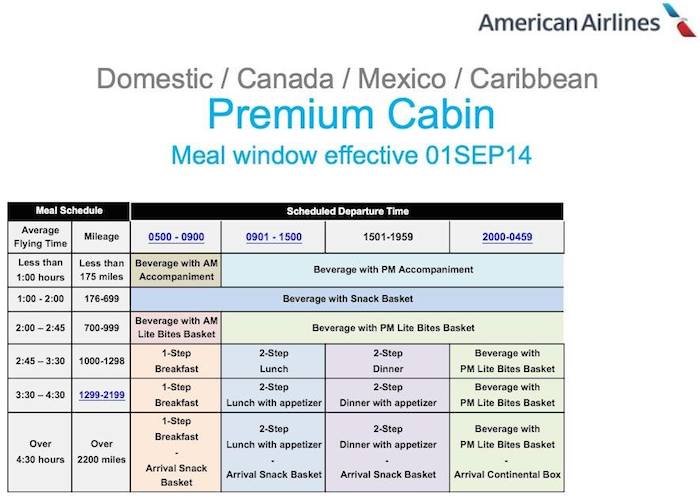 This merger is especially interesting since American has historically had the best and most extensive domestic catering of any airline (in my opinion), while US Airways had among the worst.
Yesterday I flew from Chicago to Las Vegas in American first class, which was my first flight on American since the new meal standards kicked in earlier in the week. It was a dinner flight, and at 1,514 miles in distance it fell in the 3:30-4:30 hour range, so it was a standard midcon dinner service.
Fortunately American is keeping warm mixed nuts around, though they were served in a US Airways style ramekin as opposed to an American ramekin.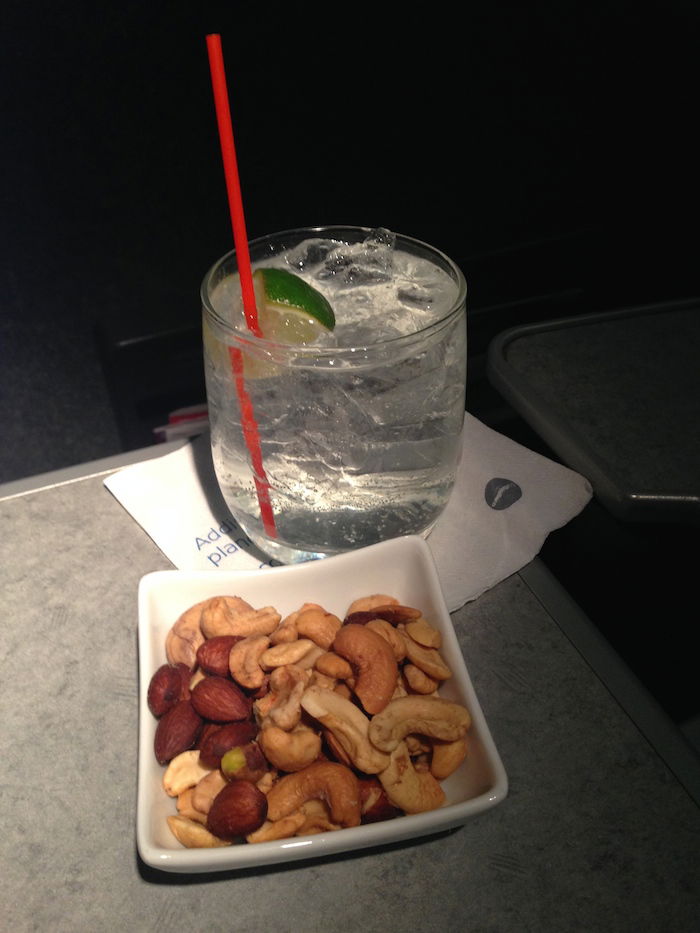 For dinner there was the choice between penne pasta and chicken teriyaki. I ordered the latter.
The salad, starter, and main course were all served on one tray.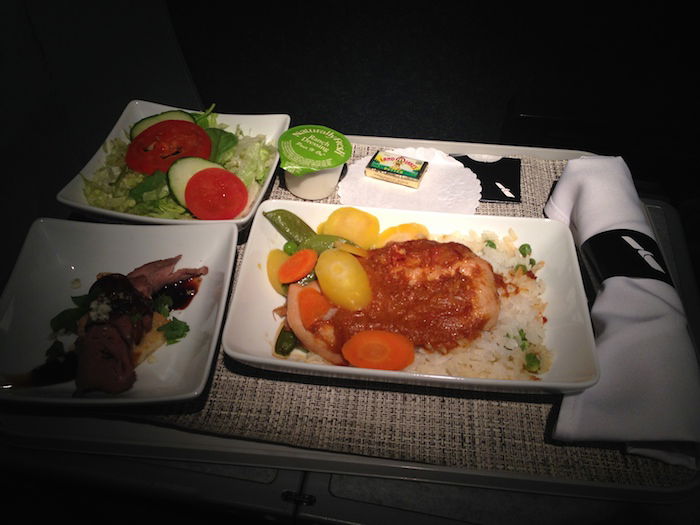 The starter was roast beef on a "crostini" (aka soggy piece of bread, in this case) with caramelized onions.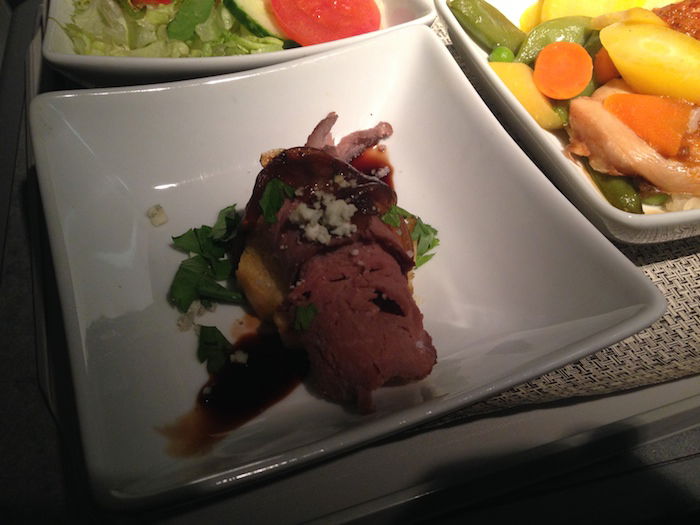 Then there was a salad with two tomatoes and two cucumbers.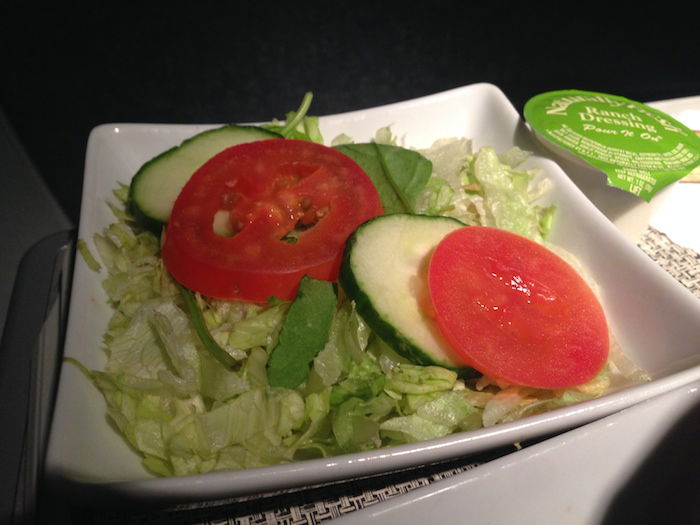 The salad consisted mostly of shredded lettuce, which I found puzzling. I expect shredded lettuce on my Subway footlong and not in a salad.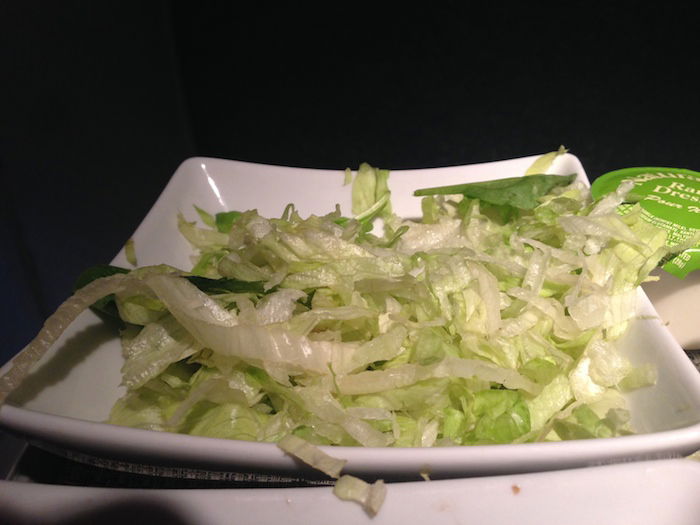 The main course consisted of chicken teriyaki with rice and vegetables. I don't exactly have very high standards for domestic airline chicken, but this one was especially bad and rubbery.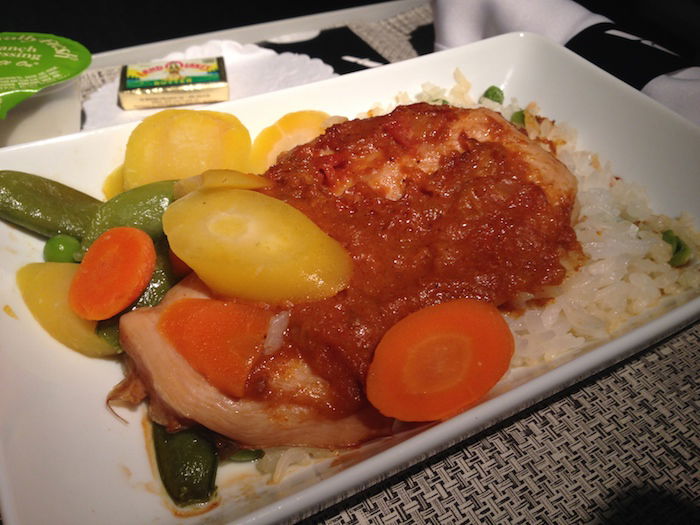 Then for dessert I was offered chocolate mousse cheesecake, which was quite good.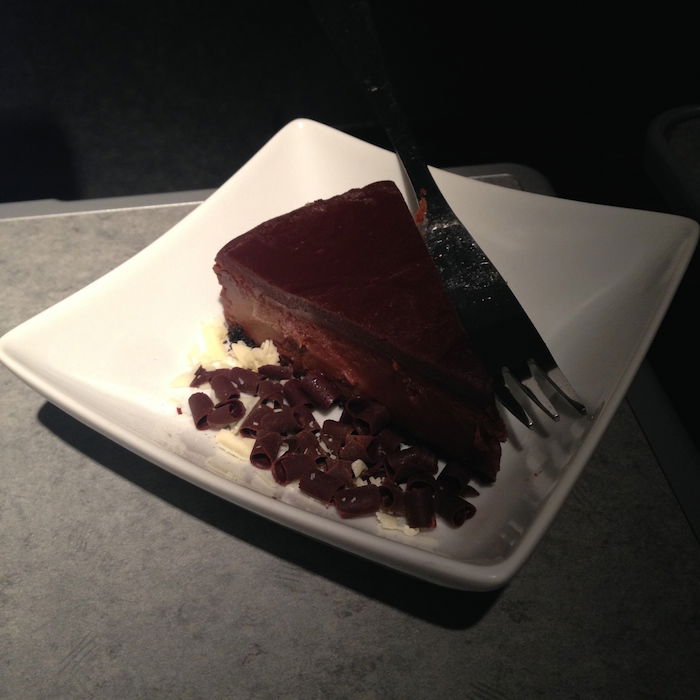 Bottom line
Personally I'm not someone that cares all that much about domestic catering, as I don't mind picking up a sandwich on the ground and having more time to work with onboard Wi-Fi. That being said, I know a lot of people were curious what the new meals look like, so I figured I'd share my experience.
It's interesting that the plating is mostly US Airways style. For example, below is a picture of a meal I had between Phoenix and Chicago on US Airways last year (on the plus side, they added cloth napkins rather than the paper ones that US Airways had).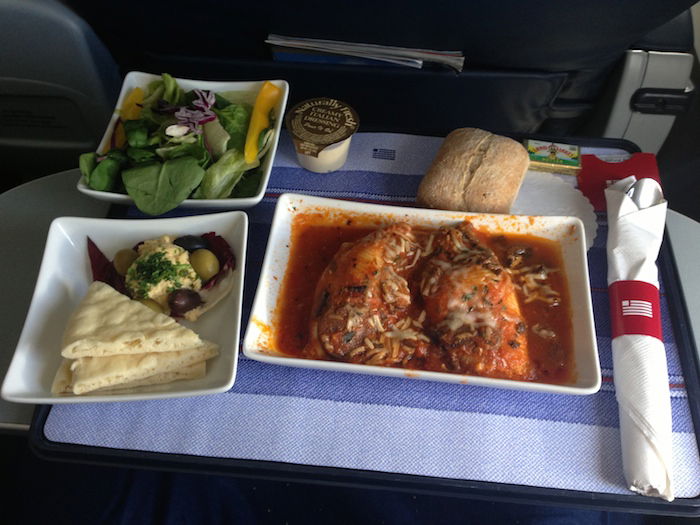 Anyway, on the whole I wasn't really impressed with the new meal. In terms of quantity it was similar to the old one, but the salad was horrible (I really felt like they created it at the "topping" bar at a Subway), and the chicken even more rubbery than usual, which is saying a lot.
Based on that one flight I'd say these meals are definitely a downgrade for American flyers, though US Airways flyers win out compared to what they had before.
What has been your experience with catering at the "new" American?