When airlines merge they have to "align" policies, and if there's one thing we've learned from the mergers we've suffered through the past few years, it's that this usually translates to taking the worst policies of both airlines as the new "standard."
As of April, US Airways adopted some American premium cabin service standards, including adding glassware in domestic first class on all flights, adding meals on shorter flights (previously they only offered meals on flights of over 3hr30min, while they lowered that to flights over 2hr45min), etc.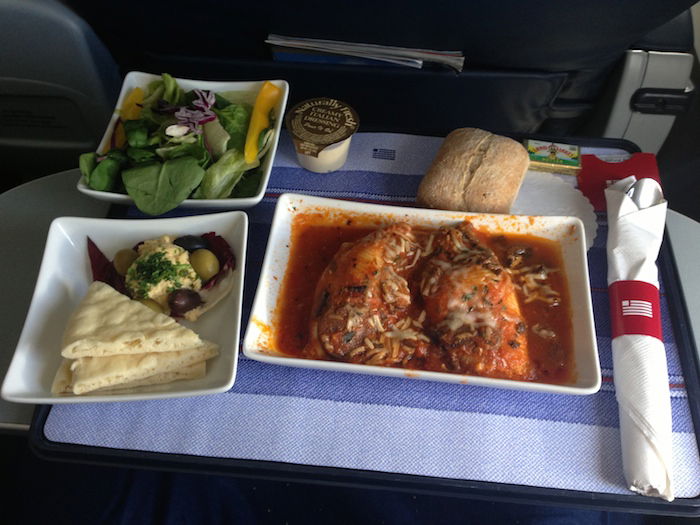 US Airways domestic first class meal
Still, there's quite a discrepancy between American's premium cabin meal policy and US Airways' policy, so we knew there would be more aligning on the way.
As of September 1, 2014, American and US Airways will fully be aligning their domestic premium cabin meal policies, and if you're used to American's system, chances are that you won't be happy with these changes.
Per denCSA on FlyerTalk, here's the document with the new meal service policy: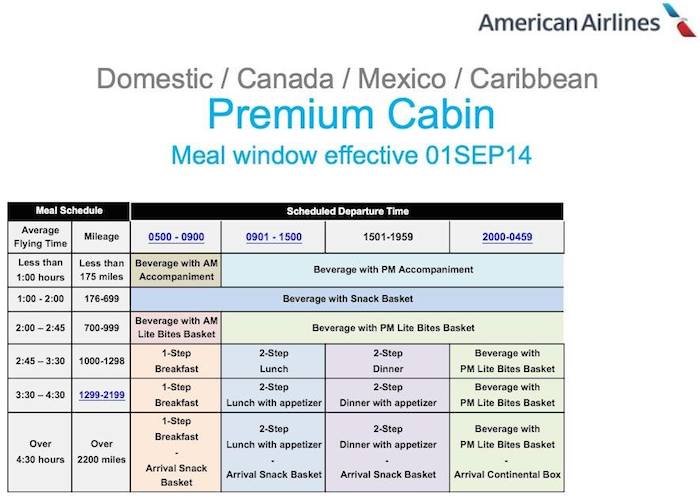 To summarize, the policy is basically as follows:
Flights of less than 1 hour (175 miles) just get beverages
Flights of 1-2 hours (176-999 miles) get beverages with a snack basket
Flights of 2-2:45 hours (700-999 miles) get beverages and the Lite Bites snack basket
Flights of 2:45-3:30 hours (1,000-1,298 miles) get a meal
Flights of 3:30-4:30 hours (1,299 miles-2,199 miles) get a meal with an appetizer
Flights of over 4:30 hours (2,200+ miles) get a meal with appetizer and arrival snack basket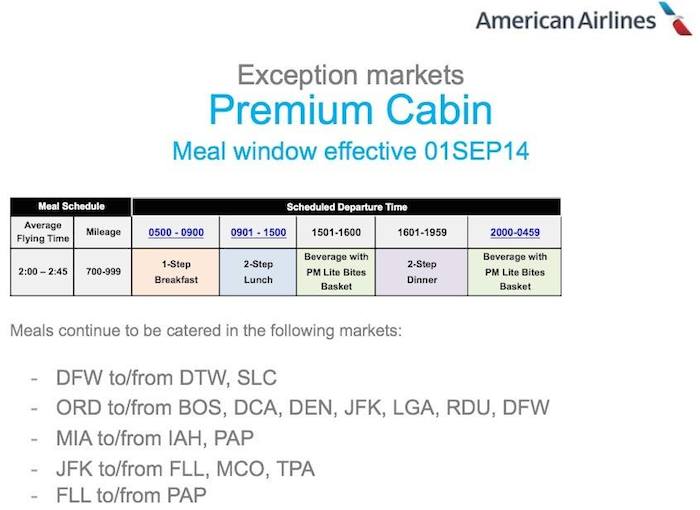 There is however a route exception list for this new policy, including the following routes:
DFW to DTW and SLC
ORD to BOS, DCA, DEN, JFK, LGA, RDU, and DFW
MIA to IAH and PAP
JFK to FLL, MCO, and TPA
FLL to PAP
That's interesting in that they don't even fly JFK to Tampa or Fort Lauderdale anymore. And Fort Lauderdale to Port au Prince — am I the only one that finds that incredibly random? Until recently I didn't even realize they operated that route!
Other than that, the exception list is more or less as you'd expect, mostly to hubs of other carriers so that they can stay somewhat competitive.
What do you think of the changes to American's meal policy?