In late 2015 American announced that they planned on adding a premium economy cabin to much of their longhaul fleet. While the airline has long offered an extra legroom economy section, this is the first time they're offering an actual premium economy cabin. The product debuted on their Boeing 787-9, though in the meantime 777-200s are also starting to get premium economy.
American's existing fleet will be reconfigured with the following schedule:
American's A330-200s will be reconfigured between September 2017 and December 2017
American's 787-8s will be reconfigured between March 2018 and June 2018
American's 777-200s will be reconfigured between June 2017 and March 2018
American's 777-300s will be reconfigured between December 2017 and June 2018
As the number of planes with the new product keeps increasing, American has now announced that they'll formally be introducing premium economy on flights to Hawaii. Not all flights will get it, but those operated by 777 aircraft will have the cabin. Premium economy on this plane is in a 2-4-2 configuration.
American has just put premium economy on sale for flights to Hawaii as of December 15, 2017. Specifically, the following routes will feature premium economy:
DFW-HNL
DFW-OGG
DFW-KOA (starting June 7, 2018)
LAX-HNL (only between December 15, 2017, and January 7, 2018)
Customers in premium economy on flights to Hawaii will receive complimentary food & beverages, including spirits, beer, and wine. They'll also receive an enhanced pillow and blanket.
As far as upgrades and awards go, for all practical purposes premium economy won't exist:
You can't redeem miles for premium economy
You can't upgrade to premium economy
You can continue to upgrade from either economy or premium economy to first class, as before
Interestingly American is allowing free premium economy upgrades day of departure for Executive Platinum members, and I'm waiting to receive clarification about whether this applies to Hawaii as well. I can't imagine it wouldn't, but it's also not explicitly stated.
In many cases it looks like the premium for premium economy is minimal. For example, looking at a roundtrip ticket from Dallas to Honolulu, premium economy is just an extra $150. So this actually represents a great value when you consider that premium economy is very similar to domestic first class in terms of seat comfort. Passengers booking premium economy will also receive 1.5 elite qualifying miles per flown mile.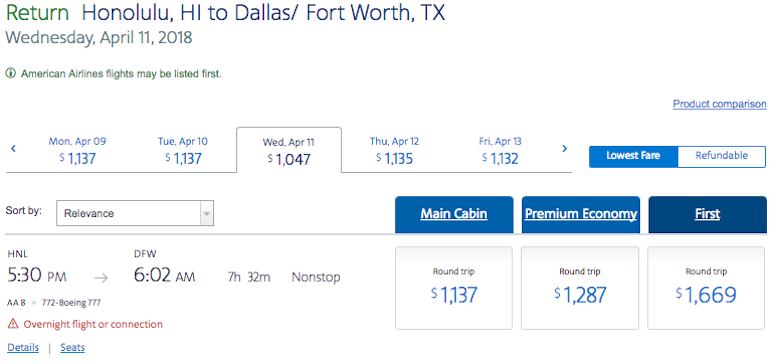 Would you consider booking premium economy for a flight to Hawaii?