Update: The mechanic ended up being sentenced to 37 months in prison.
A couple of days ago I shared a video that sums up the American Airlines experience in a nutshell (in other words, your flight is delayed and the airline handles it horribly). On that post, reader Trey commented the following:
We get it, Ben. You don't like American.

I'd rather you post you personal terrible experiences than stuff like this.
With pleasure! And I'll one-up it, because in this case I was on a flight that was intentionally delayed by American Airlines mechanics, as part of their dispute with management (and I'm not speculating… the captain more or less confirmed it).
What's going on with American's mechanics
For those of you not aware, American is suing their mechanics union, claiming that they're intentionally canceling and delaying flights in their dispute with management. Management and the union can't come to an agreement on a new contract, and the head of the union has promised a "bloody battle" and to "shut this place down" (referring to the airline).
Management claims that the odds of American's huge increase in mechanical delays and cancelations being random rather than action by the union are less than one in a billion. I'm inclined to believe that, not because I side with management, but rather because the union doesn't even really deny it. They admit they'll use any technique they have to.
In the meantime a federal judge has even issued a temporary restraining order against mechanics.
Before I share my experience yesterday, let me note that:
How American mechanics delayed my flight
Yesterday Ford and I were scheduled to fly from Chicago to Miami, after returning from our trip to Japan. American had the only nonstop flight that worked with our schedule… the joys of being a hub captive.
Things were initially looking good for our 6:25PM flight. The plane was supposed to come from St. Louis and would have about an hour on the ground. An hour before departure I got a gate change notice. We were now on a plane that had arrived from New York several hours earlier. Hmm, that's a long time for a plane to be on the ground.
We went to the gate in time for the scheduled 5:50PM boarding, but there was no plane. There wasn't a plane at 6PM… or 6:10PM… or 6:20PM.
It's so infuriating how poorly American handles delays. At 6:20PM we still showed an on-time departure, even though there was no plane at the gate.
The reason this is so frustrating is because it means you have to crowd around the gate rather than being able to sit somewhere else more comfortable or visit a lounge, since you don't want to miss the flight. At a minimum can't they just always push the departure time at least 20 minutes into the future?
The gate agents announced the plane was being towed over from the hangar, but they didn't know how long it would take. They just kept delaying the departure, but always only by 5-15 minutes at a time, just minutes before the currently scheduled departure time.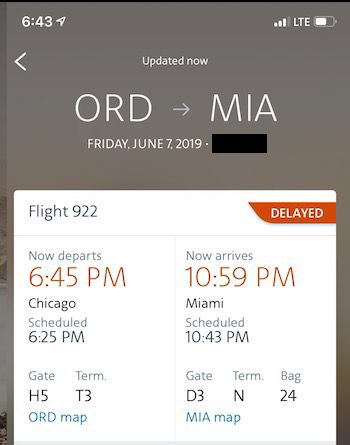 Finally at around 7PM we boarded. The captain announced that we were just waiting for some more bags to be loaded, and that we were waiting on some "paperwork to be signed off on," as the plane successfully had some maintenance done on it while on the ground.
Five minutes later I received a gate change notification on my phone.
At this point the captain came into the cabin and announced over the PA "maintenance is taking this plane out of service, and we are going to be changing planes."
Note that he didn't say the plane had a mechanical problem, or anything else. Just that maintenance was taking the plane out of service.
To American's credit, they had another 737 ready just a few gates down. It took a while for the gate agent to arrive, though the pilots were standing there. So I decided to approach them.
Let me note that the pilots have absolutely nothing to gain in maintenance's contract dispute with management. They're actually inconvenienced by it as well, since they're not getting paid when the plane's door isn't closed.
So I approached the pilots not because I was mad at them, or anything, but because I was curious how they'd react, and what their take was:
"I'm just curious, if you can share, was there a mechanical problem with that last plane, or was this part of the dispute the mechanics are having with management?"
Clearly I caught them very off guard, and the captain responded:
"Ummmm… ummmm… ummmm… you know… it was an issue that was previously written up and… ummmm… it was not our decision."
I responded:
"I guess that answers my question. Well thanks for flying us safely."
He nodded, seemingly in agreement about my statement about him having indirectly answered my question. That's as close as I'll get to an admission of what was going on here.
We ended up boarding the next plane at around 8:30PM, as they first had to cater it and load bags. Boarding started as normal, and then at 8:50PM an announcement was made over the PA by the gate agent:
"Ladies and gentlemen, we need your cooperation. We need to depart by 8:55PM. If we don't get the door closed at 8:55PM we will need to find a new plane again."
My first assumption was that this was just a scare tactic to get people to hurry up and sit down. But I was also seated right near the front of the plane and could hear the conversation among the crew, as the flight attendant asked the gate agent:
"Wait, why do we have to deplane if we don't leave in five minutes? We're still legal."
That made it clear to me that this wasn't an issue of the crew "timing out" (meaning they maxed out the number of hours they could work in a day). The gate agent simply responded with "maintenance."
I have no clue on what grounds the mechanics could have taken the plane out of service at 8:55PM, though it seemed clear that's what they were trying to do.
So, how did we do? I've never seen gate agents and flight attendants run and hustle and scream like they did to get the door closed. The door closed at… exactly 8:55PM.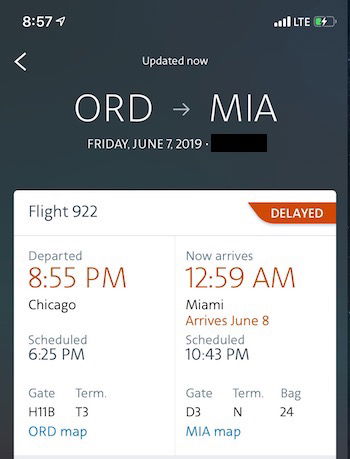 At that point everyone in the cabin started clapping and cheering.
Let's reflect for a moment on how sad it is when you're flying an airline where you cheer after a 2.5 hour delay because everyone managed to sit down so we didn't have to get on yet another new plane, all due to a contract dispute between management and mechanics (though of course most passengers didn't know that last part).
Bottom line
While I've had a lot of maintenance delays on American, this is the first time I can say with near certainty that it was part of the industrial action on the part of mechanics.
I'm writing this post for a few reasons:
Unless mechanics and management come to an agreement, it's going to be a very rough summer at American, and things are going to be getting worse, and not better
Be extra nice to American flight attendants and pilots, because they'll suffer from what the mechanics are doing as much as we do; they're not getting paid when the door of the plane isn't shut
Also be extra nice to gate agents and phone agents; while they do get paid overtime, they'd probably rather not have to deal with angry customers
This was the first time I was just about certain that my maintenance delay was intentional
If anyone else has a delay that they feel is related to the issue between mechanics and management, please share your experience!