Ford just wrapped up a trip on American Airlines that's a textbook example of how airlines sometimes fail the traveling public during delays. Heck, it gives me a better appreciation for why people have complete meltdowns in gate areas sometimes.
We've seen the Biden Administration propose mandatory compensation for flight delays and cancelations. Not surprisingly, airline executives are vehemently opposed to this, and they argue that they already do everything they can to take care of passengers when things go wrong, so implementing these kinds of policies will only raise airfare.
I'd sure love to know what they make of the below situation, and if this is a level of care that passengers should be happy with.
Airline operations are complicated, and stuff happens
Before I go into detail, let me acknowledge that airline operations are incredibly complex. Delays and cancelations happen, and that's to be expected. My issue isn't with accepting that things go wrong, but rather with how airlines handle it:
When things go wrong, airlines should communicate clearly with passengers, help them manage expectations, and just treat them with dignity
I feel bad for the frontline employees who are put in the position to deal with passengers in these cases; they're among the lower paid employees at airlines, they often don't have any information to share, and they get a lot of flak from customers, because customers have no one else they can complain to
There's nothing that can be done about delays due to weather or other factors outside of an airline's control; the problem is when delays are constantly due to lack of available crew or aircraft, since that simply means airlines are greedy, and are over scheduling, without having sufficient spare aircraft or reserve crews
A very unlucky trip on American Airlines
Ford spent the past several days in Canada, and had a very unlucky experience with American. American's operation has been fairly reliable lately, so I'm chalking the number of issues up to bad luck — when it rains, it pours.
On the outbound, he was supposed to fly American from Miami to Charlotte to Toronto. The night before, his flight from Miami to Charlotte was canceled due to crew availability. The only option for getting rebooked was much later in the day, in which case he would have missed a commitment. So he instead refunded his ticket, and booked a ticket on Air Canada (which ended up being much more expensive).
For the return portion of the trip, he was scheduled to fly from Montreal to Philadelphia to Miami. The Montreal to Philadelphia flight was delayed by about 45 minutes, with the reason being "delay due to crew availability."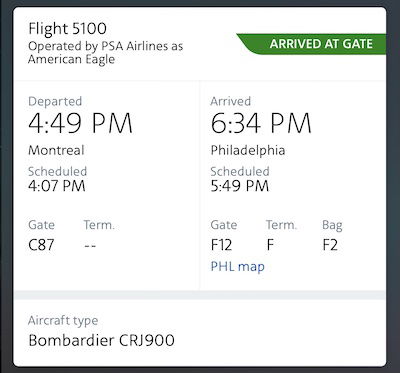 Between waiting for his valet checked bag, and the long transfer from Concourse F to Concourse A, he missed his connection to Miami. But he was in luck, or so we thought! The earlier flight from Philadelphia to Miami was delayed by just under three hours, with the reason being "late arriving aircraft due to prior equipment change." At least American is consistent with delaying its flights. 😉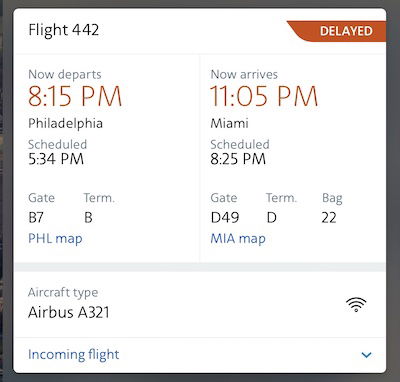 We'll talk more about that flight in a bit, but here's the schedule with which that flight ended up operating. Yes, it departed after 2AM, over eight hours behind schedule. Nice.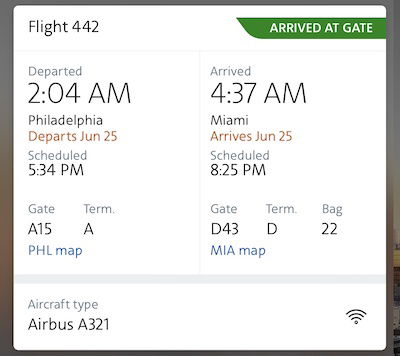 Ford cut his losses a bit after 12AM (since it looked like the flight wouldn't go), so then he was going to be rebooked for this morning. Well, the 5:37AM flight was delayed until 2:54PM, with the reason being "late arriving aircraft due to prior crew related delays."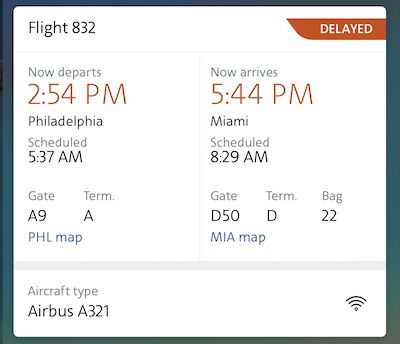 So then he rebooked on a different flight instead, which was subsequently delayed by over two hours, with the reason being "delay due to aircraft maintenance."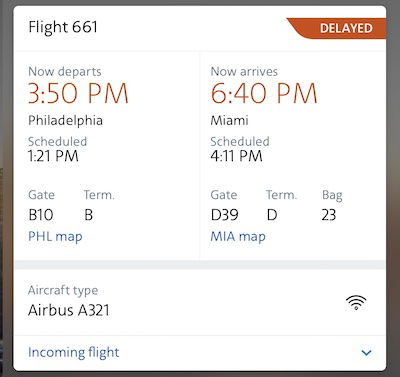 So then he rebooked on yet another flight… okay, can I stop here?
As you can see, not a single one of these delays was blamed on weather. Each delay was because American spread its operation too thin. Clearly the focus was on maximizing revenue by selling as many seats as possible, even if there's no room for things to go wrong. You know what would cause the airline to schedule more realistically? Mandating cash compensation when there's a major delay or cancelation within a carrier's control.
American Airlines throws flight to the wolves
Okay, so let's focus on the delayed Philadelphia to Miami flight that Ford was rebooked on for a moment. While I wasn't there, I feel like I might as well have been, because I got the play-by-play, all the app status updates, etc.
Ford showed up at the gate at around 7:30PM for the delayed 8:15PM departure. He was one of the lucky ones, since presumably most people had been at the gate for nearly three hours at that point.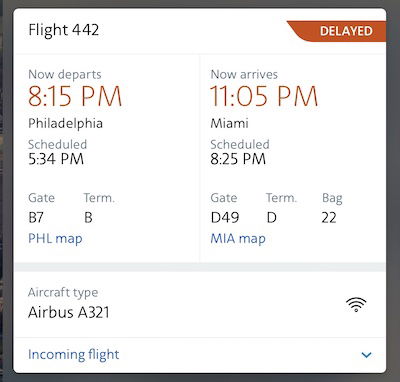 As far as I could see, everything looked pretty good — the reason for the delay was a late inbound, and the plane was finally arriving. Then boarding time came and… nothing. There were no announcements, so Ford went up to the gate agent to ask what was going on, and she explained that they didn't have pilots, and they weren't sure if/when that would change.
Around 8PM there was a somewhat positive update, as the gate agent announced that pilots were assigned to the flight, and that they'd be landing at 8:59PM. Okay, I figured that meant maybe the flight could depart by 10PM. Ford said the initial gate agent had good vibes and was trying her best. Unfortunately after that update, things went downhill:
After 9PM there were no additional updates (flights can always be boarded before the pilots get there, so you'd think they'd board around the time the pilots landed); Ford asked the gate agent what was going on, and she said that passengers would probably get updated flight information before the gate agents do
The gate agent had no additional information; one woman in the gate area loudly demanded more information (keep in mind she had been waiting there for over four hours with few updates), and the gate agent accused her of trying to rile up the gate area, and threatened to deny her boarding
At 9:30PM boarding abruptly started, with no explanation; Ford was the first onboard and asked the flight attendant if they were close to timing out, and they explained that they had already timed out but all elected to work, as they were Miami based and wanted to get home, and one flight attendant was moving to Philadelphia in the immediate future and needed to pack
At this point it became clear that the two pilots who were supposed to be working the flight disappeared out of thin air, or something (I don't know if they were over their hours, or what)
The crew didn't have much to serve passengers (even in first class), because "catering never showed up"
American just kept delaying the flight by 10-15 minutes; the flight attendants had no clue if there were any pilots coming or not, and said they had no information
After a couple of hours, a passenger tried to deplane (the door was open and connected to the jet bridge), though the flight attendant physically blocked the door, and told the passenger that if she deplaned it would trigger everyone having to deplane
At this point the aircraft was getting uncomfortably warm, and passengers started complaining about that; at this point everyone was instructed to deplane for safety reasons
At this point the American app listed a new departure gate, so everyone went in that direction, but then an American employee in a golf cart in the middle of the terminal walkway screamed "turn around, do not go to gate A15, I don't know what's going on, but that's not the gate"
Even after midnight, there was still no update about if or when pilots would show up; the gate agent didn't know, and neither did the flight attendants
Note that at no time was there any offer in the gate area for snacks and drinks, meal vouchers, alternative arrangements, or accommodations.
At this point I encouraged Ford to just cut his losses, get rebooked for the next day, and get a hotel, because it seemed like they could have been there all night. Ford asked the gate agent about being rebooked for the next day, though she said he'd have to go to the customer service desk to do that. I'm not sure why, because it's not like the gate agents had anything to do. The only thing they could say all night was how they don't know anything.
When I woke up this morning, I of course had to check the status of the original flight. It ended up departing at 2:04AM, and landing at 4:37AM. Yes, it took off 8.5 hours behind schedule, and essentially operated as a redeye. Honestly, that's just downright cruel. I mean, c'mon, you have seniors and children, and to just keep them endlessly waiting with no information is unacceptable.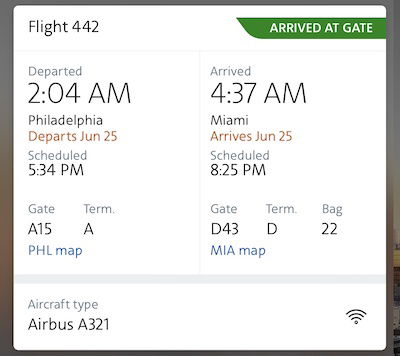 Like I said, stuff happens. But humans (let alone paying customers) deserve to be treated with some basic decency. I don't blame the gate agents, because can you imagine what it's like to be put in a position to staff a gate where you're given no information, and have 200 angry customers to deal with?
But to have no clue whether a flight is going to have pilots or not for hours on end, and to not offer passengers meal vouchers or alternatives, is just really, really low. I've had a lot of delays in my life, but I've never experienced anything quite like this.
I mean, I've had much longer delays, but in those situations they send you to a hotel and try again the next day.
Is a little bit of communication and common courtesy too much to ask for? The experience would have been different if the gate agent announced something like this at 10PM:
"We have two pilots who are on reserve, but they're not at the airport. They need to be here within four hours, so we hope that we'll be able to depart by 2AM. We understand that many of you have been in the gate area for hours and that this won't work for you, and we apologize. If you'd like to stick around, we're happy to offer you a meal voucher. Otherwise, we can see if there's another flight we can rebook you on."
Bottom line
The airline industry is complicated, and delays happen. The issue is when airlines seemingly have a complete breakdown in communication, and gate agents have virtually no information for over eight hours. That's exactly what happened on last night's Philadelphia to Miami flight, which ended up being delayed by many hours.
Hour after hour, the crew and gate agents knew nothing about the whereabouts of pilots, and no higher ups seemed to care enough to communicate with passengers.
What do you make of this American Airlines delay situation? Do you think this is an acceptable level of customer service? Do you think mandatory compensation for flight delays would minimize situations like this?