We've seen most airlines reduce inflight service due to the pandemic, to minimize contact between people, and also to maximize the amount of time that people have their masks on. Recently Delta announced that it would improve inflight service as of April 14.
Now American has made a similar announcement, but only for first class flights of over 2,200 miles.
American's current domestic first class catering
What is service currently like in American Airlines domestic first class?
On flights of up to 900 miles, the airline serves drinks on request, but no food
On flights of over 900 miles, the airline serves either a sandwich or yogurt & granola for breakfast, and a sandwich or cheese plate for lunch or dinner
Exclusively on premium transcontinental flights, the airline serves a hot meal on a single tray
American Airlines' first class turkey sandwich
American expands "Fresh Bites" catering
Earlier this year American Airlines trialed a new "Fresh Bites" concept in first class on select flights out of Charlotte, and that's now being expanded.
As of April 14, 2021, American Airlines will expand the Fresh Bites trial to domestic first class customers on flights of over 2,200 miles (which is roughly 4.5 hours). American plans to expand this to other (presumably shorter) flights later this year. Fresh Bites will offer a more substantial food selection, and will include:
Items such as fresh fruit, yogurt, and breakfast sandwiches for breakfast
Items such as sandwiches, salads, and fresh appetizers for lunch and dinner
View from the Wing has a picture of what this looked like during the trial. You can generally expect a tapas-style box with several options, like salad, cheese, fresh fruit, veggies, and more.
Note that nothing will change on premium transcon flights, where a hot meal will still be served on one tray. Premium transcon routes include the following markets: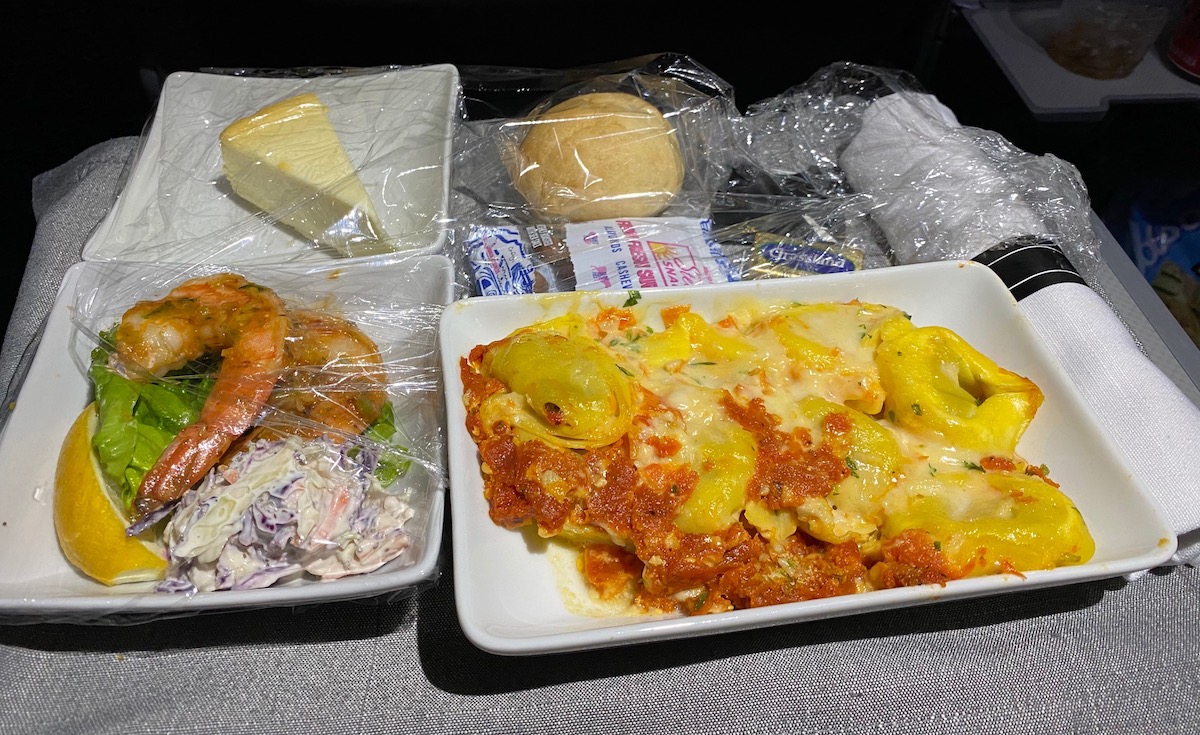 American Airlines' hot meal on premium transcon flights
As American Airlines describes this catering change:
The offerings being tested are heartier options than the fresh snacks customers currently receive, but also incorporate customer favorites such as fruit and cheese. American has been working hand in hand with the APFA and a team of experts from the Travel Health Advisory Panel for guidance and feedback throughout the planning process. Flight attendant and customer feedback has also played a critical role in ensuring the careful return of new fresh offerings.
Will this be the new normal for domestic first class catering?
Interestingly during the start of the pandemic, American continued to serve hot meals on all flights of 2,200+ miles. However, this service was cut as of July 2020, at which point the airline just started serving the same sandwich or cheese plate that's currently available.
In other words, catering on 2,200+ mile flights will now be better than it has been for the past several months, but not as good as it was through last July.
It does seem increasingly likely that meal changes in first class may be permanent. In August 2020, American's SVP of Flight Service at the time, said the following about the future of inflight catering:
"We're not going to come back with full tray services immediately. There's going to have to be some interim step. And I really think there's an opportunity to re-think it. When you think about the footprint we have for meal service and how we served, it's been very similar over the years. And is there a way to bring back something that still has a premium feel but is different and more modern, and is this an opportunity to reset in a way that we might have made more incremental changes before."
Bottom line
American Airlines will bring back more substantial food in first class on 2,200+ mile flights, but won't go so far as to bring back hot meals. Later this year we should see this service expanded to shorter flights as well.
It's becoming increasingly obvious that inflight meals will likely never return to how they were pre-coronavirus. Personally I won't miss them too much, since it's not like they were ever great…
What do you make of American's domestic first class meal changes?