American has just opened their new Flagship First Dining facility at JFK, and I had the chance to check it out earlier in the week.
American's radical lounge changes
Last February American announced some major changes that they're making to their lounges, which impact those traveling in international first and business class. These changes primarily come in two forms.
First of all, American is opening Flagship First Dining facilities, which will be available exclusively to passengers traveling in American's three cabin first class. The first such facility is now open in New York, and the concept will soon be expanded to other American hubs (later this year we'll see the concept expanded to Los Angeles and Miami, and in the future it will be expanded to Dallas and London). With this new offering, eligible international first class customers can have a full a la carte meal with table service in the lounge prior to their flight. This really is going after a very small subset of passengers, given that long term only American's 777-300ER and A321T aircraft will feature three cabin first class; American is in the process of removing first class from their 777-200s.

American's A321T first class
On top of that, American is revamping their Flagship Lounges. Historically these were open only to oneworld first class passengers and oneworld Emerald members, while soon they'll be available to all international first and business class passengers, as well as oneworld Emerald and Sapphire members. So these lounges will be expanded in size, though will also accommodate significantly more passengers.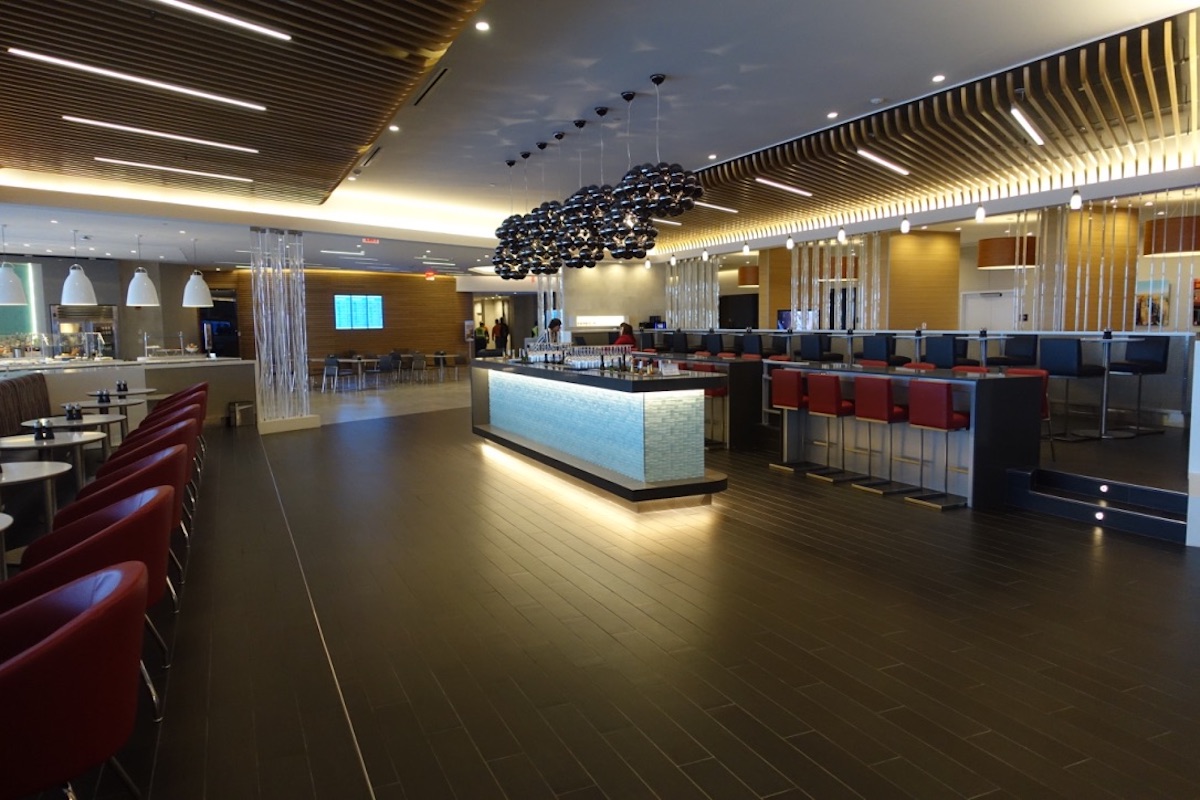 American's renovated Flagship Lounge JFK
In March I wrote a review of the renovated Flagship Lounge JFK, though at the time it didn't yet have the new food options and it wasn't completely open.
A look at the new JFK American Flagship First Dining facility
American had a media event for the new Flagship First Dining facility on Tuesday, including being able to try the new food. Unfortunately I wasn't able to make it, though did happen to be traveling through JFK on Monday, so they were kind enough to give me a tour. You'll notice a bit of clutter in the lounge, and that's because the lounge wasn't even ready to be shown, but rather they were still working on the finishing touches. So don't hold that against American, as they were being gracious by giving me the tour.
The new Flagship First Dining facility is located inside the new Flagship Lounge.
When you enter the Flagship Lounge, just hang a sharp right and you'll see the double doors to the Flagship First Dining facility on the very right.
The lounge is a stunning space, with floor to ceiling windows overlooking the tarmac. I'm very impressed by the lounge's shiny finishes, though perhaps that's not fully captured in the pictures due to it being a rainy day.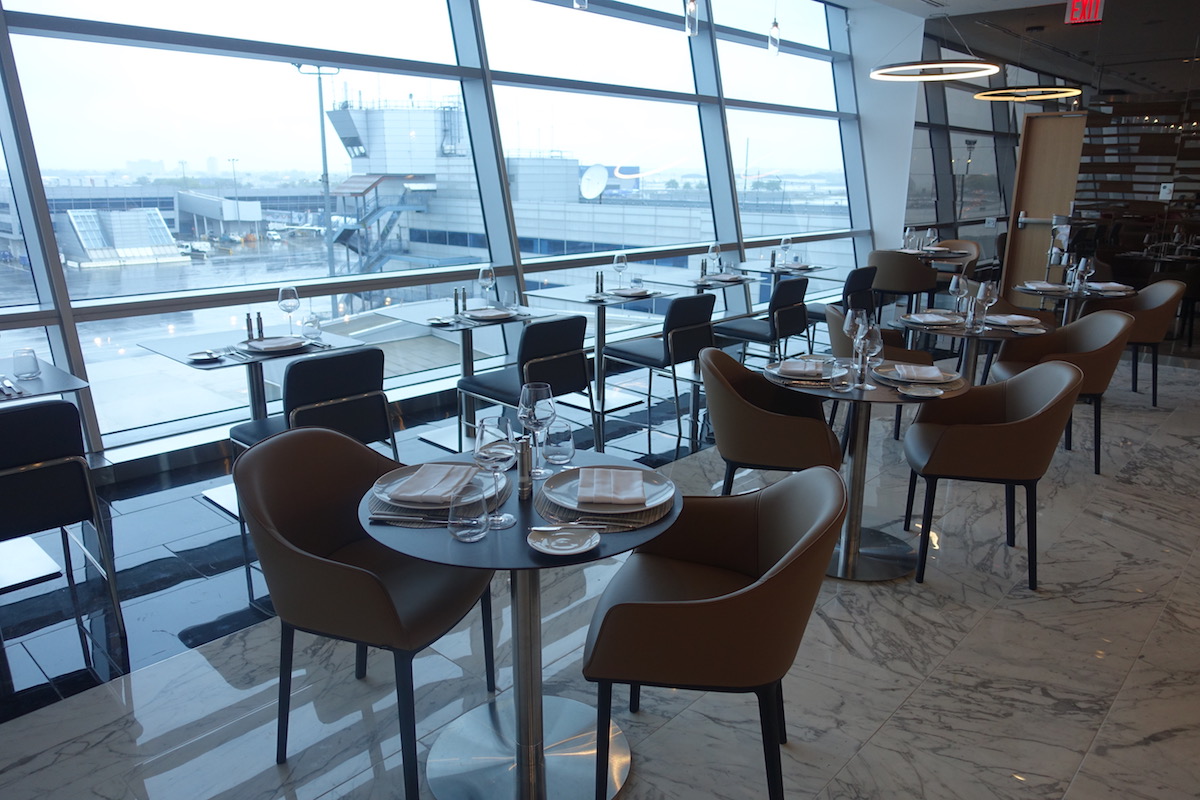 The facility has a total of 15 dining tables, roughly evenly split between rectangular tables, circular tables, and booths.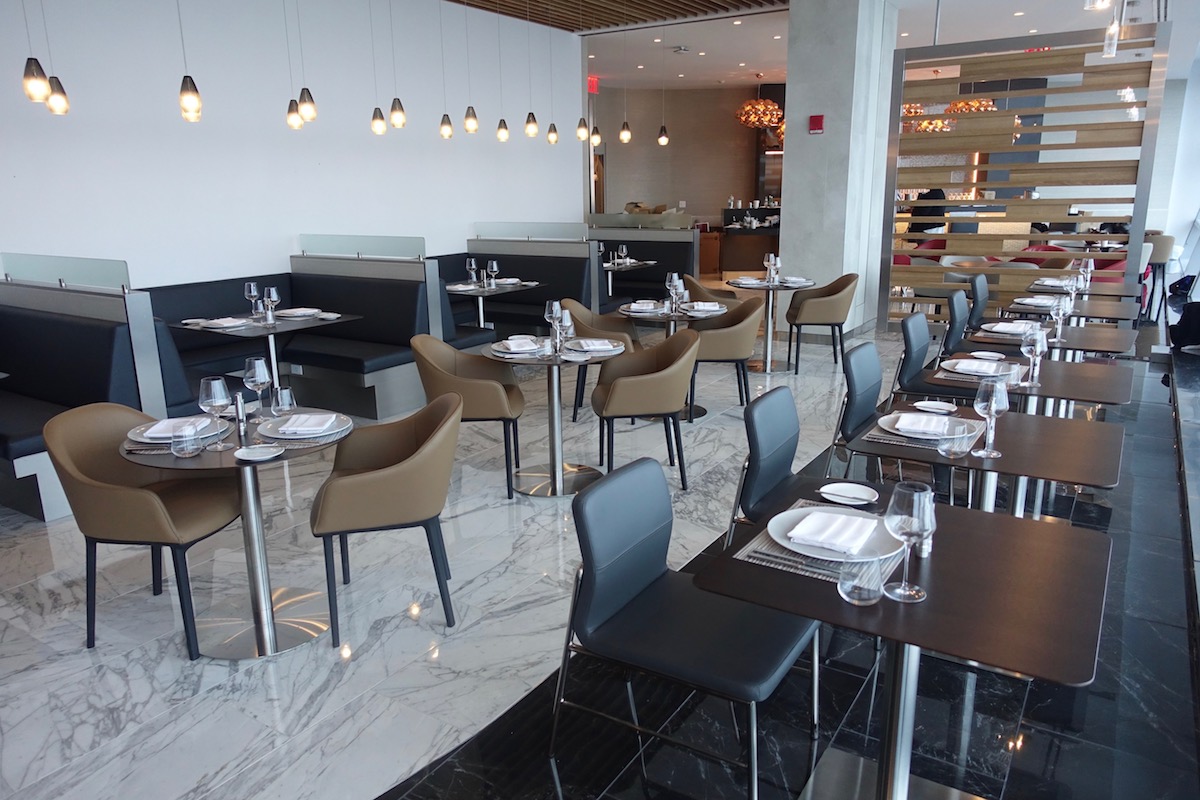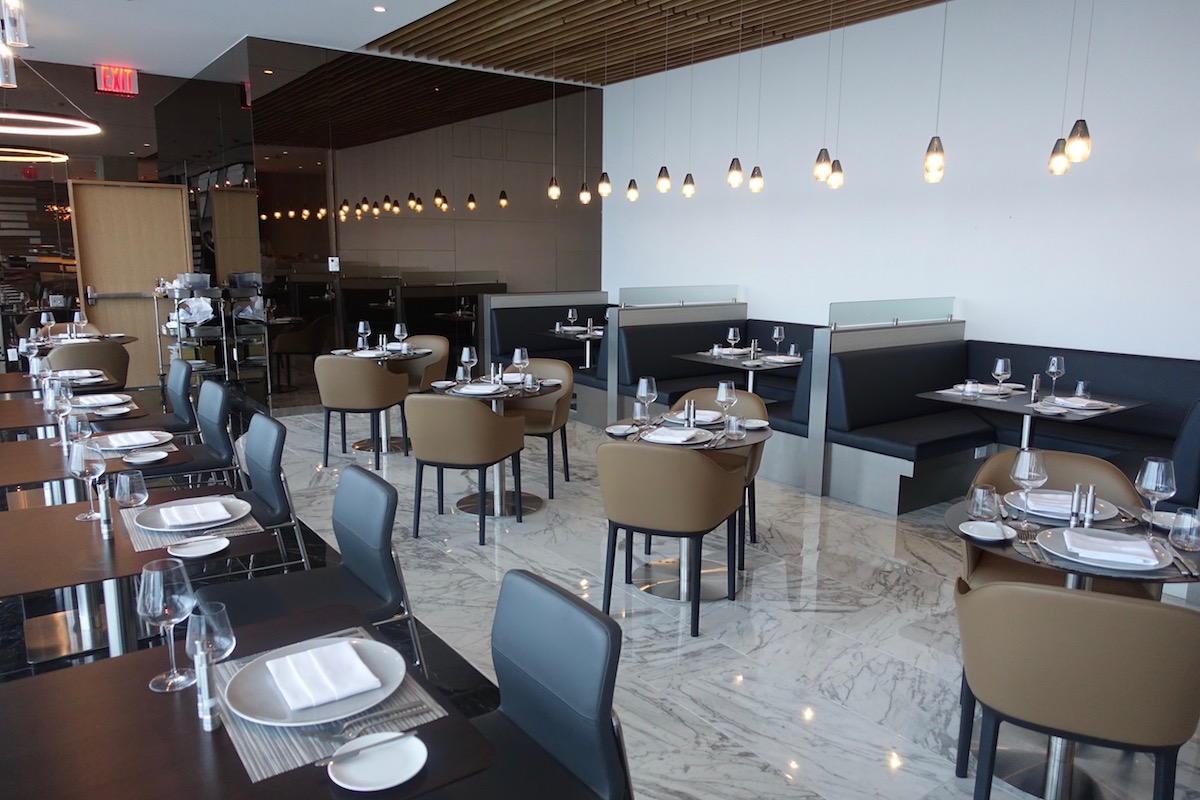 All the tables accommodate two, except I suppose the booths could accommodate three (though I imagine you won't have three people traveling together in international first class all that often).
On top of that, there was a bar area with seating for five, as well as a couple of lounge-style tables. The intention is that you eat in the Flagship First Dining facility and then hang out in the Flagship Lounge, so this isn't necessarily a place you'd linger (though I suppose you could if you wanted to, assuming no one was waiting to use it).
Flagship First Dining menu
The lounge will have roughly the same hours as the Flagship Lounge, so it will serve breakfast, lunch, and dinner.
Here's the breakfast menu (the actual menu presentation will be better — this is out of their training booklet):
And here's the all day dining menu:
Like I said, unfortunately I didn't have a chance to try the food, though I suspect the quality will be pretty good. Apparently the Flagship Burger will be a staple item at all Flagship First Dining facilities, while the rest of the menu will vary.
At the end of the meal guests will be presented with a cute clipboard that looks like a check but really just says "Thank You."
I asked about the expectations of tipping in the lounge. I like to be cognizant of how people make a living and what they rely on. As I suspected, tips aren't expected, but are appreciated. That's to say that the servers in the lounge have higher base pay than servers usually would, though I do suspect they'll rely on tips from some. Personally I'd certainly tip if using this lounge.
My thoughts on the Flagship First Dining facility
American did a nice job with the Flagship First Dining facility at JFK. The space has beautiful finished and plenty of natural light, which I appreciate.
While I have concerns about the crowding in the Flagship Lounge, I think the Flagship First Dining is plenty large. Actually, I'm surprised that this is a concept that American is investing in, as there are only a very limited number of passengers who are likely to use this:
This facility will probably be most popular with passengers traveling on American's dozen plus daily flights from New York to Los Angeles and San Francisco
At the moment American's only 777-300ER routes out of JFK are to London and Sao Paulo, so those are their only international flights with first class
In theory passengers connecting to international first class out of Miami, Dallas, etc., would also have access, though typically those passengers would be flying out of LGA and not JFK
So it seems like this facility will mostly be used by transcon first class passengers, though given that there are no westbound redeyes, I'm not sure how much value such a facility really adds. Typically the benefit of pre-flight dining is to maximize rest onboard, and that's less useful on a six hour westbound flight than on a six hour eastbound redeye.
So it's an interesting choice, especially as it comes at the same time that American is eliminating first class on their fleet of 777-200s.
Lastly, I think it should be pointed out that United's Polaris Lounge in Chicago also offers a la carte dining, except that's open to business class passengers. So I'd say United has an edge here, though do note that American will also offer a limited menu in the Flagship Lounge (though it sounds like it won't be as extensive as United's menu, and won't really be a dining "experience").
Interestingly American's press release claims that they are the "first U.S. airline to open a restaurant-style dining experience on the ground," which seems like a bit of a stretch. I suppose this is because it's a "separate" experience from the main lounge, though the United Polaris lounge also has menus, servers, etc.
Bottom line
American did a great job with their new Flagship First Dining facility, and this will be a nice treat for eligible passengers. I can't imagine the lounge will ever get too full. I'm excited to try this myself sometime soon, to see how good the food actually is.
What do you make of American's new Flagship First Dining facility?