A while back American Express announced that they would be opening a few more Centurion Lounges in the coming months, including at Miami International Airport, New York LaGuardia Airport, and San Francisco International Airport.
Obviously quite a bit of value has been lost for those with the American Express Platinum Card when it comes to lounge access. It used to get you access to American Admirals Clubs and US Airways Clubs, though that was discontinued in March. Furthermore, guesting privileges have been reduced at Delta SkyClubs as of May.
Presumably to try and maintain the benefit as much as possible, they've begun building some of their own lounges, and they blow the ones offered by domestic airlines out of the water. For example, I've visiting the Centurion Lounge at Dallas/Ft. Worth Airport, and I'd argue it's one of the best lounges in the US. Between "real" food, an open bar with a variety of drinks, and even a spa, it's on a different level than other lounges.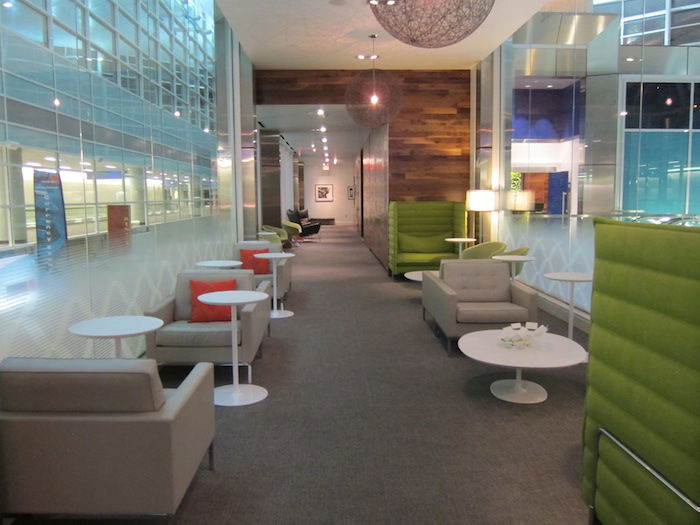 American Express Centurion Lounge Dallas
Anyway, it's worth noting that their latest Centurion Lounge at New York's LaGuardia Airport finally opened today.
Here's the description:
Entry to The Centurion Lounge, located in Terminal B, is complimentary for Platinum Card and Centurion® Members, and their immediate family or up to two travel companions. Other American Express Credit and Charge Card Members may purchase a One-Day Pass at The Centurion Lounge for $50*. Featured amenities in the 5,000 square foot lounge include:

Locally-inspired, seasonal cuisine designed by Cédric Vongerichten, Executive Chef at Perry St in New York City, named one of Zagat's top 30 up-and-coming chefs under 30
New York-inspired specialty cocktails and wine selections created by renowned mixologist Jim Meehan and wine director Anthony Giglio**
Connected work spaces with high speed Wi-Fi, outlets near every seat and private noise-buffering work spaces
Member Services Professionals to provide onsite Card related and travel related services like reservations at restaurants, airlines and hotel
Since this is in Terminal B, it's going to be most practical for passengers traveling on American, United, Frontier, JetBlue, Southwest, Spirit, Air Canada, etc.
I can't wait to check it out soon! Gary was able to get a preview of the lounge, so be sure to check out his review.
If anyone is visiting the lounge in the coming days, I'd love to hear your thoughts!
(Tip of the hat to Sam)