This post isn't intended to rag on American Airlines. Quite to the contrary, I'm a happy enough American Airlines frequent flyer at the moment. I'm a Miami hub captive, and my flights on American have been on-time and have had functioning high speed Wi-Fi, and that keeps me flying with them when they're the best nonstop option.
American's domestic first class food has been terrible for as long as I can remember, and American isn't alone in that regard — Delta and United aren't much better, in my opinion. However, I had two musings based on a visit to the Miami Admirals Club followed by a first class flight this week.
Admirals Club Avocado Toast At Last
One unique Admirals Club feature that American touts is how they offer custom avocado toast in the mornings and custom guacamole in the afternoons at select locations over limited hours.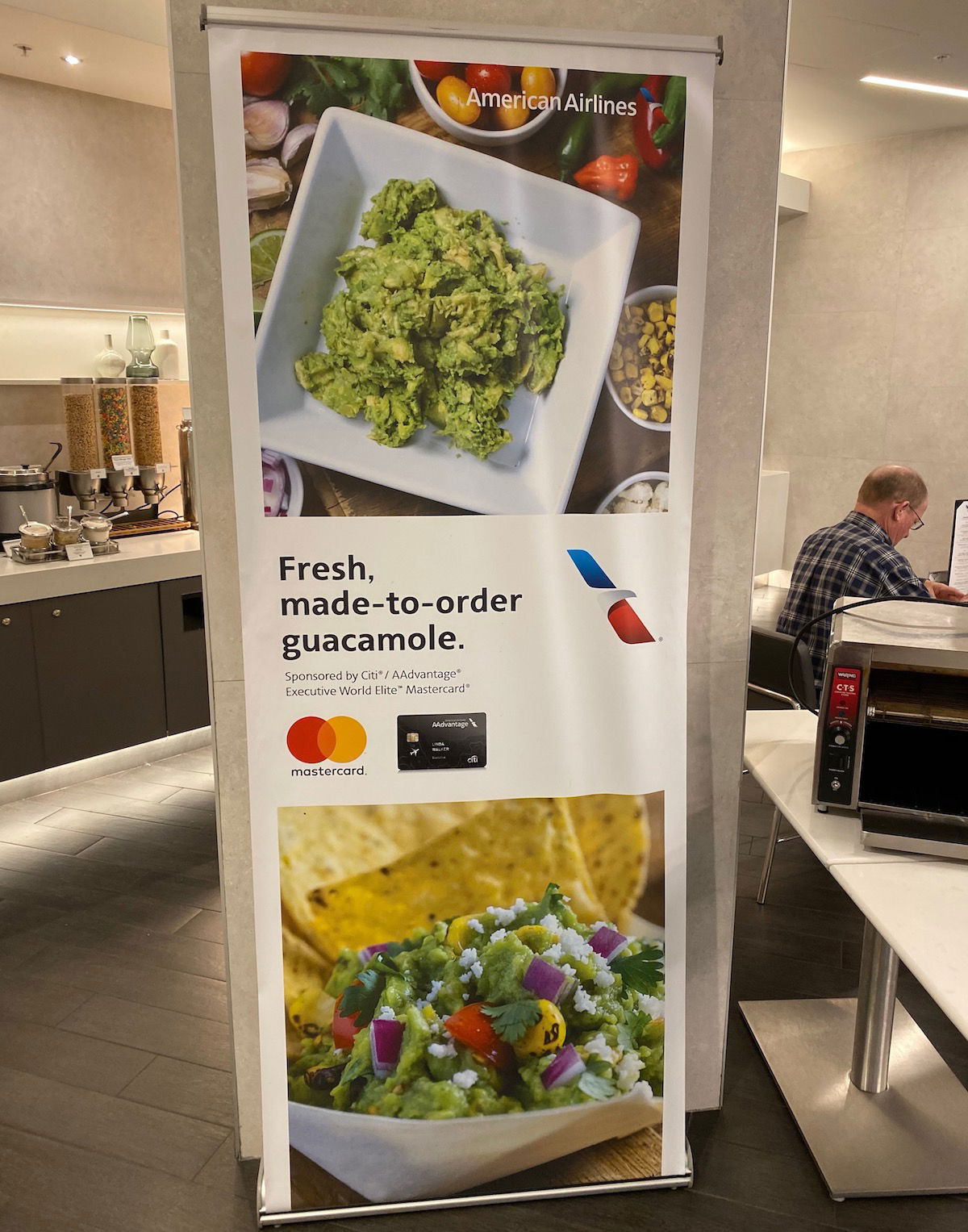 Believe it or not, I've actually never been in an Admirals Club when the avocado toast station was available (at least knowingly). That's despite the fact that I almost always fly American in the mornings.
Well, I finally tried the avocado toast, and wow…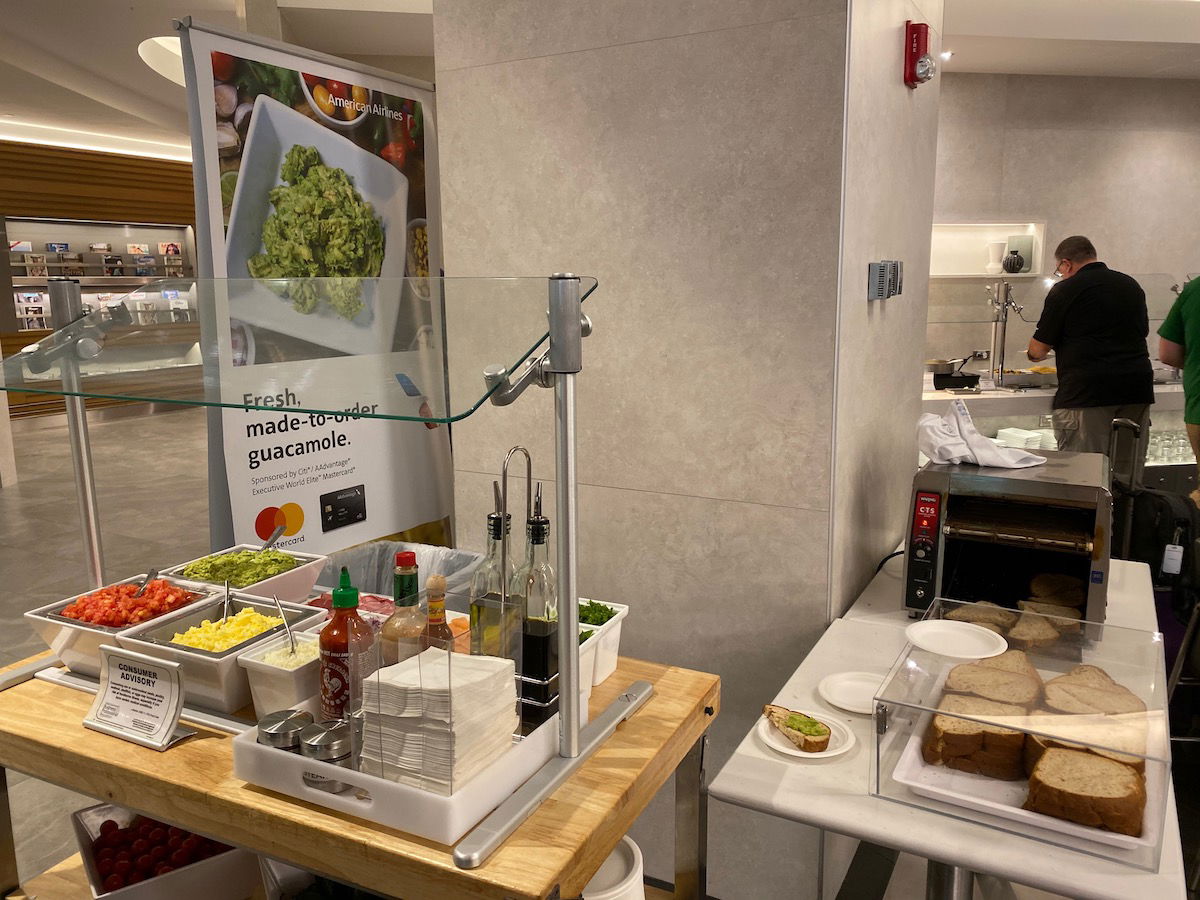 First of all, there's a line for the avocado toast station. You'd think they were giving away tickets to Ellen's 12 Days Of Giveaways.
Look, as a proud millennial I know a thing or two about avocado toast. I actually consider myself to be a bit of an avocado toast connoisseur. I order it far too often. Thick chunks of sliced avocado, a nice crisp bread, chili flakes… mmmm!
Unfortunately what American serves hardly passes as avocado toast.
Basically they put a guacamole spread on a piece of what looks like multi-grain Wonder Bread.
In fairness, they do offer to put a lot of toppings on the avocado toast.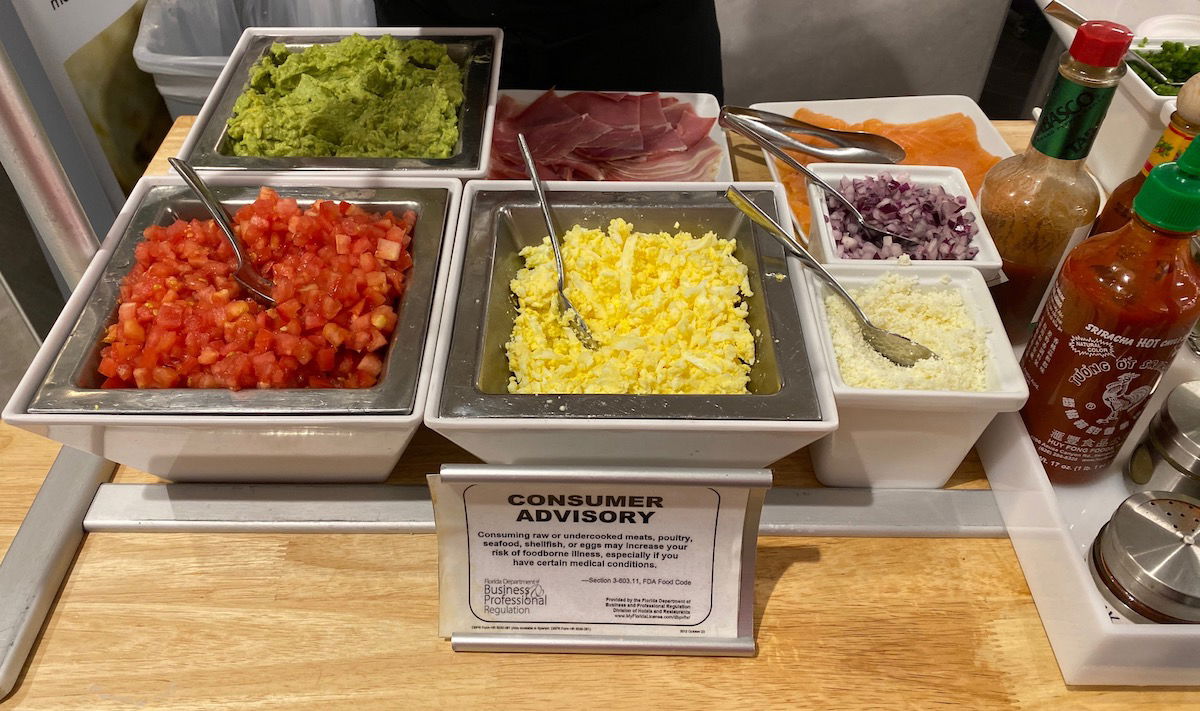 I recommend getting all of them, so that you can forget about the quality of the "avocado" and "toast." The salmon was nice, and not something you'll usually find in Admirals Clubs, so that was the highlight.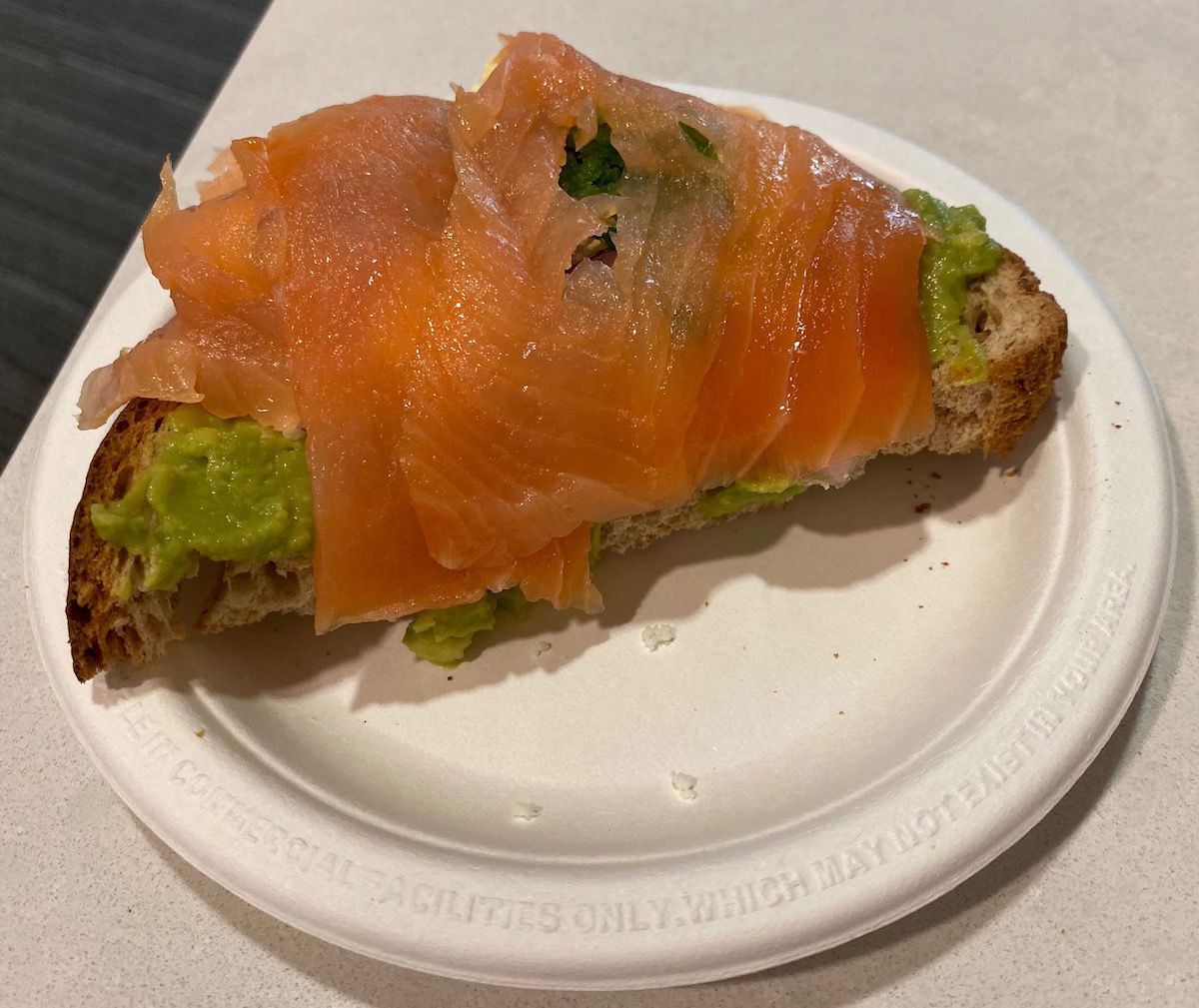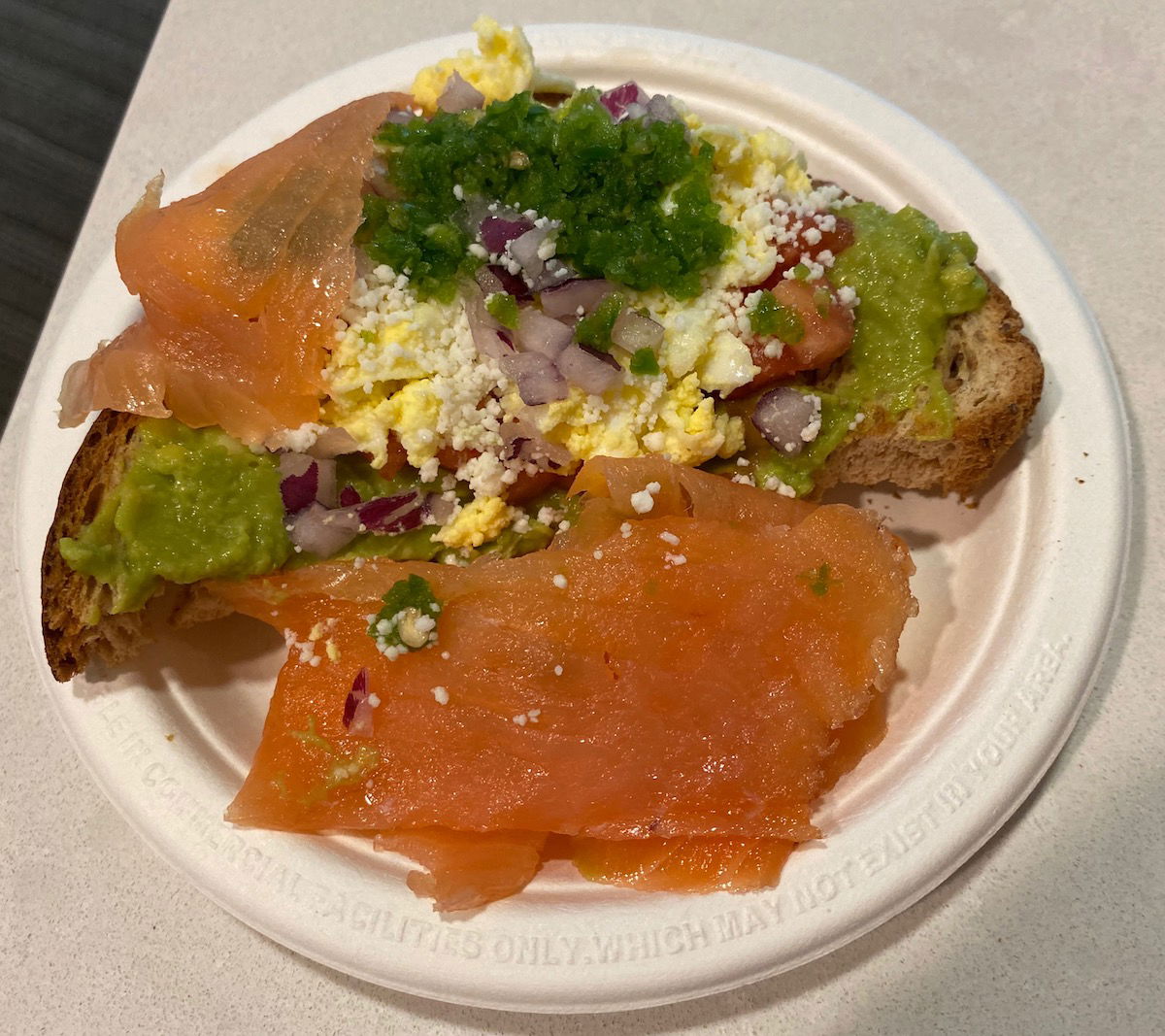 Maybe this is one of those gimmicks where we should just be happy they offer it at all, though at the same time I wouldn't be happy if I were served this in a restaurant, so if you're going to advertise a "fresh" station, I feel like they could up their standards.
Maybe I'm alone in feeling this way, based on how long the line was for avocado toast…
Back To Kosher I Go!
If I'm going to eat breakfast on American Airlines, I usually just order the kosher breakfast. This is consistently just a plain omelet that's good enough. It's not oozing with cheese, and it doesn't have any gross airplane sausage.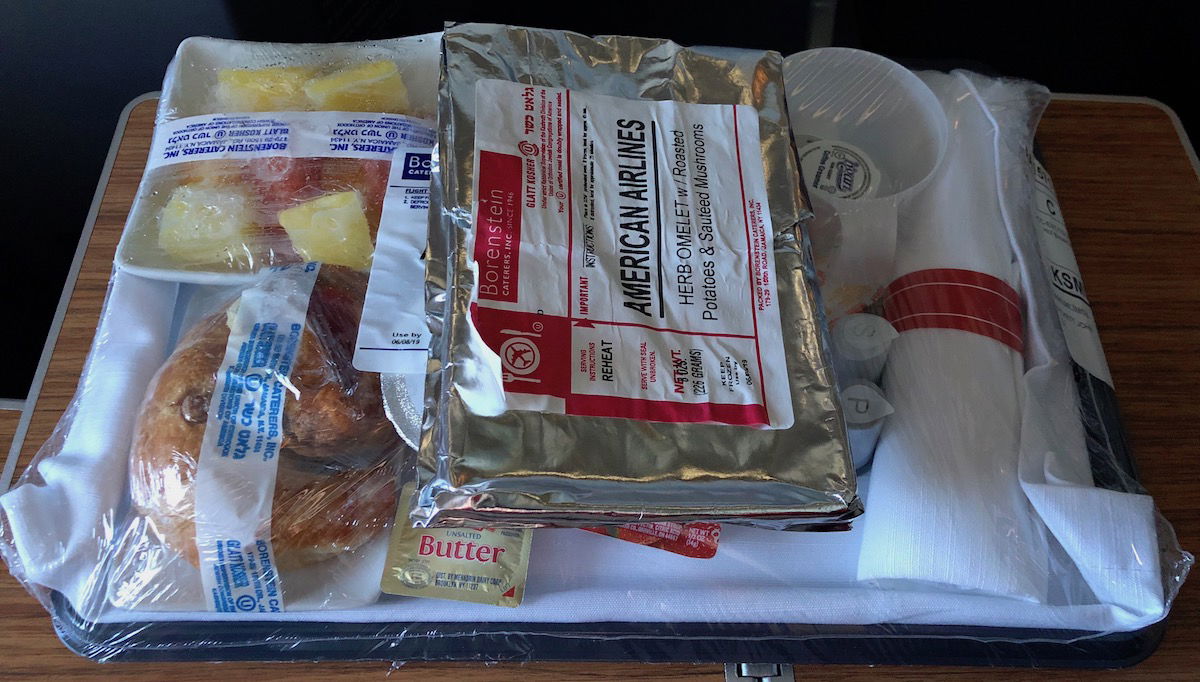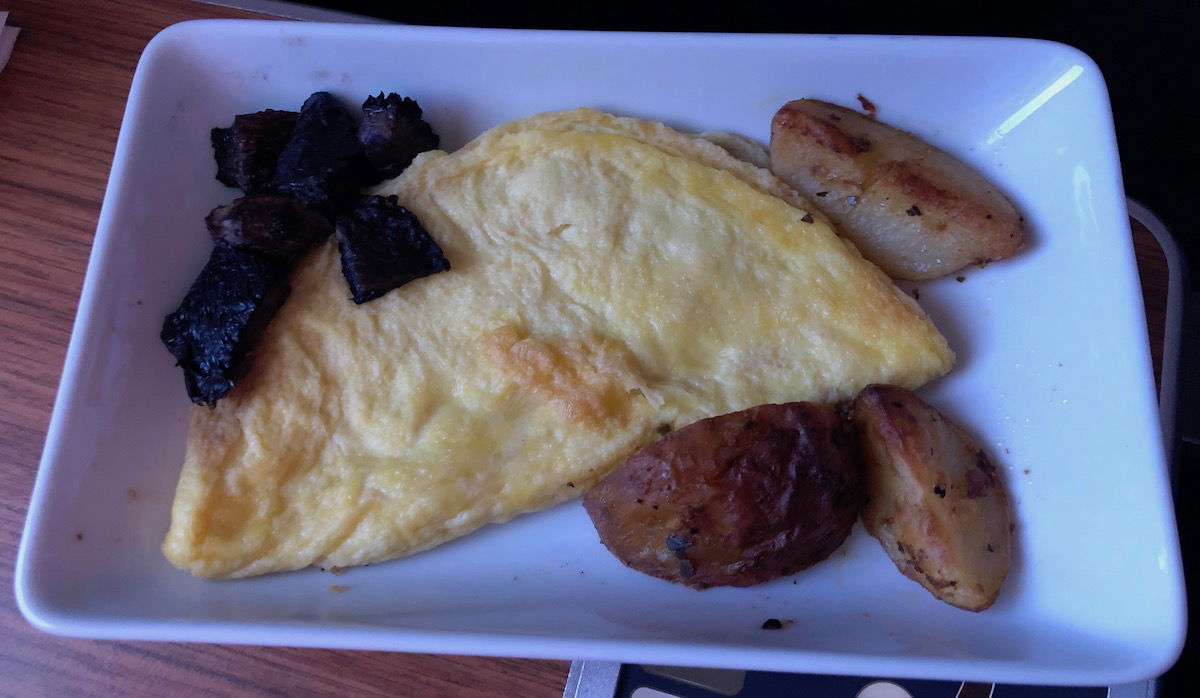 I decided to try American's egg enchilada for breakfast on this flight, which I hadn't seen on the menu before. In my imagination/french vanilla fantasy I pictured a nice crisp tortilla with some fluffy eggs. I know, I don't know what I was thinking.
Below is what I was served.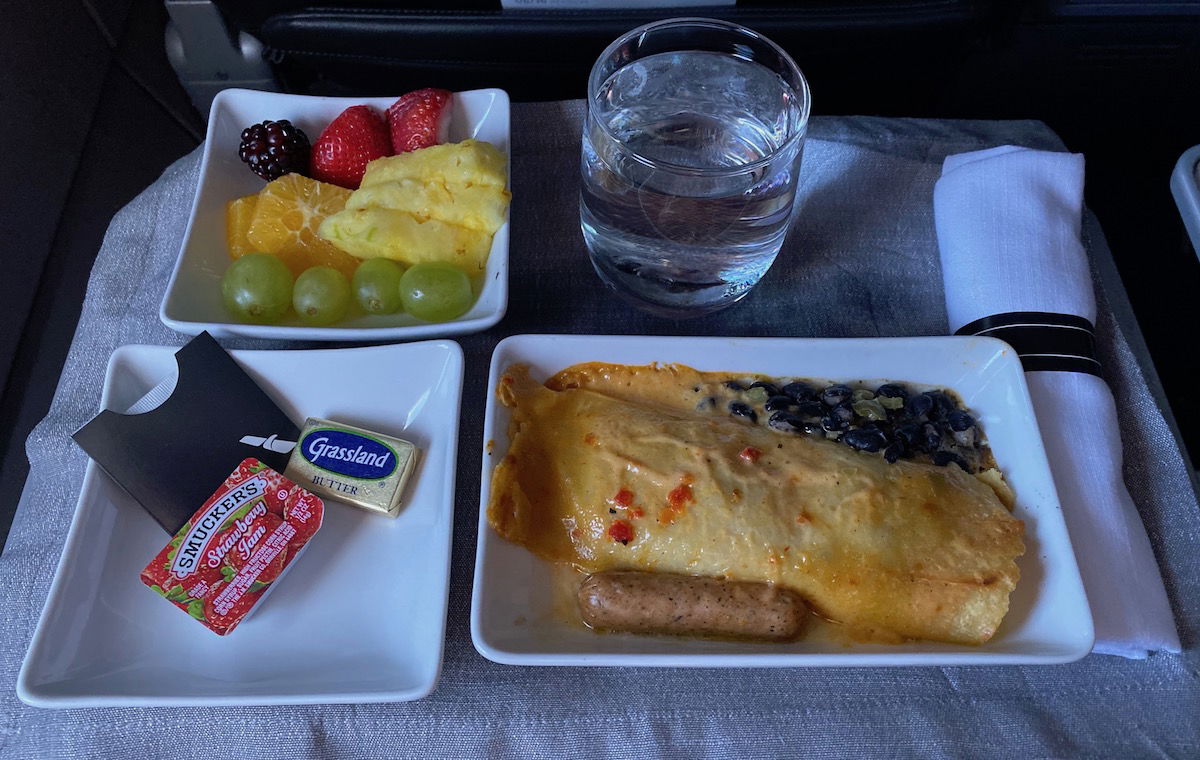 My seatmate and I hadn't talked the whole flight, but we both selected this as our breakfast choice, and we exchanged looks when it arrived.
This dish is repulsive, in my opinion. I understand catering budgets are limited, but what is it with American's obsession with dousing everything in unnecessary amounts of the most processed cheese imaginable?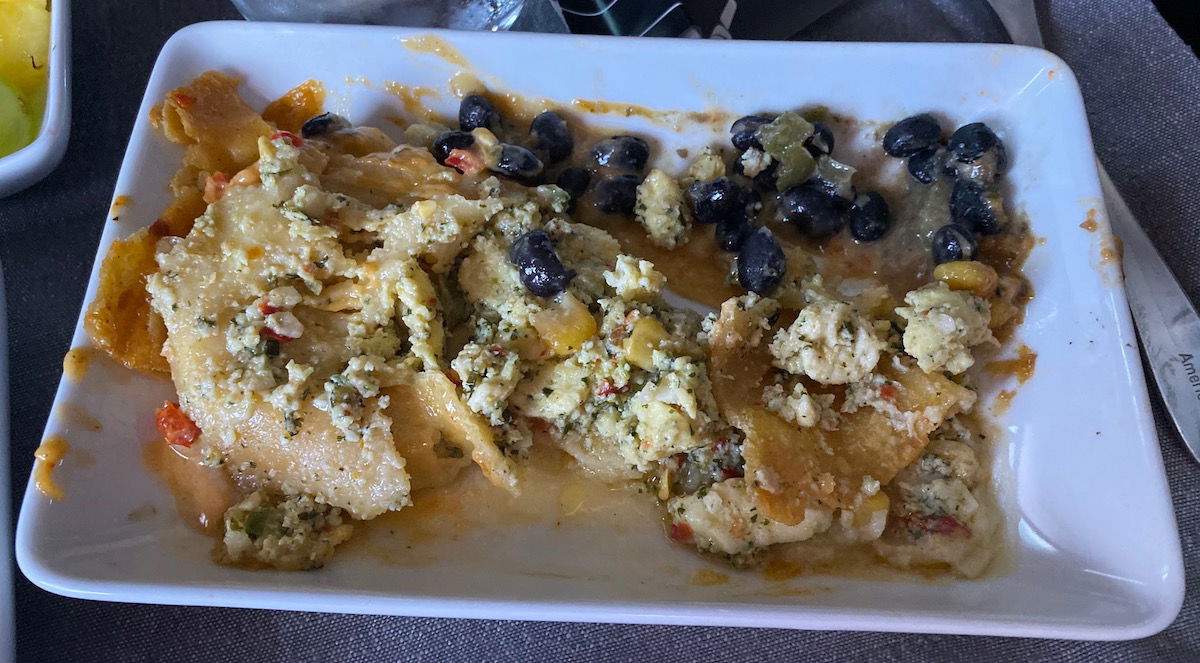 I reached out to American to ask about the nutrition contents of this dish (what can I say, I was curious?). For anyone else who is wondering, here's the info for the main dish: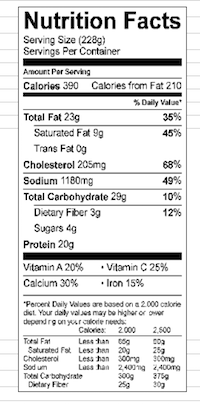 That's obviously not good at all, though it's at least significantly less caloric than I was expecting, to the point that I'm skeptical and I might doggy-bag this dish next time and send it to a lab.
Bottom Line
On the plus side, I now know that I'm not missing out every time I see the avocado toast station closed. Furthermore, I also know that the kosher breakfast on American is still the way to go, if you do plan to eat.
To fellow American frequent flyers, I'm curious how you feel. Do you like the Admirals Club avocado toast? If so, do you actually like it, or just like it in a "well it's free so why not" kind of way? Has anyone had the egg enchilada for breakfast and enjoyed it?