Update: In the meantime ANA has introduced an all new first class suite — see here for a full review of that.
Hello from Tokyo! Ford and I just took the 13 hour All Nippon Airways flight from Chicago to Tokyo Narita, and we're very excited to be spending a bit of time in Japan.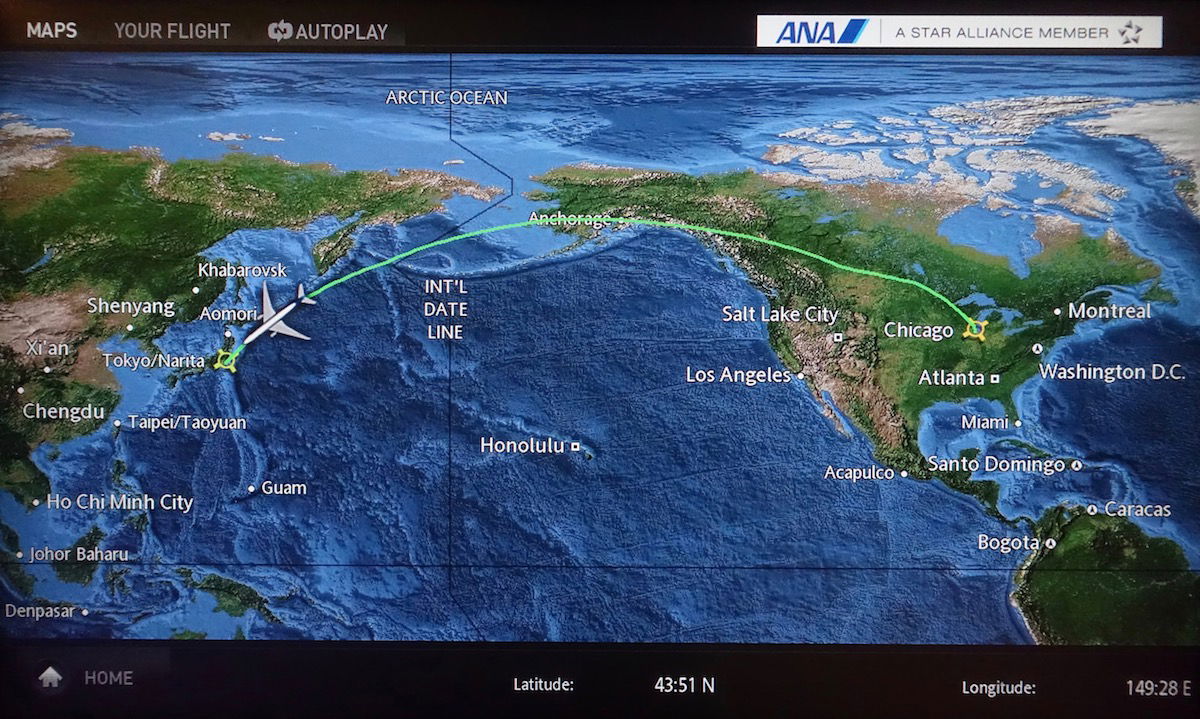 We booked our tickets using Virgin Atlantic Flying Club miles, as tickets cost just 120,000 miles roundtrip in first class, which is a spectacular value. At the moment both Amex Membership Rewards and Citi ThankYou are offering a 30% transfer bonus to Virgin Atlantic, so you can book these tickets for 93,000 Amex or Citi points roundtrip.
While I'll write a full trip report, below are my initial impressions of the flight. I've flown ANA first class several times before, though it has been years. I also recently flew Japan Airlines from Tokyo to Chicago, so appreciated the opportunity to compare the two products just months apart.
ANA 777 first class cabin & seats
Let's start off with the biggest negative. I strongly dislike ANA's first class seats. It goes without saying that I'm grateful to have the opportunity to fly first class and to have a fully flat bed, but I just can't wrap my head around the decision making process that went into them selecting these seats. The good news is that this will be changing soon, as ANA is introducing new first class seats.
ANA's 777-300ER first class cabin consists of a total of eight seats, spread across two rows in a 1-2-1 configuration.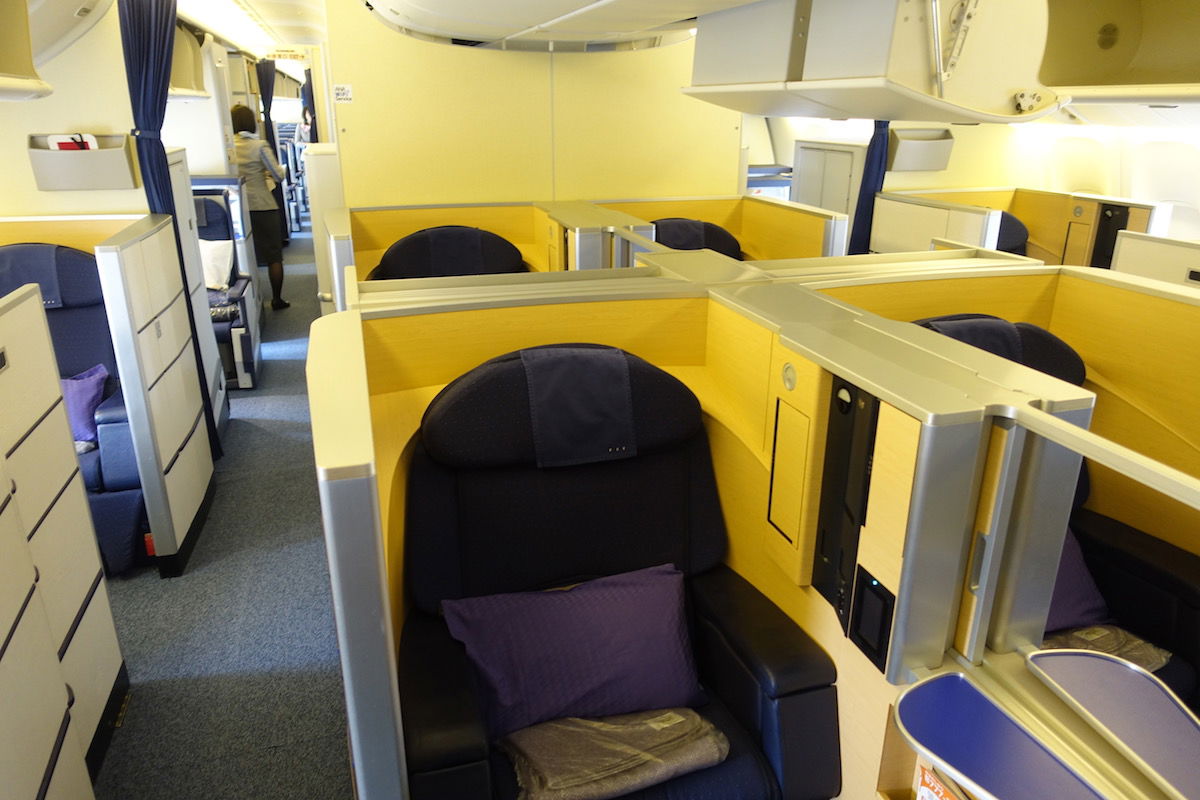 That's a pretty standard configuration, though what makes zero sense to me is that they "box" these seats in. This means:
If you're in a window seat you can't actually look out the window without leaning way forward
If you're traveling with someone you have no real way to communicate with them, unless you lean way forward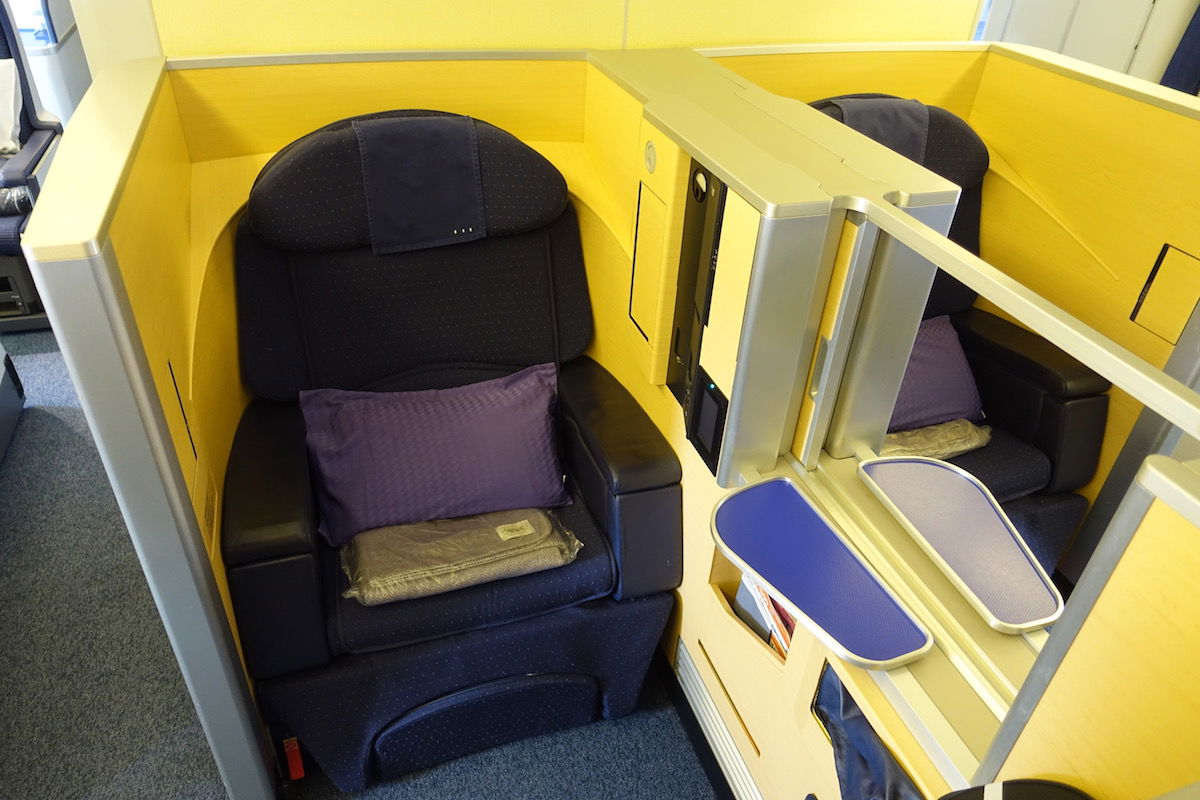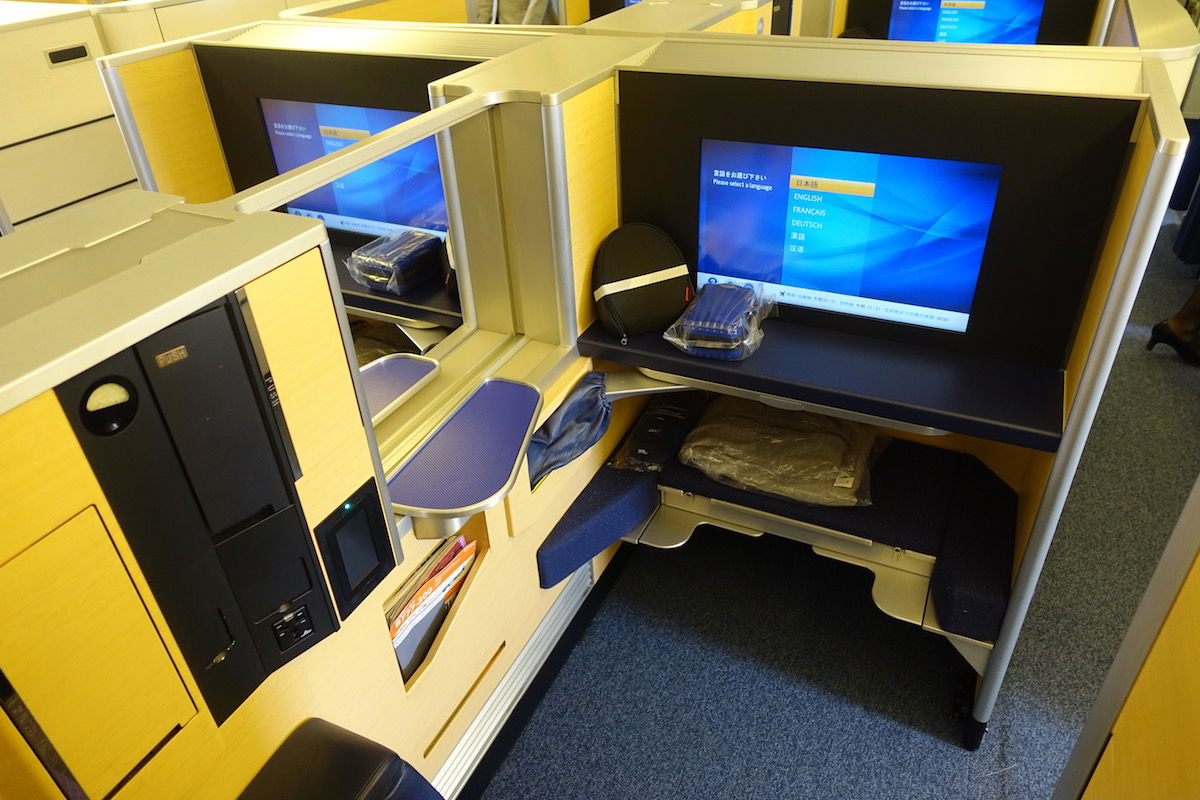 The seats just make zero sense to me. They're so private based on how they're boxed in, but then they also don't put a door on them.
You'd think if they were going to make them so private that you can't talk to the person next to you they'd at least have the functionality to have a buddy seat, so you can dine together. But they don't have that.
So even if you're traveling with a friend or loved one, you might as well select window seats, because the middle seats are useless.
On the plus side, in bed mode the seat was comfortable, though ANA is known for keeping their cabins warm, and there are no individual air nozzles.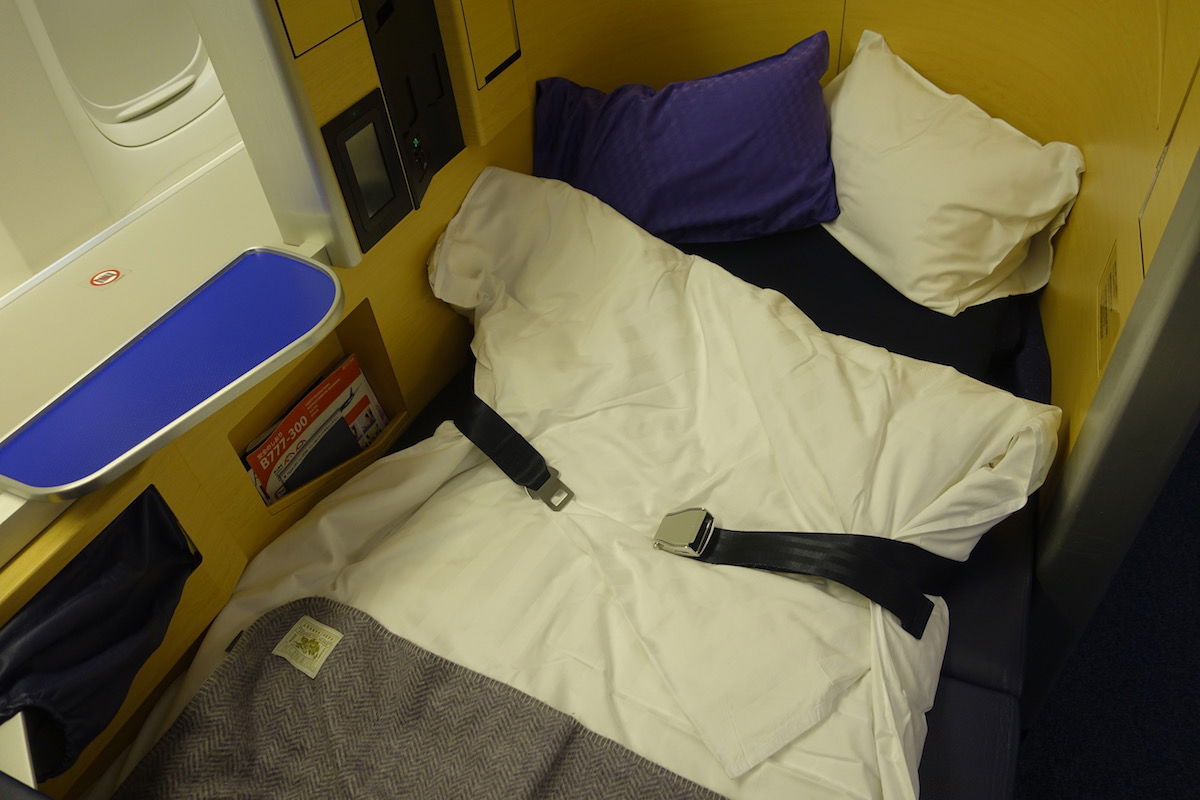 ANA first class food & drinks
With the bad news out of the way, let's talk about the good stuff. ANA has a top notch menu in first class. You can dine whenever you want, and there's an extensive selection of options (though it's not as big as Japan Airlines' menu, in my opinion).
Everything I ate was excellent, so I give ANA a lot of credit there.
Service began with an amuse bouche, which included apricot and goat cheese, smoked salmon, foie gras, and a cheese pepper bar.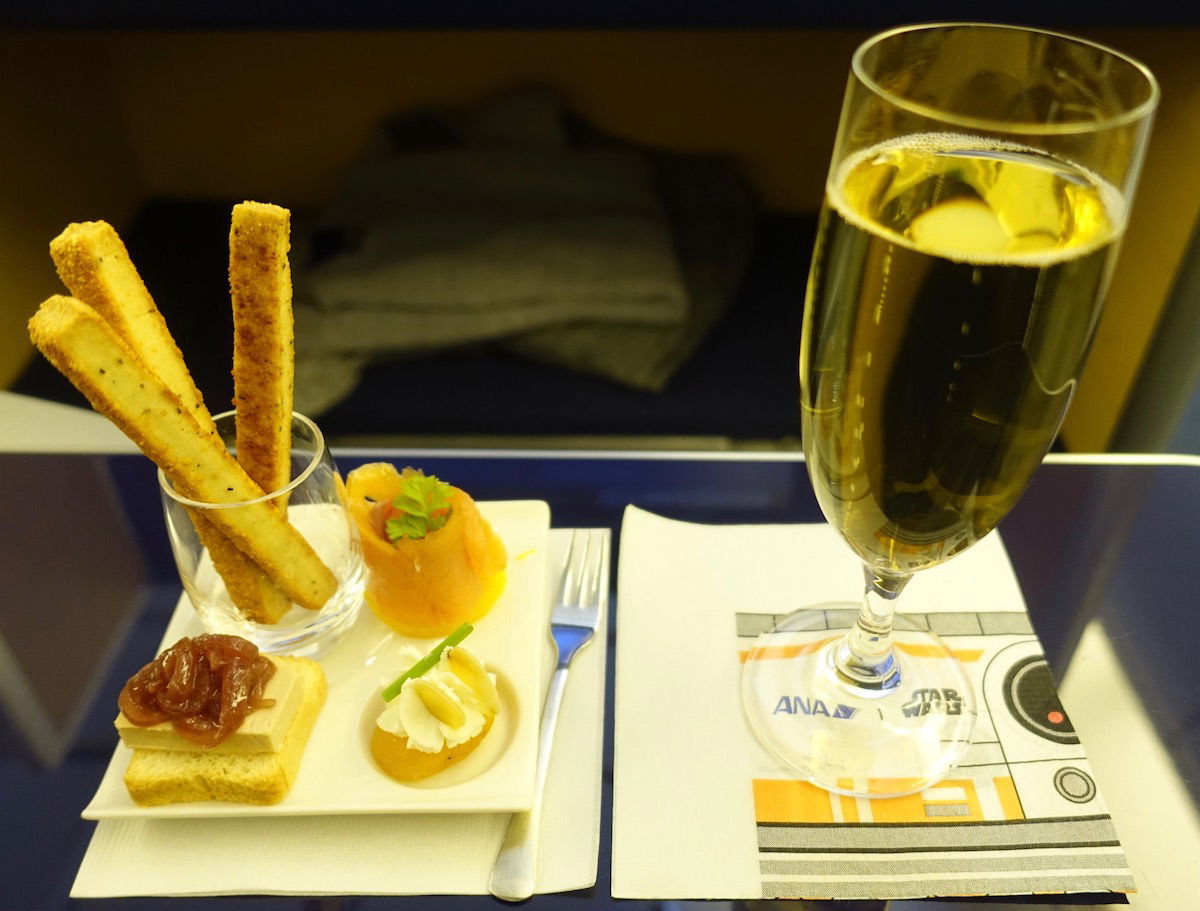 For the starter I had cauliflower mousse with caviar.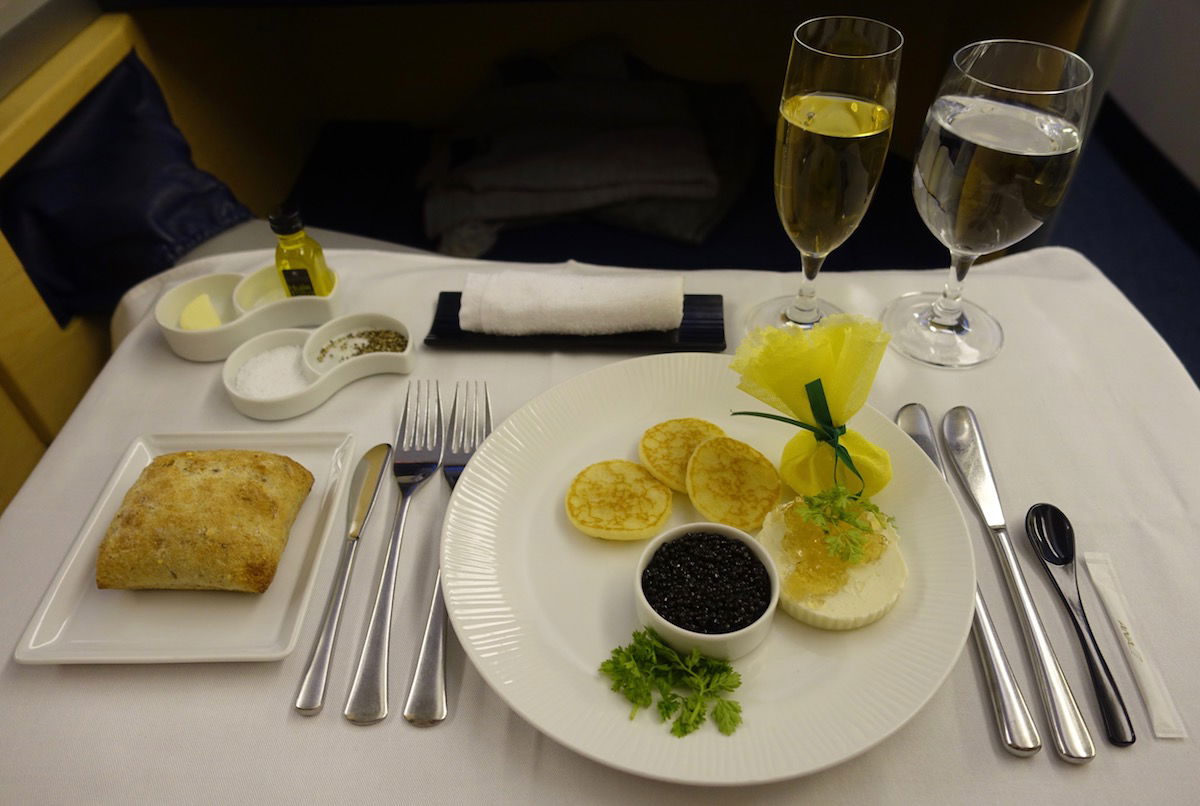 Then there was a garden salad.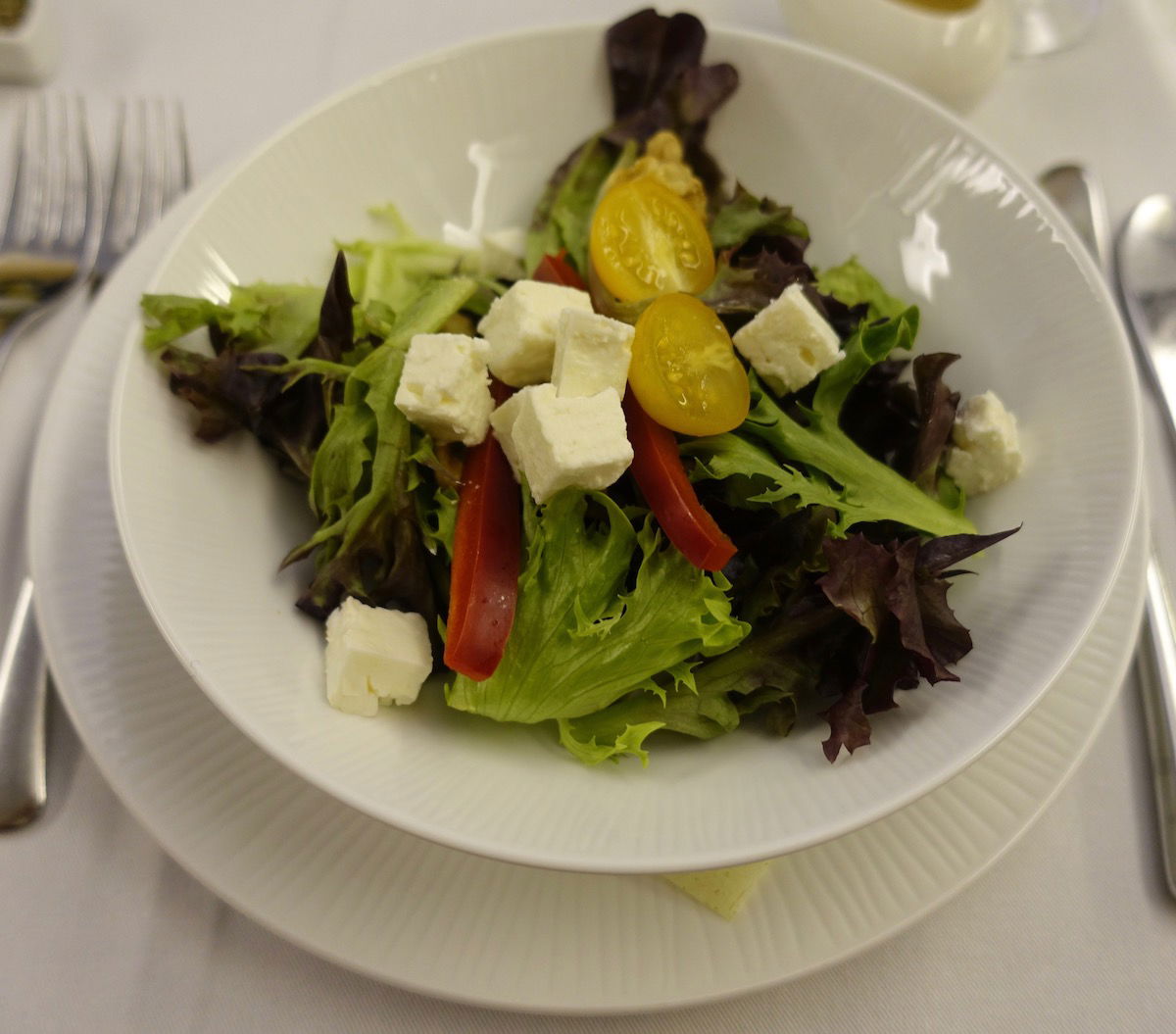 Next up was Chilean sea bass with raisin and herb brown butter sauce.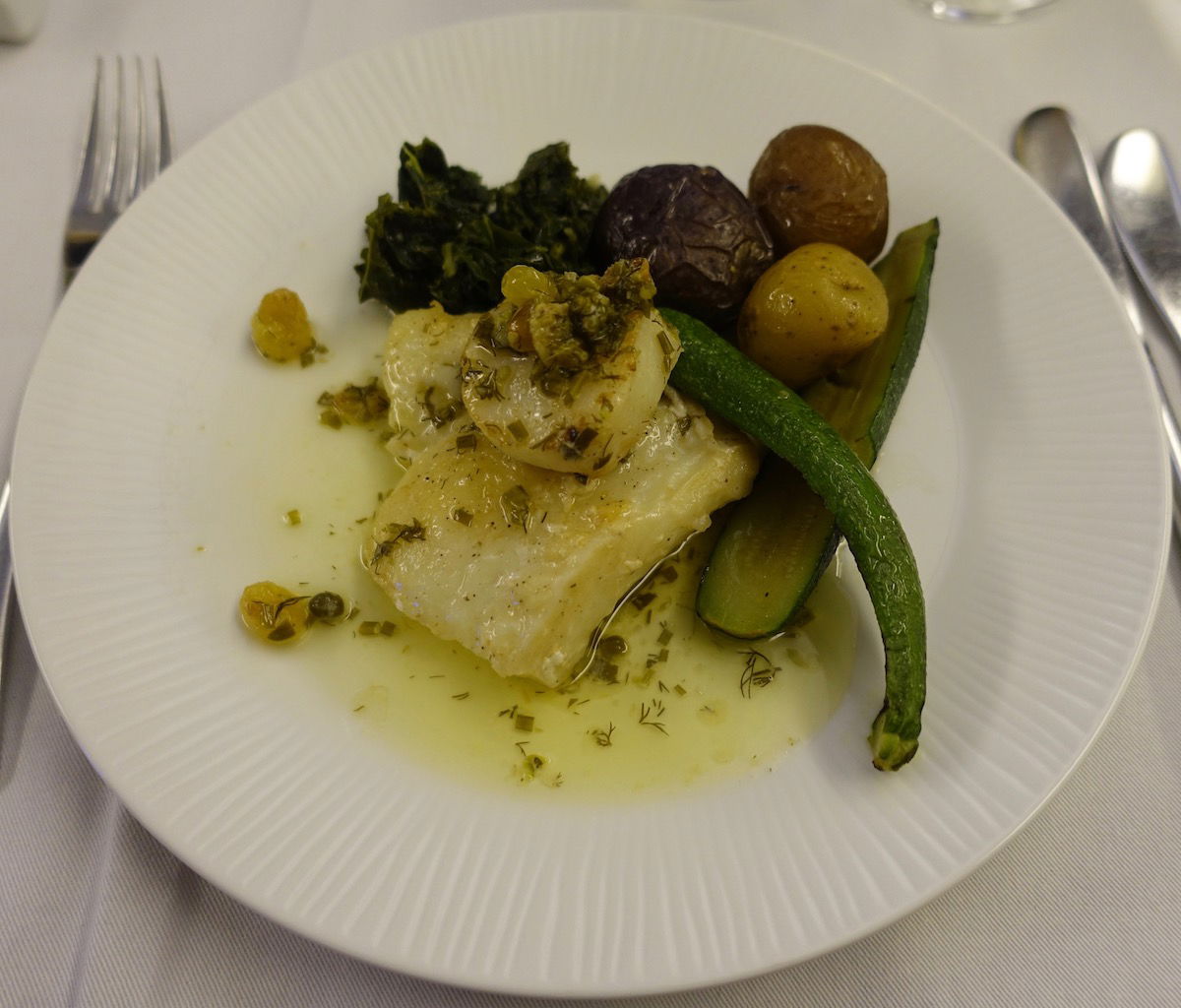 Finally for dessert was a cappuccino mousse cake.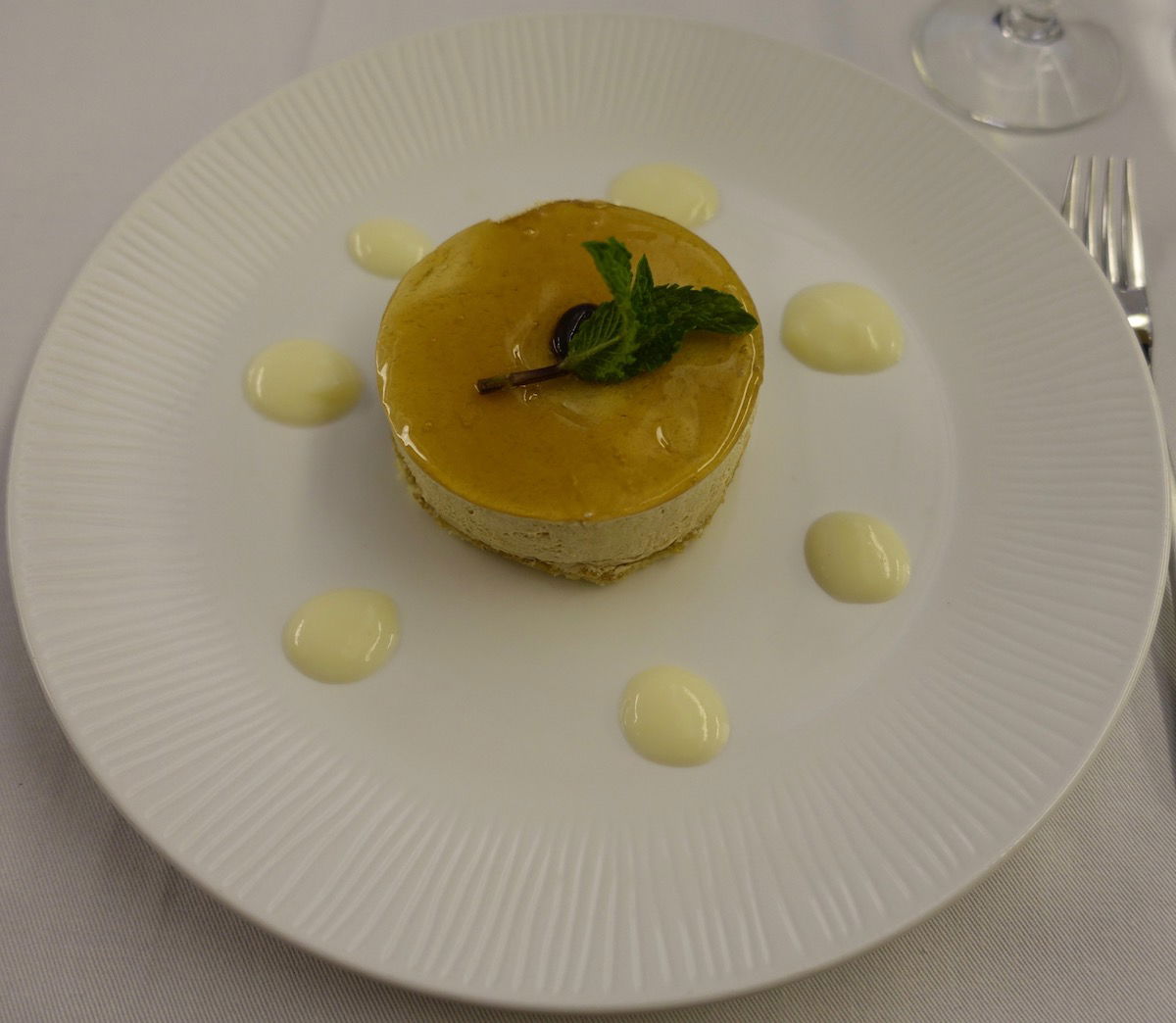 Yum!
ANA also has an excellent drink selection. Notably they're serving Krug 2004 champagne at the moment.
ANA first class amenities
There's no shortage of amenities in ANA first class. This includes both a cardigan and pajamas…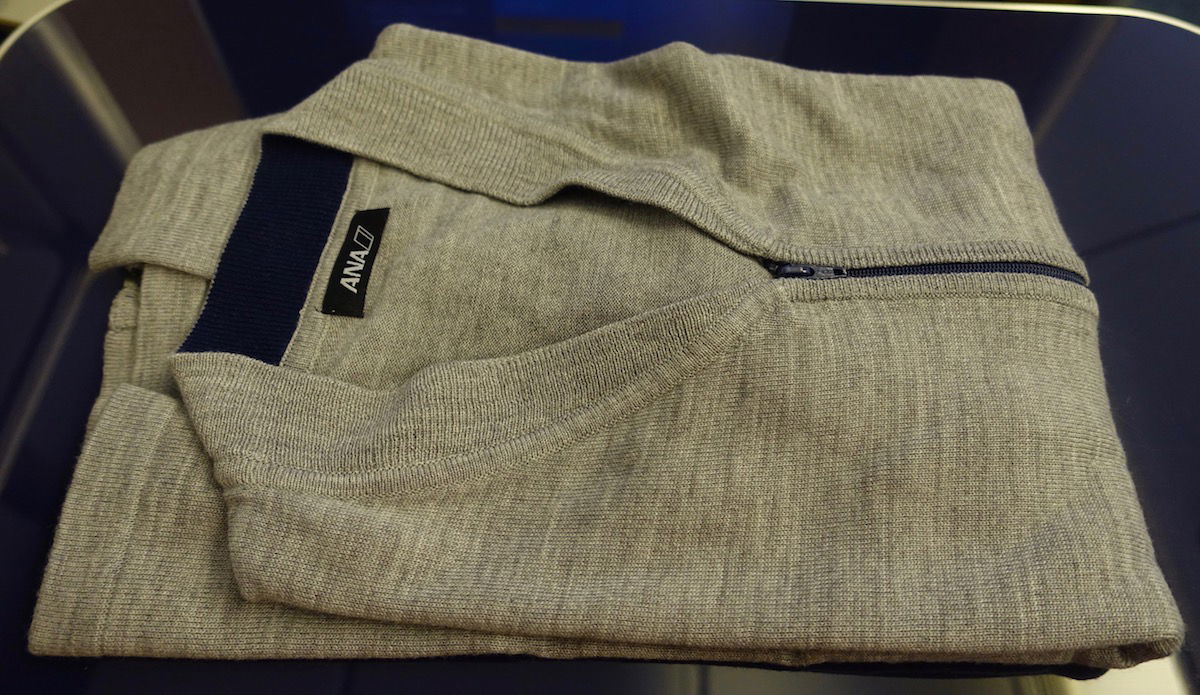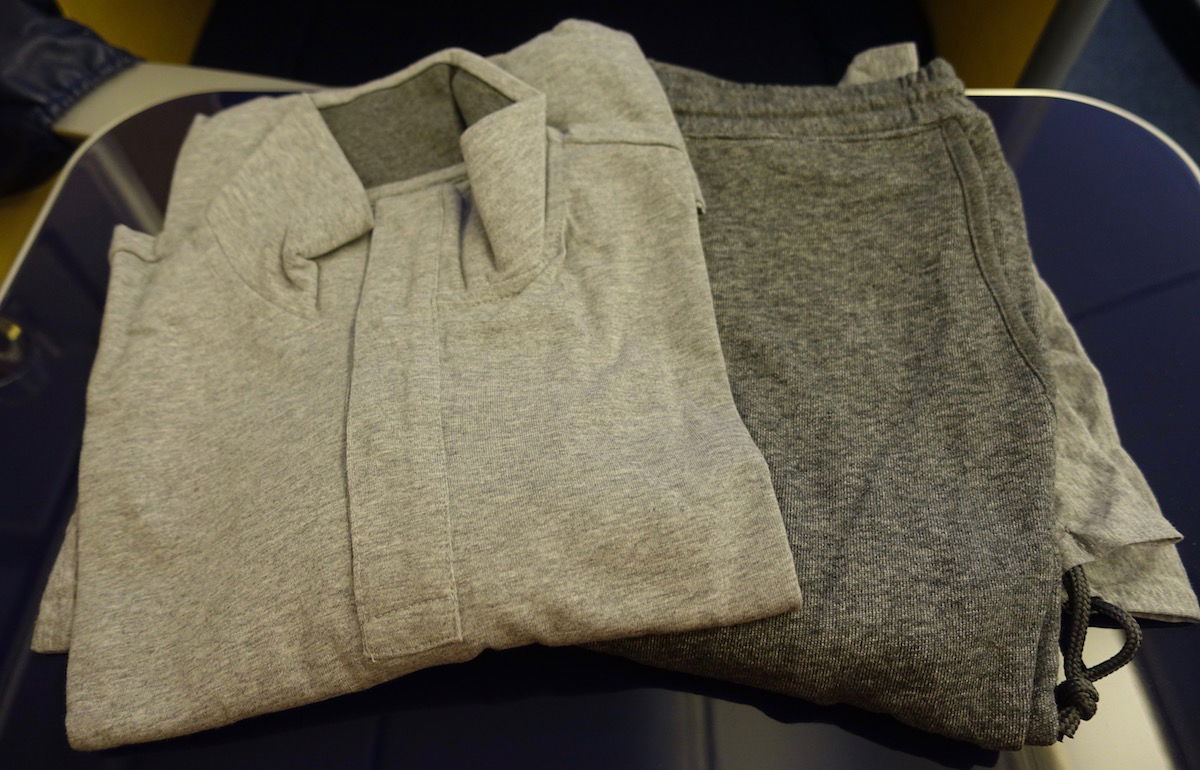 Then there's a well stocked Samsonite amenity kit…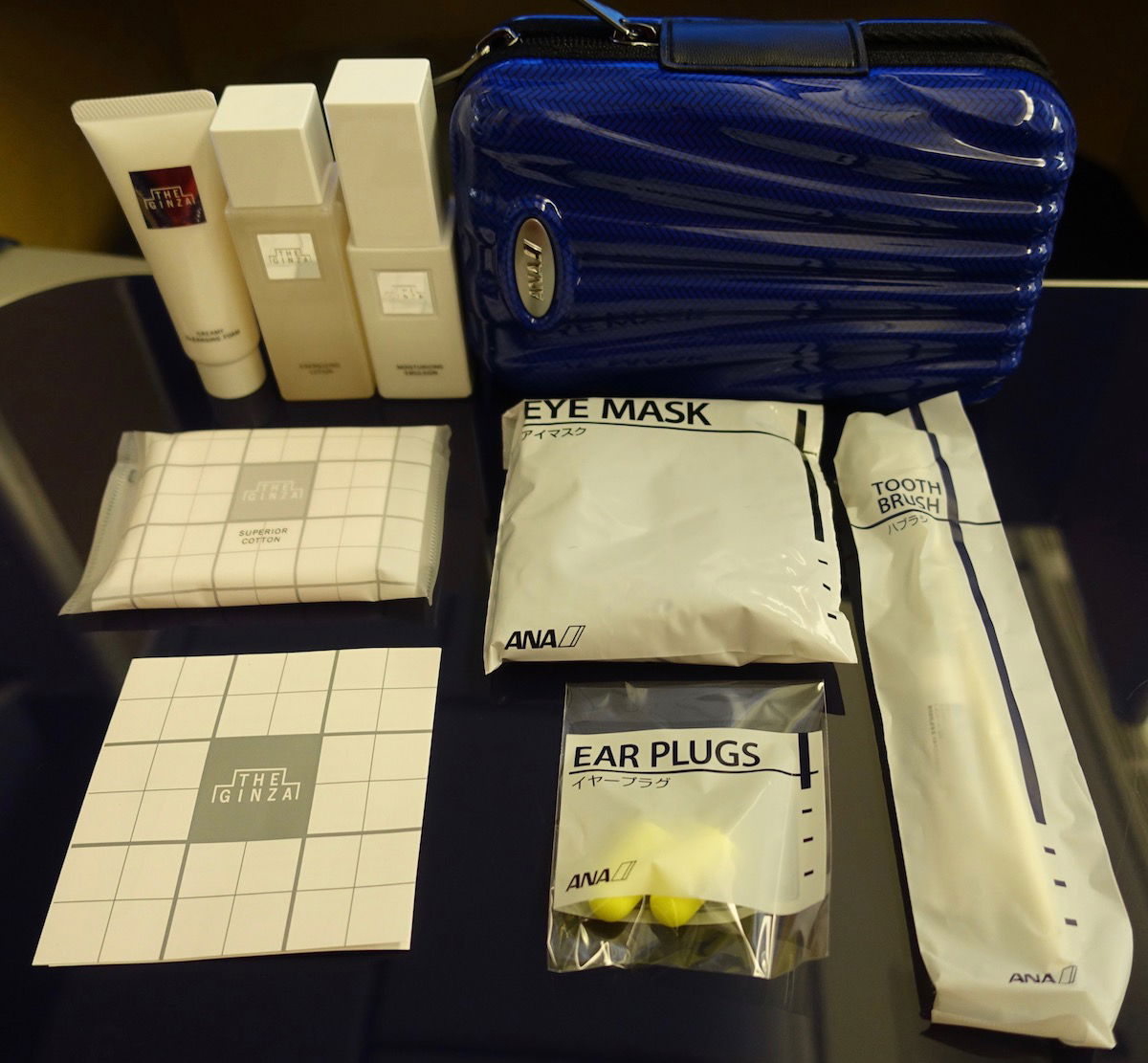 And then a basket is brought around with all kinds of additional amenities, including my favorite, a "refreshing leg towel."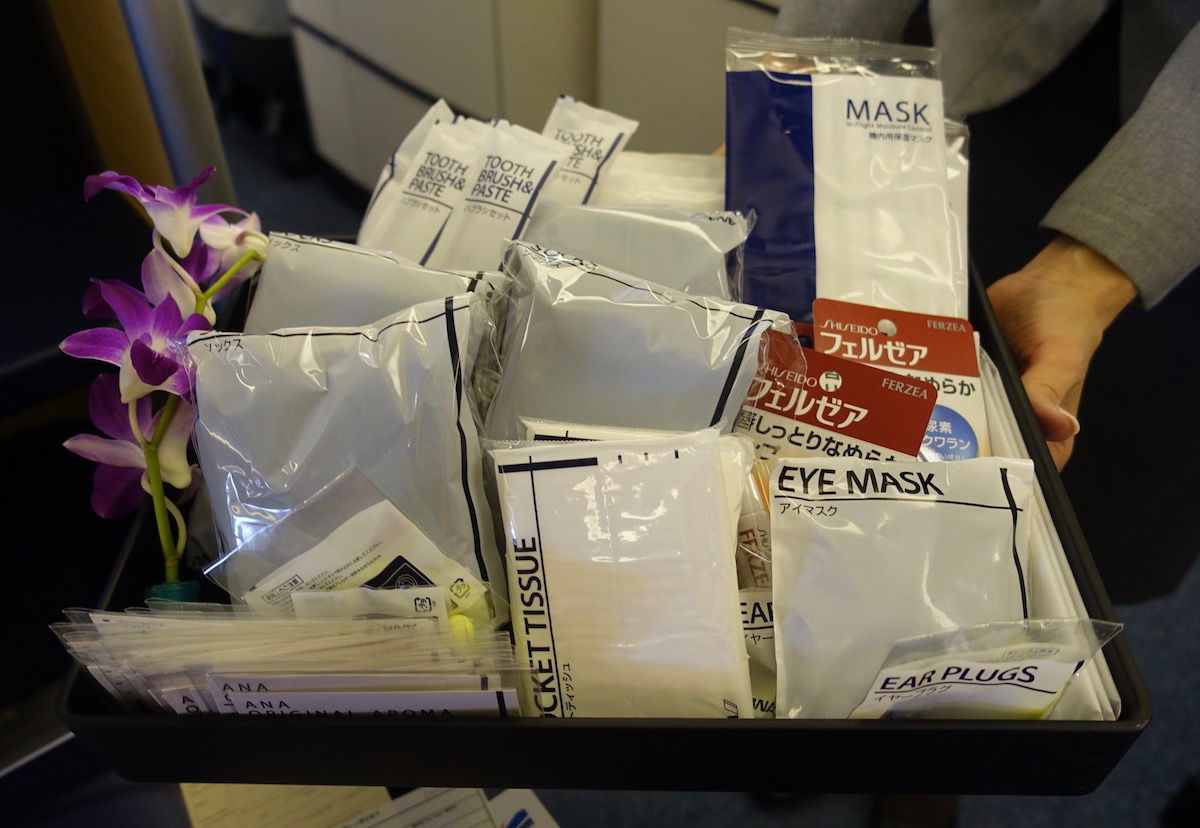 ANA first class entertainment & Wi-Fi
ANA has a better selection of movies than I remember, though it's still not really competitive. There's also a lack of western TV shows, so I'd recommend bringing your own entertainment.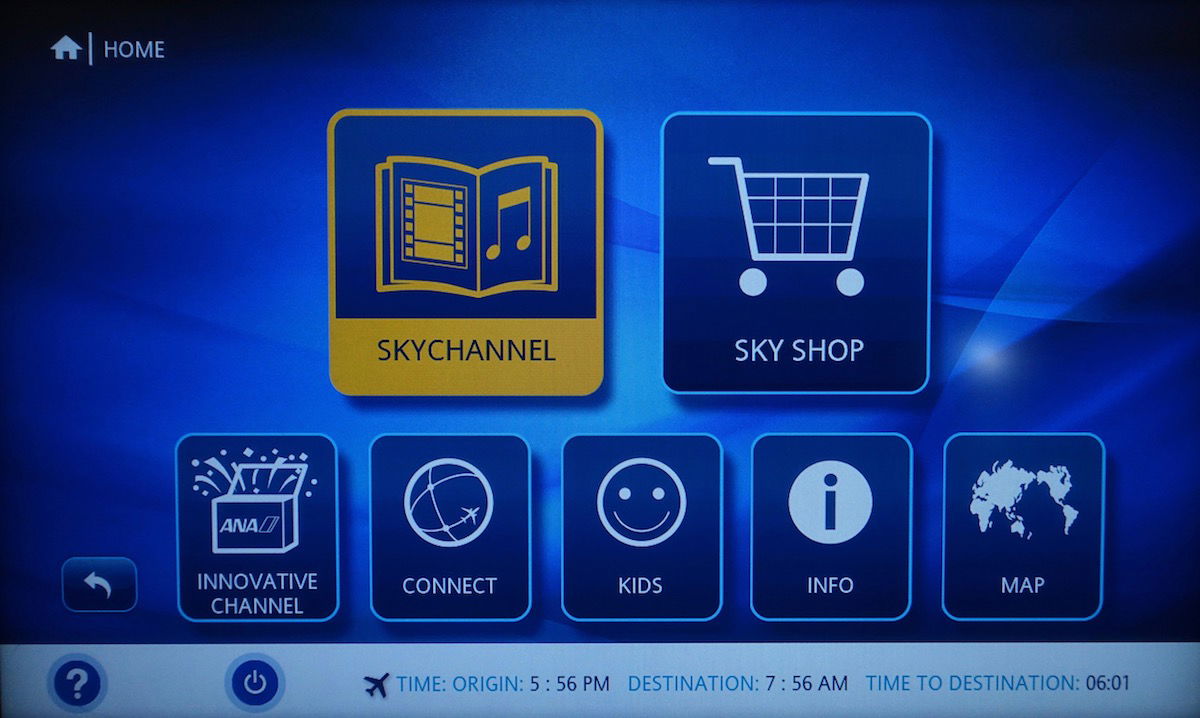 On the plus side, I found some of the content to be downright hilarious. There was programming called "Crime Prevention Videos For Tourist In Tokyo." It featured two caucasian guys who communicated in perfect Japanese (there were English subtitles). Yet the whole premise was that one of the guys had never been to Japan before and didn't know any of the customs.
So he has never been to Japan and speaks perfect Japanese, but he also thinks it's okay to talk on the phone on the bus and his first stop after landing is at a hardware store so he can buy a knife to protect himself while in the country (bad timing for this, of course, given what just happened in Japan).
The other thing worth noting is that ANA has Wi-Fi. However, it's offered by OnAir, which is extremely slow. They offer first class passengers vouchers for 100MB of free Wi-Fi. That lasts a while since you can't use much data due to the speeds.
ANA first class service
Service was exceptional, as you'd expect. The crew was textbook perfect, but I've sort of come to expect that in first class on any Japanese airline. In particular the chief purser was incredibly charming.
ANA 777-300ER first class bottom line
Many people think ANA offers one of the best first class products in the world. Personally I think it's really good, between the food, drinks, amenities, and service.
However, I don't rank it in the top 10, and for that matter I have a strong preference for Japan Airlines over ANA. That's because I think the soft products are roughly comparable, while I strongly prefer JAL's seats and Wi-Fi.
Still, all things considered ANA is excellent, and I still pinch myself for what a great deal we got on miles for this trip.
If you've flown ANA first class, what was your experience like?