US airlines are just in the process of launching flights to Cuba for the first time in decades. There are a limited number of available slots, so the Department of Transportation had to go through a selection process to award the routes.
This was done in stages. The airlines had to put in requests for the slots they wanted. First the DOT awarded slots for all Cuba flights not to Havana, since the number of requests didn't exceed the number of available slots. After that the DOT granted the rights for Havana slots, which was a much trickier selection process, given that there was a lot more demand from airlines than available slots.
Here are the Havana routes that got selected: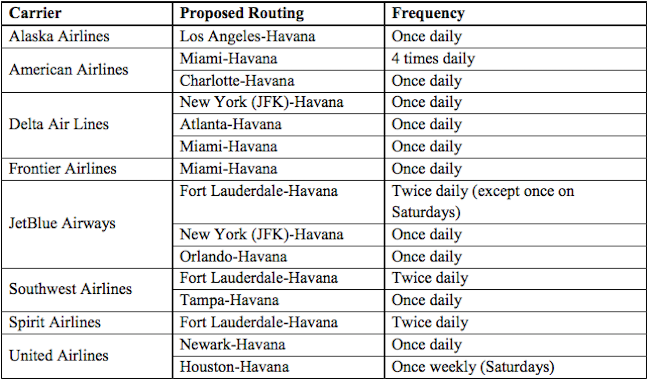 Personally I think this is all a bit of a craze, and aside from the Florida to Cuba routes, flights to Cuba are going to be a big money loser for airlines. The infrastructure simply isn't there for the hundreds of thousands of additional visitors. While many people will want to visit initially, I don't think the demand is there for thousands and thousands of seats a day. At least that's not the case under current conditions, given how crazy expensive hotels are.
Anyway, perhaps the most puzzling route to Cuba is Alaska's Los Angeles to Havana flight. Not only is it the longest route between the US and Cuba (which makes the economics tough), but there isn't a big Cuban population in Los Angeles (or on the west coast at all, for that matter) to help make the route sustainable.
When American initially requested their routes to Havana they included a once weekly flight from Los Angeles to Havana, which seemed more in line with what I'd expect in terms of demand for the route.
Nonetheless Alaska was granted the right to fly daily between Los Angeles and Havana, and JetBlue is now petitioning the DOT to take the route away from Alaska, and instead grant JetBlue the right to fly between Boston and Havana.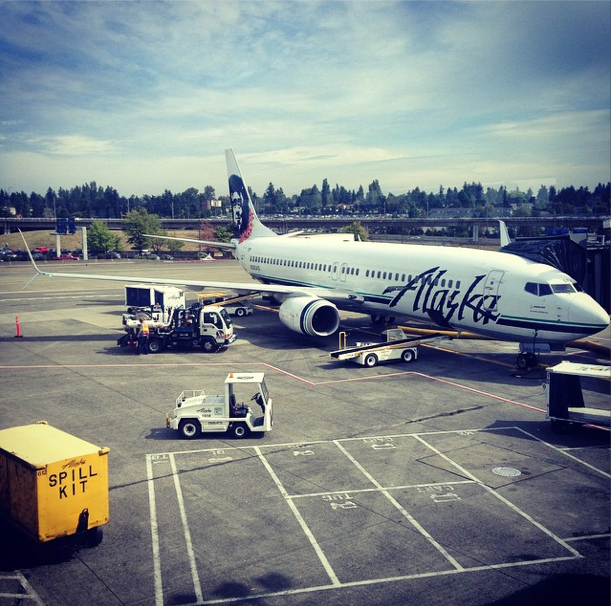 Why? Because Alaska has requested to delay the launch date of their flight from November 29 to January 5 so they have more time to market the flight. Per Skift:
Generally, though not always, carriers do not object to a delay request from a competitor. But JetBlue on Thursday raised objections, noting that no other U.S. carrier has sought an extension. The U.S. and Cuban governments will permit only 20 daily flights to Havana, and airlines competed vigorously to serve the city. JetBlue won the right to fly to Havana from Fort Lauderdale, New York JFK, and Orlando, but not Boston.

"Every U.S. carrier involved in the Cuba frequency proceeding began the task of starting scheduled Cuba service from the same starting point and faced an identical timeline," JetBlue said in its objection. "No other carrier is claiming 'operational' and commercial challenges as a basis for significantly delaying their start date."

Alaska spokesman Bobbie Egan said in an email that Alaska is confident the government will approve its request. "As noted in our motion for extension, we believe early January will be more conducive to a successful service launch," she said. In its filing, Alaska said the holiday season would be a particularly tough time to launch a new Havana route, as most Americans travel for leisure in the period, and "vacation" is not one of the 12 government-sanctioned reasons to visit Cuba.
One of the conditions of applying for slots to Cuba was that flights had to begin within a certain timeframe, and Alaska wants an extension of that. On one hand it is indeed true that they're unlikely to do well on the route in the month of December. On the other hand, it seems to me like they're unlikely to do well on the route ever, so… 😉 Furthermore, as stated above, all airlines are facing the same conditions, so I don't see why Alaska should be special.
So, what's JetBlue's motive here? I imagine it's a combination of a few things:
While the airlines have historically not competed much, keep in mind that Alaska and JetBlue got in a bidding war over Virgin America, so I imagine there's pride on the line
JetBlue knows Alaska will lose money on the route for the month of December (and perhaps beyond that), and they want to see Alaska lose money
Even if the DOT doesn't take away Alaska's authority, JetBlue would like backup authority for their Boston to Havana route, meaning that if Alaska delays the flight further or cancels it, JetBlue will be granted the authority
Interesting stuff. This whole situation is very similar to when American and Hawaiian fought over Delta's Tokyo Haneda slot, as Delta wasn't fully utilizing it.
Anyone else think Alaska's Los Angeles to Havana route is doomed to fail, no matter when it actually launches?