There has been lots of buzz the past week about restrictions between the US and Cuba slowly being lifted, which is exciting news on so many levels, especially for those looking to visit.
I've received tons of questions from readers asking about the best way to redeem miles for travel to Cuba. I'm not an expert on the exact diplomatic situation between the US and Cuba, and don't have any inside knowledge into what these restrictions being lifted means for US airlines and travelers.
That being said, I'd like to think I have a decent grasp of miles & points, so I figured I'd tackle the question as to whether it's possible to redeem miles for travel to Cuba.
US airlines will fly to Cuba soon
So with the announcement of many sanctions being lifted between the US and Cuba, why have no airlines published a schedule for flights to Cuba yet? Because first a civil aviation agreement has to be struck between the two countries, and from there airlines will be awarded slots to fly to Havana and beyond.
Both American and United are in the process of applying for rights to fly to Cuba, though that probably won't happen overnight. Experts say it could be up to 12 or so months until that happens, so I wouldn't expect service to Cuba overnight. That being said, once the rights are granted, I anticipate that flights will commence as quickly as possible (in other words, I don't think they'll only start service 10 months after they get the rights to fly there).
US airlines aren't yet selling you tickets to Cuba
I'm no government or law expect, so I'm not sure if this is because they can't yet, or because they haven't gotten around to it yet. But as of now you can't:
Earn miles with a US frequent flyer program for travel to Cuba
Redeem miles with a US frequent flyer program for travel to Cuba
Search availability on a US airlines' websites for travel to Cuba (the search engine won't even recognize it as a destination)
Book a ticket on a single "fare" all the way to Cuba, even if connecting via a third country*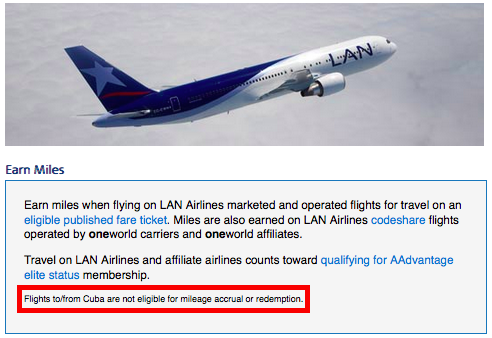 You can't even earn AAdvantage miles for travel on LAN to Cuba
Can you redeem other miles for travel to Cuba?
Yes. As was the case before, you can redeem non-US airline miles for travel to Cuba from non-US destinations.
Here are the routes to Havana operated by airlines which belong to one of the three major alliances, or are associated with airlines in one of the major alliances: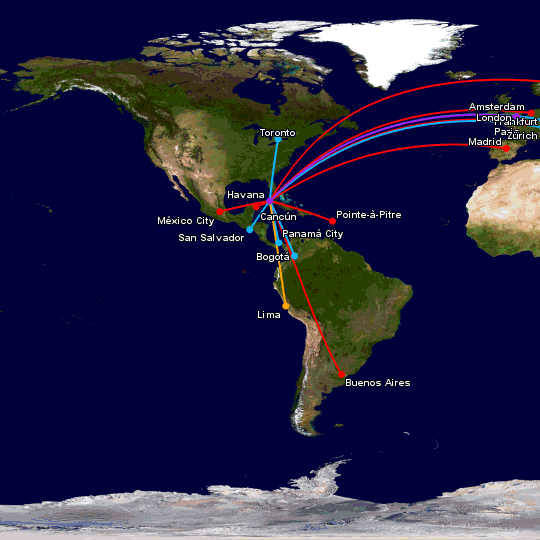 As you can see, there are lots of routes, though most aren't especially useful for travel from the US.
As a general rule of thumb based on the availability I've searched, award space is extremely tough to come by on most routes to/from Cuba, more so than to other destinations. That's because Cuba is largely a leisure/charter destination, so a vast majority of tickets are sold through consolidators/tour groups, meaning there aren't many seats on these flights that are unaccounted for. Furthermore, most people booking through these consolidators and tour groups are booking way in advance, which is why you'll see flights sold out six months in advance, in many cases.
While not part of an alliance, personally I'd love to fly to Havana out of Luanda on the once weekly TAAG Angola Airlines service. 😉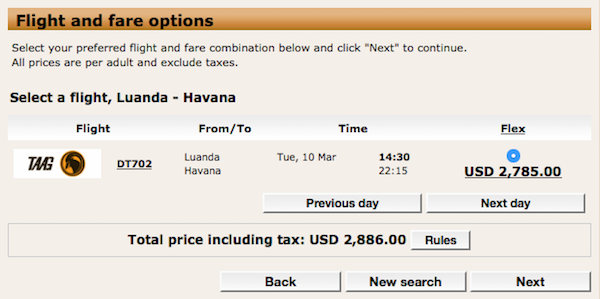 My Cuba travel strategy
Do I want to visit Cuba at some point? Absolutely. Am I dying to go tomorrow? No.
I get that some people want to go right now. Though I kind of feel like part of that motivation is similar to how you feel the need to drink yourself into oblivion the moment you turn 21, since it's something you weren't able to do up until that point.
Do I want to see Cuba before it gets totally commercialized? Yes. But I also am happy waiting until there's a convenient, economical, nonstop flight from the US to Cuba and until the exact details of who can visit are clear, and it's not a function of which immigration officer you get. I don't think the country will lose that much charm in such a short period of time.
If you want to go to Cuba from the US ASAP
I can be highly theoretical here and show the rather arbitrary ways you can get to Cuba on miles. But for the most part it's not going to be a great value. That's because you can't fly from the US to Cuba on a single fare yet. Instead you'd have to book two tickets.
Really your best bet is to just position yourself to the Caribbean (either on a paid ticket or an award ticket — if you live on the east coast, redeeming British Airways Avios for travel to the Caribbean is a great value), and then book a paid ticket to Havana.
Are tickets cheap? Not really. But they're not so offensively expensive that you'll get more value out of redeeming miles.
For example, Bahamas Air flies from Nassau to Havana, and tickets are under $400 roundtrip: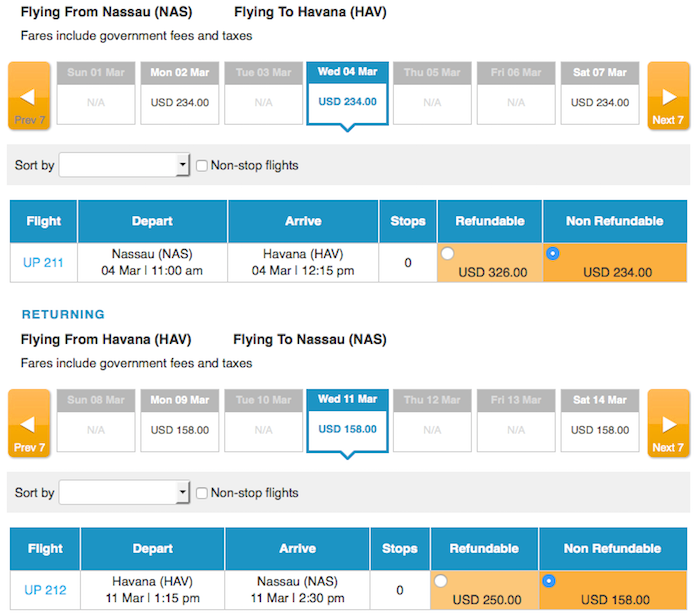 Cayman Airways flies from Grand Cayman to Havana, and tickets are under $350 roundtrip: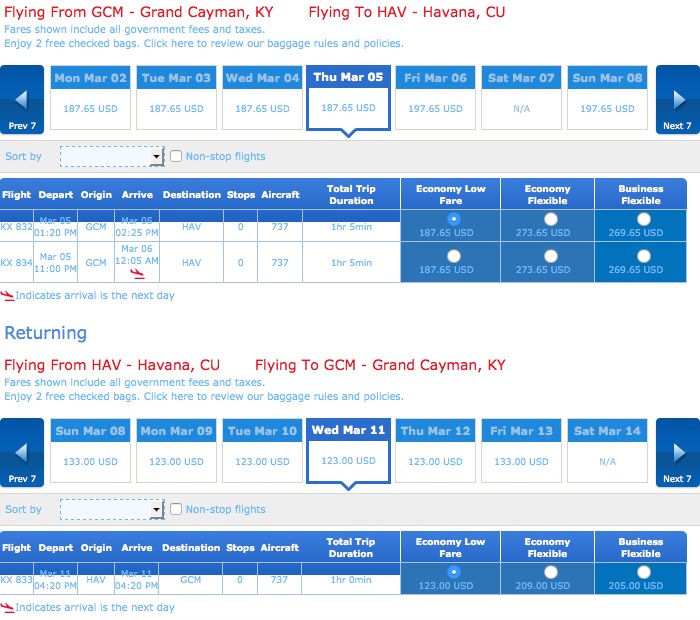 The one airline that lets you book an award from the US to Cuba
The one airline that will price award tickets between the US and Havana is Avianca's LifeMiles program. They'll price awards to Cuba either for travel on Avianca through one of their hubs, or for travel on Copa through Panama City: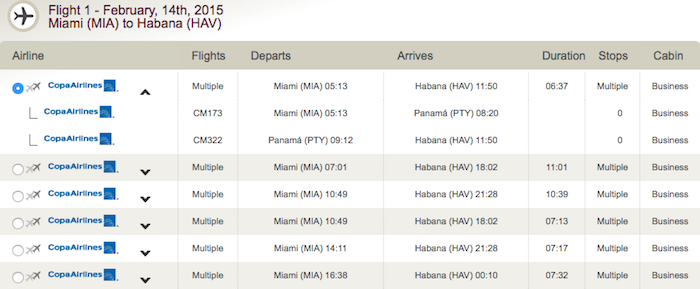 The cost is 17,500 miles one-way in economy class, or 35,000 miles in business class:

Admittedly that's an ever-so-slight detour. 😉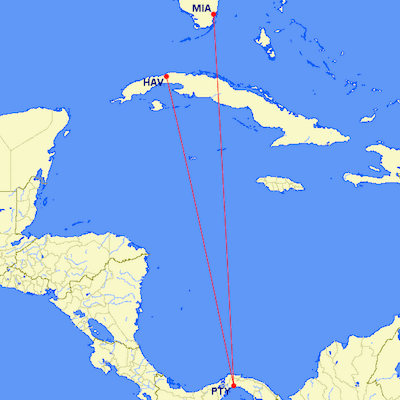 I doubt this is intentional, but LifeMiles is notorious for allowing routings that shouldn't be possible, and I don't think this is an exception.
Bottom line
As you can see, for the most part you can't yet get to Cuba on one ticket from the US, but if you do want to visit Cuba, it's not impossible to do so without being too inconvenienced.
Personally I'll wait until American starts service between Miami and Havana, at which point I can redeem just 4,500 British Airways Avios for the sub-250 mile one-way ticket.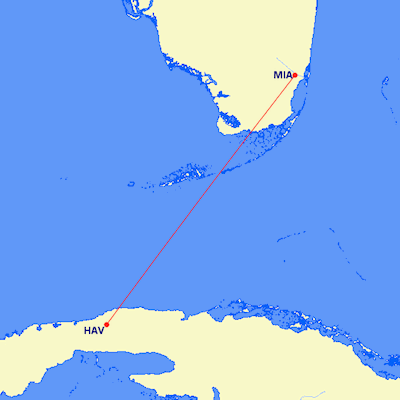 How about you — do you want to visit Cuba, and if so, are you plotting out a way to make it happen now, or waiting until direct, scheduled flights are introduced between the US and Cuba?