For several weeks there has been speculation of Virgin America looking to be taken over. On Saturday it was reported that a merger between Alaska and Virgin America would be announced shortly, a deal which was expected to be worth $2 billion. Then on Sunday we learned that the deal was expected to close on Monday, with a purchase price of roughly $2.5 billion.
Well, the merger between Alaska and Virgin America is now official, and the purchase price is even higher than expected — Alaska is purchasing Virgin America at a cost of $57 per share in cash. That represents a total equity value of $2.6 billion, with an aggregate transaction value of $4 billion.

The merger between the two airlines is expected to close by January 1, 2017, and they're hoping to be on a single operating certificate by the first quarter of 2018.
You can find the full press release here, and the website dedicated to the merger here.
The combined airline's headquarters will remain in Seattle, Alaska Mileage Plan will be the surviving frequent flyer program, and Alaska's CEO (Brad Tilden) will be the head of the combined company.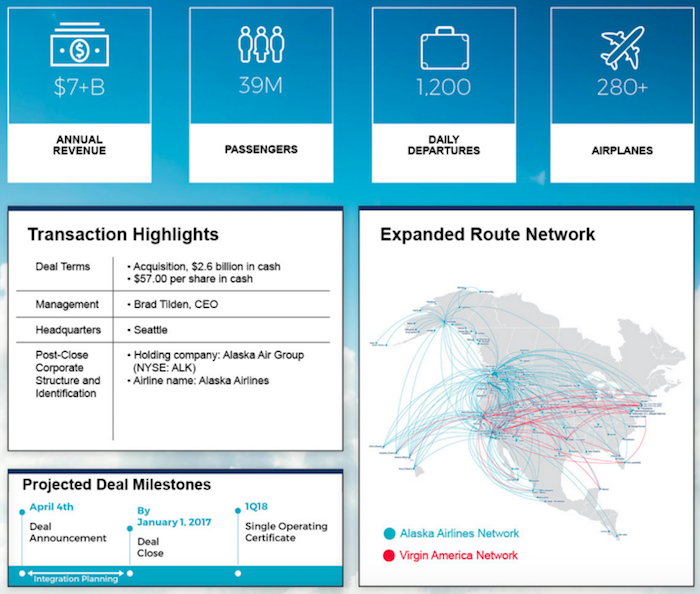 Here are the highlights that Alaska is advertising about the merger:
Deal combines two leading airlines known for outstanding customer service and low fares.
Alaska Airlines expands its California presence, while creating new opportunities for growth and competition.
Expanded route network benefits customers, with 1,200 daily departures.
Transaction is expected to be accretive to adjusted earnings per share in first full year, increases annual revenues 27 percent to more than $7 billion and offers $225 million total net synergies annually at full integration.
Alaska Airlines Mileage Plan™ to welcome Virgin America Elevate® members.
Company headquarters to remain in Seattle.
In terms of loyalty programs, Alaska Mileage Plan will be the surviving program, though up until the transaction closes the two airlines' loyalty programs will remain distinct:
Following closing, Alaska Airlines will welcome Virgin America Elevate loyalty program members into its Mileage Plan, ranked #1 by U.S. News and World Report. With Alaska Airlines Mileage Plan, members are able to redeem award miles for travel to more than 900 destinations worldwide, rivaling global alliances. Until the transaction closes, both loyalty programs will remain distinct – with no short-term impact on members. Upon closing, the programs will be merged. Alaska Airlines is committed to ensuring that loyalty members of both airlines maintain the same high-value rewards they've come to enjoy in both programs – with access to an even larger network.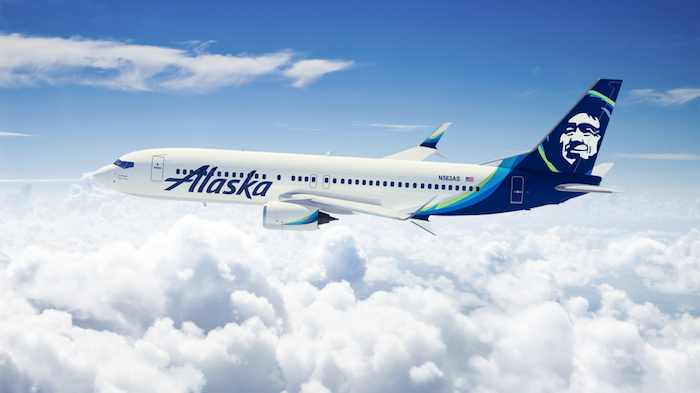 Alaska indicates that they're looking for ways the "Virgin America brand could continue to serve as a role in driving customer acquisition and loyalty," so I'll be curious to see what elements of the Virgin America experience they incorporate into the combined airline. The airlines couldn't be much more different in terms of their approaches to the onboard product. Alaska just recently installed power ports on their planes, while Virgin America has TVs at every seat.
As part of the merger, the two airlines are emphasizing their international partners, and how they plan on being the premier airline for connecting west coast travelers to international gateways. I am curious to see if they can really combine the partner airlines from both Alaska and Virgin America, as in some instances I imagine this would represent a conflict of interest. It would be awesome, given that Alaska and Virgin America are already both unique in terms of their airline partners.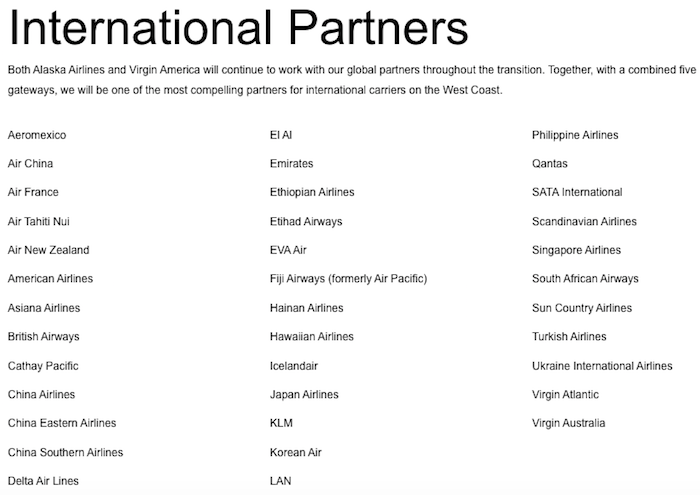 It's also interesting to note what Alaska sees as the big picture upside of this merger:
The combination expands Alaska Airlines' existing footprint in California, bolsters its platform for growth and strengthens the company as a competitor to the four largest U.S. airlines. Combining Alaska Airlines' well-established core markets in the Pacific Northwest and the state of Alaska with Virgin America's strong foundation in California will make Alaska Airlines the go-to airline for the more than 175,000 daily fliers in and out of Golden State airports, including San Francisco and Los Angeles.

For Virgin America customers, service will expand in the thriving technology markets in Silicon Valley and Seattle. The combined airline will also offer more frequent connections to international airline partners departing Seattle, San Francisco and Los Angeles. In addition, this transaction will open up growth opportunities in important East Coast business markets by increasing Alaska Airlines' access to slot-controlled airports like Ronald Reagan Washington National Airport and the two primary New York City-area airports, John F. Kennedy International Airport and LaGuardia Airport.
Bottom line
I've shared why I think Alaska and Virgin America aren't a good fit (especially at the price Alaska is paying), so I won't beat a dead horse. All I'll say is that consolidation isn't good for consumers, especially when both airlines are strong in similar regions of the country.
I wish the airlines the best with this merger. As someone most interested in miles & points, I'm hoping for two things. First of all, I hope that Mileage Plan doesn't go revenue based, and maintains what makes it unique. I'm also hoping that Alaska's partner airlines are expanded, with full reciprocity for both earning and redeeming miles.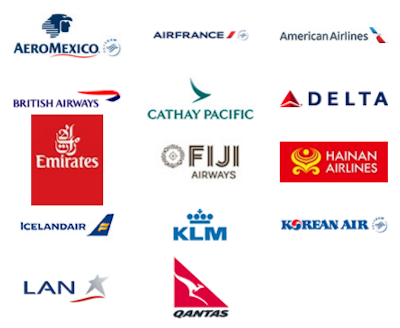 Alaska Airlines Mileage Plan airline partners
What are your thoughts on the Alaska & Virgin America merger, now that the details have been unveiled?