Early last year sanctions began to be lifted between the US and Cuba, following the embargo which was in place for decades. This was huge news for those looking to travel to Cuba, since it created more circumstances under which US tourists could visit (and those travel restrictions have been eased even further since then).
What is far from instant, however, is actually restoring commercial flights between the two countries. Air treaties between countries are complicated matters even under normal circumstances, let alone in a situation like this, where they're making up for decades of non-diplomacy.
The process for launching flights to Cuba
As I wrote about in February, the US and Cuba signed an agreement to restore commercial service between the two countries. Under this agreement, US airlines could start bidding on routes between the US and Cuba, for up to 110 flights per day.
Only 20 of those daily frequencies could be commercial flights to Havana, though, while the other frequencies would have to be to other cities in Cuba (where there's presumably a lot less demand). US airlines had a 15 day window where they could request flights to Cuba, so at the end of that we learned of all the flights US carriers wanted to operate to Cuba, which far exceeded the number of available frequencies.
Last Friday the DOT finally approved all airlines' requests to operate their routes to Cuba, except for those to Havana. That's because the requests to operate flights to Havana far exceeded the number of available slots, so there will be a more complicated selection process. Meanwhile for flights to other cities in Cuba, all the requested slots were granted to airlines.
Tickets on regularly scheduled flights to Cuba are now for sale!
We were told commercial service should start within 60-90 days, and it looks like American is the first airline to publish their schedule. As of now, the following American routes to Cuba are for sale:
1x daily Miami to Cienfuegos as of September 7, 2016
2x daily Miami to Holguin as of September 7, 2016
1x daily Miami to Camaguey as of September 9, 2016
2x daily Miami to Santa Clara as of September 9, 2016
2x daily Miami to Varadero as of September 11, 2016
These are all super short flights, ranging from 203 miles to 427 miles.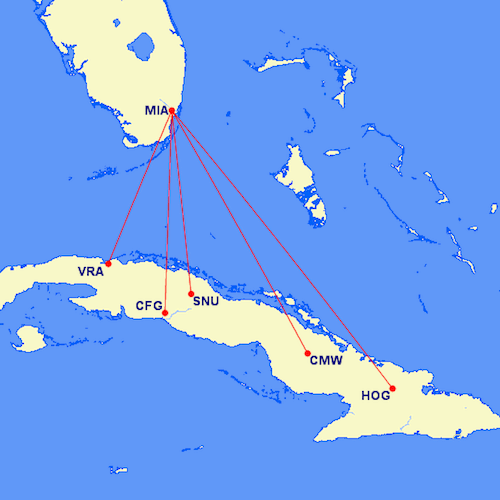 As I was expecting, the introductory fares between the US and Cuba are ridiculous. For example, for the ~250 mile flight between Miami and Cienfuegos, American is charging $488 roundtrip in economy, and $3,223 roundtrip in business class. For the business class fare that's ~$6.50 per flown mile. That's obscene.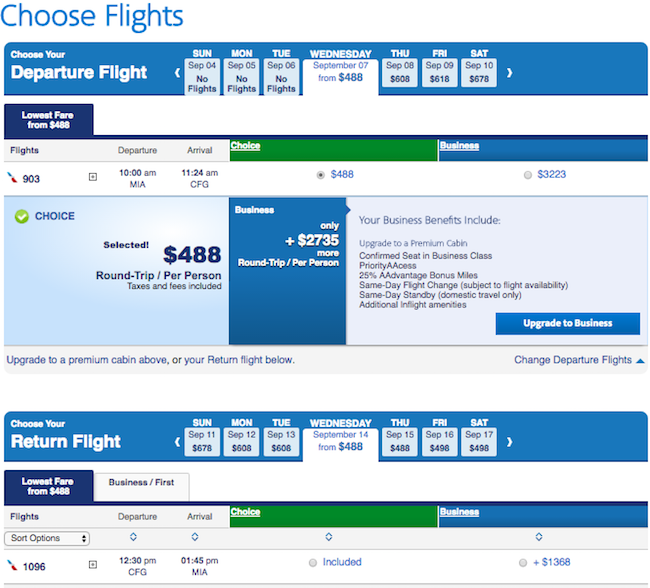 Fares are similarly bad in other markets.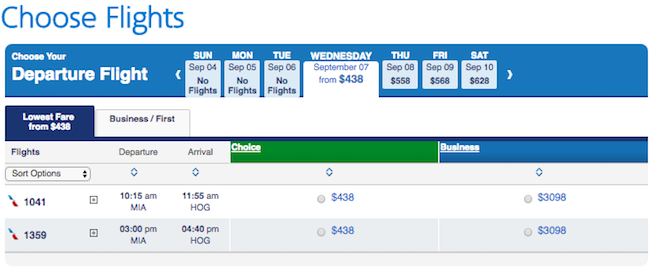 Do keep in mind that these routes are eligible for complimentary upgrades, and given these fares, I doubt there's going to be much premium demand.
You still need an official reason to visit Cuba (though it's very much in a "wink wink, nudge nudge" sort of way), so when you go to book, you'll be presented with a prompt confirming that you meet one of the 12 acceptable reasons for traveling to Cuba, much like you'd have to accept for exit row seating: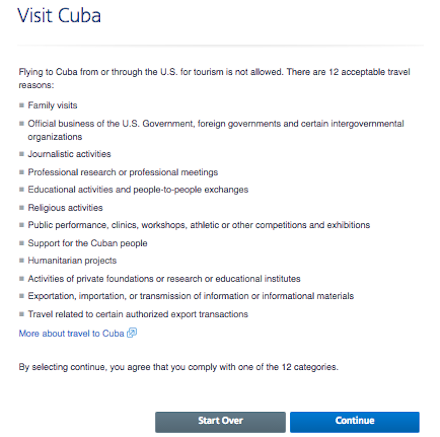 As of now there doesn't seem to be any award availability for these routes, though I suspect that will change over time.
Bottom line
I'm very curious to see how American does on these routes. On one hand these are very short routes, so the operating costs will be fairly low. At the same time, the fares they're charging so far are outrageous. I suspect the fares will go down over time, though it really seems like they're trying to skim the market. With the number of airlines wanting to fly to Cuba, we're looking at thousands of additional airline seats per day between the US and Cuba, which is huge.
Either way, it's pretty cool that these seem to be the very first regularly scheduled commercial flights between the US and Cuba in many decades.
Anyone planning on taking one of these flights to Cuba anytime soon?
(Tip of the hat to The Points Guy)