Early last year sanctions began to be lifted between the US and Cuba, following the embargo that was in place for decades. This was huge news for those looking to travel to Cuba, since it created more circumstances under which US tourists could visit (and those travel restrictions have been eased even further since then).
What is far from instant, however, is actually restoring commercial flights between the two countries. Air treaties between countries are complicated matters even under normal circumstances, let alone a situation like this, where they're making up for decades of non-diplomacy.
As I wrote about in February, the US and Cuba signed an agreement to restore commercial service between the two countries. Under this agreement, US airlines could start bidding on routes between the US and Cuba, for up to 110 flights per day.
Only 20 of those daily frequencies could be commercial flights to Havana, though, while the other frequencies would have to be to other cities in Cuba (where there's presumably a lot less demand). US airlines had a 15 day window where they could request flights to Cuba, so at the end of that we learned of all the flights US carriers wanted to operate to Cuba, which far exceeded the number of available frequencies.
Several weeks ago six US airlines were granted the right to operate flights to Cuban cities other than Havana. Basically all the airlines that requested flights to fly to Cuban cities other than Havana were approved, since the available slots weren't contested.
Meanwhile there was a lot of competition for flights to Havana, meaning the DOT had to go through a selection process for those flights.
Well, that process is now complete, and the Department of Transportation has tentatively awarded eight US airlines the right to operate certain routes to Havana. Per the DOT's press release, these routes include the following: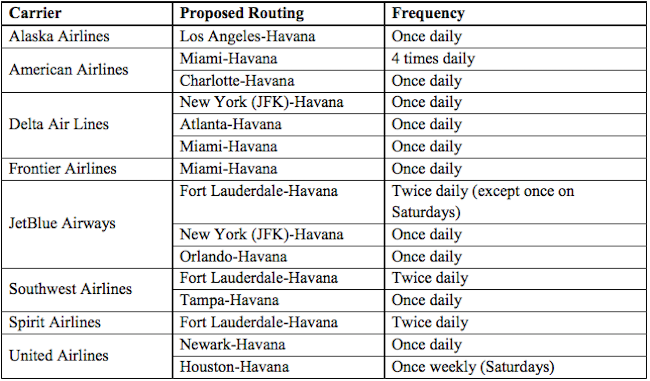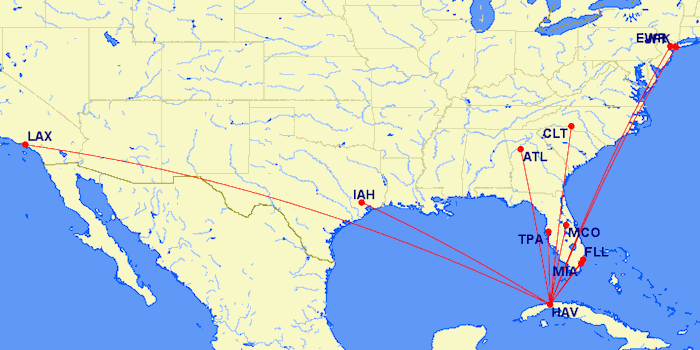 It's worth noting that these are just tentative decisions, and can still be modified:
DOT has only issued a tentative decision, and airlines will not be authorized to sell tickets or operate scheduled flights until a final decision is reached sometime later this summer. The airlines have proposed varying startup dates for their services, but most are planned for fall and winter 2016/2017. DOT's decision contains requirements that, if made final, will require that the carriers begin their services within 90 days of the issue date of a final order.
So it'll likely be several more weeks until these flights are finalized, and then several more weeks after that before the flights are actually launched.
What do you make of the city pairs that the DOT granted for Cuba flights?