Alaska Mileage Plan is one of my favorite frequent flyer programs, especially thanks to the unique airline partnerships they have. While they partner with some airlines that belong to the major alliances, they also partner with some that don't, which I love. Furthermore, they're one of the only programs to allow a stopover on a one-way award ticket at no additional cost.
From 2013 until 2016, one of my favorite uses of Alaska Mileage Plan miles was for travel on Emirates, though unfortunately that partnership got significantly devalued without notice last March. We saw the cost of first class awards on Emirates increase by 67-100% depending on the regions in which you were traveling, which is huge. Fortunately business class redemptions weren't devalued as badly, so that's still a decent redemption opportunity.
There have been periods where Alaska Mileage Plan hasn't had access to many Emirates award seats, both before and after the devaluation. Unfortunately there has been a problem for about a month now which remains unresolved, and it's extremely frustrating.
Simply put, Alaska Mileage Plan can't book a vast majority of Emirates first and business class awards, regardless of whether you're booking online or by phone. There's a thread on FlyerTalk that has been going on for about a month documenting this issue.
To make this situation even worse, the issue is that the normal availability continues to show up when doing online searches, as before.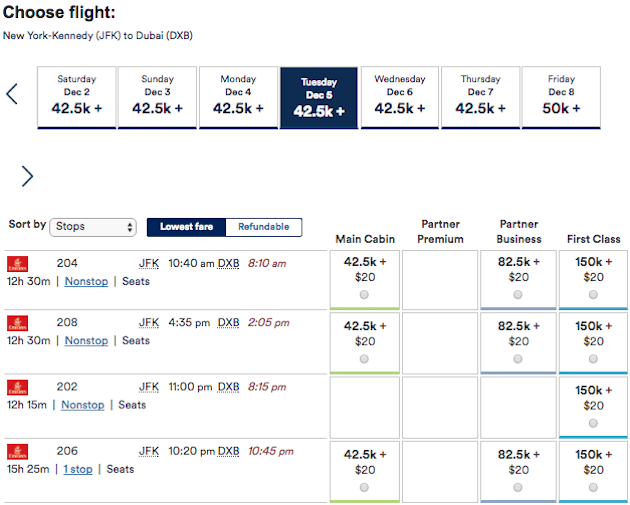 You can even get all the way to the booking page.
However, after you enter your credit card information you'll get an error message saying that "the request was not successful."
This error has been occurring in exactly the same way for over a month now, so it's strange that the website continues to show the availability, only for it not to be bookable.
An Alaska rep on FlyerTalk has said that the issue has been "escalated with Emirates," suggesting that the problem is on Emirates' end rather than on Alaska's.
I'll try to reach out to some contacts at the two airlines to figure out what's going on. In the meantime it's disappointing that this problem has been going on for over a month. Even more disappointing is that the website continues to show this phantom space consistently, with no notice of this glitch, so people are buying miles with the purposes of these redemptions, only to find out that they're not actually bookable (I had a friend who did exactly that just days ago).
However, I do genuinely believe Alaska isn't intending for this to happen. Are they being a bit careless and perhaps not making fixing this a priority? Yes. But at the same time if there's one US frequent flyer program that should be trusted, it's Alaska Mileage Plan.
Here's to hoping this is fixed soon…
Has anyone tried to redeem Alaska miles on Emirates and run into this issue?
(Tip of the hat to AL)