Last January Emirates was added as an Alaska Airlines Mileage Plan partner, though only on the accrual side, with plans to allow redemptions starting late in 2012. In mid-December they announced a delay in that option. Then just a couple of weeks ago I broke the news that they'd begin allowing redemptions starting January 16, 2013.
Well, Alaska Airlines has just published their award redemption chart for travel on Emirates (for redemptions starting January 16, 2013, as predicted). Alaska publishes their award charts by region, so here's the Emirates award chart for travel to India, the Middle East, and Africa: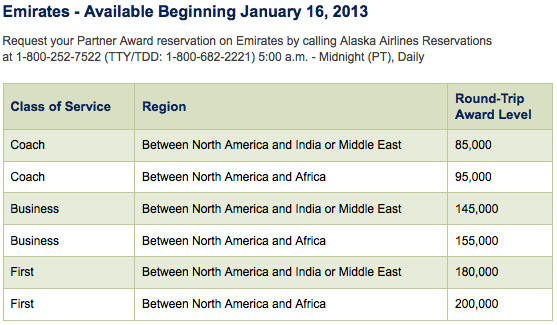 And here's the chart for travel to Asia: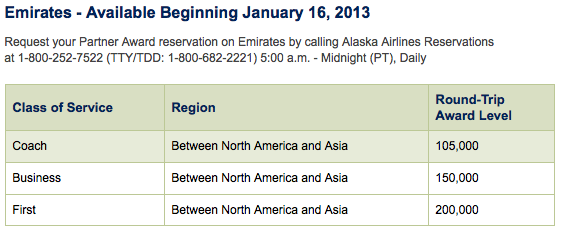 These are the only regions for which they publish an award chart, though aside from restricting this for travel to North America this makes sense since in other cases it's not logical to fly Emirates. The award chart is exactly what I had expected, being a realistic optimist.
My fear was that they wouldn't allow redemptions in first class, though that's not the case. My other fear was that they'd only allow redemptions out of certain markets, like Seattle, though that's not the case either. And my last fear was that they'd price each segment individually (for example, publish a chart between North America and the Middle East, and then one between the Middle East and Asia, charging the cumulative cost of the two awards).
So I'd say this looks pretty good. It's worth noting that they're only publishing awards between North America and other destinations, and not between other regions (like just between the Middle East and Asia, for example).
They're basically charging 180,000 miles for first class to the Middle East/India, and 200,000 miles for first class awards to Asia/Africa.
So if you have Alaska miles this is a great use of them, in my opinion. Alaska also partners with Starwood Preferred Guest, though if you have those points you're typically going to be better off transferring them to Japan Airlines and booking Emirates from there, as they have a pretty lucrative distance based award chart. Roundtrip first class travel on Emirates between New York and Dubai costs just 135,000 miles, while it's 155,000 miles for up to 20,000 miles of roundtrip travel.
As a reminder, you can search Emirates award space on ExpertFlyer.com. For first class award space you'll want to look for the "Z" fare bucket, while for business class award space you'll want to look for "D" fare bucket.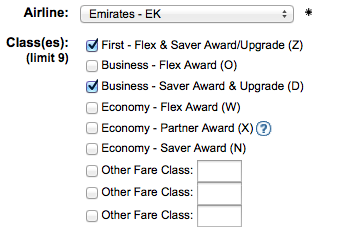 Award space is generally quite good, and with a bit of planning it shouldn't be tough to find several first or business class award seats, even on the Airbus 380.

And while I doubt I need to remind y'all, Emirates first class on the Airbus 380 is the only place to shower on a commercial airplane. 😉
For those of you that haven't read it, here's my report of Emirates first class from London to Dubai.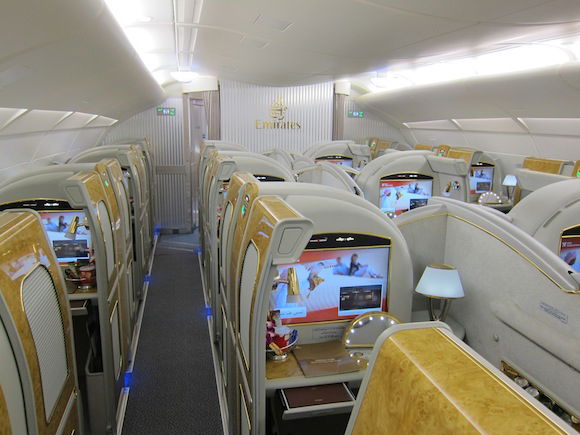 So, what do you guys think of the award chart? Better or worse than you expected?
PS: I was in my garage on the way to the supermarket when a friend texted me to say the chart has been published. I ran back to my apartment as fast as I could and literally tripped over myself and fell in my kitchen. My leg is bleeding a bit, but decided to write the blog post while on the floor before seeking medical attention. Do I get an A+ for being a dedicated blogger or what? 😉