It goes without saying that everyone has different preferences for flight times. For example, some people are morning people, while others are night owls. Some people can sleep on a plane without issue, while others struggle to sleep without the perfect conditions.
As a morning person I'll take a 6AM flight over a midnight flight any day of the week, while I'm sure a night owl would have exactly the opposite preference. Nonetheless when it comes to eastbound flights, I often get stuck on flights that aren't ideal, but that I still tolerate.
For example, I hate taking eastbound domestic redeyes since I struggle to sleep on planes without a flat bed. When I find myself on these flights, I usually hate myself the entire time for having chosen to book the flight. But when I get to my destination I sure do appreciate the efficiency of it, and usually feel great after taking a nap for a couple of hours upon landing.
So there are a countless number of US domestic eastbound flights that are redeyes, though it's much rarer to have something like that on a westbound flight.
On that note, I think I may have come across what might be the least pleasantly timed westbound domestic flight ever.
There are quite a few airlines that operate late night flights from the east coast to west coast. For example, JetBlue has a flight that leaves New York at 10:58PM and gets to Los Angeles at 2:13AM.
However, Alaska has a seasonal flight that I think takes that to the next level. Take a look at Alaska's seasonal Chicago to Anchorage flight, which operates with the following schedule:
AS135 Chicago to Anchorage departing 12:55AM arriving 4:35AM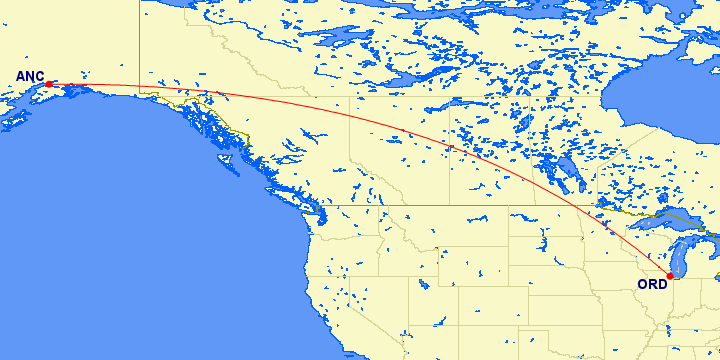 Ouch! That's a 2,847 mile flight that's blocked at 6hr40min, and it's a full-on "reverse redeye," as I'd call it.
If I'm flying business class I quite like JetBlue's late night flights from the east coast to the west coast, since I can sleep most of the way. But personally I couldn't imagine taking the above Alaska flight in either first class or economy, as I'd be miserable for almost the entire seven hours.
Obviously a lot of people will still choose this flight, I'm sure. Alaska is popular in summer, there's a lot of daylight, and it's a great option for someone to finish a day of work, have dinner, go home, pack, and still fly to Alaska that night.
Furthermore, this is extremely efficient aircraft utilization, since the plane would presumably otherwise be sitting on the ground somewhere.
However, I've never seen a domestic US westbound flight that's this long with a schedule like this. Alaska Airlines also operates some overnight flights from Seattle to Alaska, but those flights are over three hours shorter, and the time change isn't as significant.
Does anyone know of another domestic flight with a schedule like this? Would you take this Chicago to Anchorage flight for how efficient it is, or avoid it?