Early this morning I posted about the horrible devaluation Alaska Mileage Plan made to their award chart for travel in Emirates first class. The cost of Emirates first class award tickets increased between 67% and 100%. Those are some insane increases. It's one thing if they had provided notice of these changes, but they didn't, which I have a serious problem with.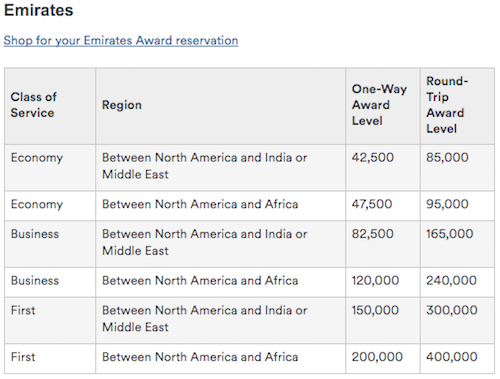 When I first wrote about this, some people responded by saying "it's their program, they can do as they choose." That's definitely true. All mileage programs are solely at the discretion of the airlines — they can change any aspect of the program at anytime without even having to provide a reason. Given what a commodity miles are becoming (and the direct opportunity cost to earning them, in many cases), that can be worrisome.
For example, over the weekend a friend of mine spent ~$1,000 to purchase Alaska miles so he'd have enough miles for a one-way Emirates first class ticket, as flying Emirates first class was his dream. He was planning on booking it this weekend, as he was just firming up his travel plans. And this morning he's pissed, and texted me a bunch of four letter words — he spent cold hard cash on those miles, and based on the redemption he was pursuing, the value of those miles was halved overnight.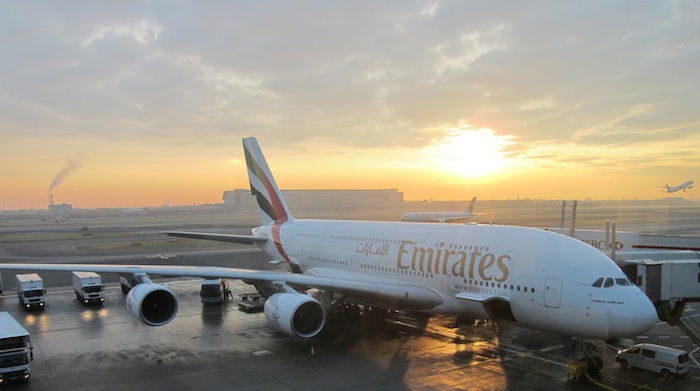 The airlines can do that, but it's not good business. For anyone who works in Alaska Airlines management, think about it for a second. Your airline is centered around being a "hometown airline" which takes a different approach towards customer service than other airlines — they claim to be "North Of Expected."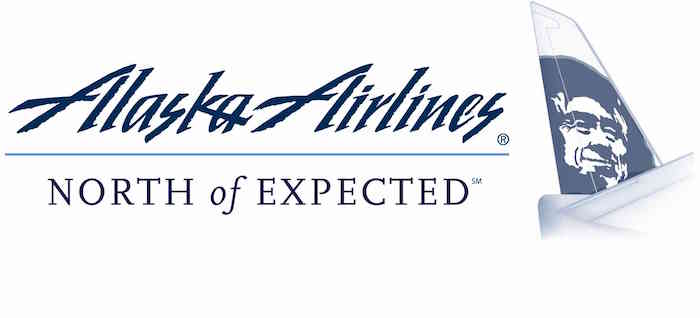 While other airlines are switching to revenue based programs (while providing advance notice, I might add), Alaska's CEO has indicated that Mileage Plan won't go revenue based for now. At a conference several weeks back, Alaska's CEO said the following regarding the future of the Mileage Plan program, per Brian Sumers:
CEO Brad Tilden suggested Alaska may try to advertise its program as a competitive advantage, similar to what Southwest Airlines has done with checked bags. You've probably seen Southwest's "bags fly free" campaign.

"It is a lot like Southwest with bag fees," Tilden said. "We could argue about its merits five years ago. Today, it's very differentiated from what the other guys offer. So I think its value actually has gone up."
The goal is for the airline to use their loyalty program as a competitive advantage, and the airline's CEO thinks the value of that has gone up. I'd ask Mr. Tilden if he thinks that disappointing members with no notice changes fits into the vision of his?
A few years back American made a fairly minor change (in the grand scheme of things) without notice, and members were outraged. And ever since they've become so much better about transparency and communication, and are on record as saying that they'll provide more notice of changes. They deserve kudos for that.
So this makes me wonder what Alaska was thinking when they made this change? What made them think it was okay to make such a huge change without notice, or more specifically, how does this fit into the CEO's vision of using Mileage Plan as a point of differentiation?
I'd note that Alaska claimed on Twitter that they don't determine the number of miles required for an Emirates award, but rather Emirates does. That's almost certainly false. Emirates could have raised their reimbursement rates for Alaska, but airlines generally can't control how many miles a partner airline charges. Then again, I wouldn't assume anything an online marketing employee on Twitter says to be true.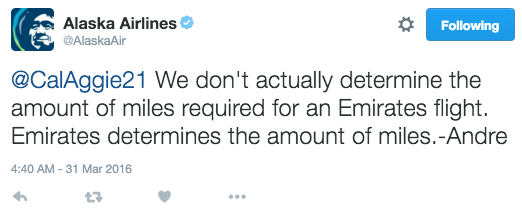 I have a few theories as to how this happened:
Emirates increased the internal reimbursement rates for Alaska, and Alaska decided to immediately raise the mileage costs to reflect that
Some number-cruncher at Alaska noticed how popular Emirates first class redemptions were, and decided that they could get away with higher pricing
Alaska wanted to devalue the redemption for whatever reason, and the person responsible for implementing it was someone who didn't realize that no notice changes especially piss off customers
To Brad Tilden and the rest of the management team at Alaska, think of how this looks to your loyal flyers. You're actively promoting the 40% bonus on purchased Mileage Plan miles, which tons of people are taking advantage of.

So many people, as a matter of fact, that your Mileage Plan revenue increased by $34 million last year from mileage sales alone. I can assure you members weren't purchasing those miles so they could book standard level awards between Seattle and Portland. And then a day before the promotion ends you devalue the single most desirable award with no notice.
Hopefully Alaska's management sees my perspective here. What could they do to make things right?
Honor the old Mileage Plan redemption rates for travel on Emirates for some period of time, given how many members earned miles with the specific intent of redeeming on Emirates
Clarify the Tweet which blames this on Emirates; if Emirates actually forced the award cost change, then let us know… but them increasing internal reimbursement rates is very different than them controlling how many miles Alaska charge
Promise members that in the future there will be more advance notice of major changes
Without that, a lot of my trust (and other peoples' trust) in Mileage Plan, and Alaska Airlines as a whole, is gone…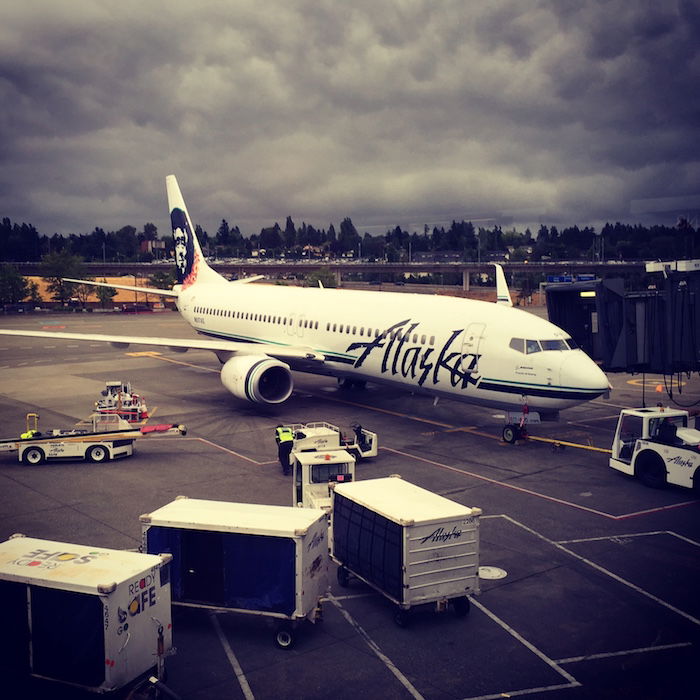 Bottom line
Ultimately airlines can do whatever they want with their frequent flyer programs, as the terms protect them from just about anything. That being said, making major loyalty program changes without advance notice is very bad form, and even a big legacy airline like American has gone so far as to say they'll provide notice of major AAdvantage changes.
The only major US airline which will shamelessly admit to making changes without notice is Delta… and Alaska, you've fought so hard to differentiate yourself from Delta, no?
I'd love to hear what you guys think, and I'd recommend continuing to share your feedback with Alaska Airlines, both on Twitter and via customer relations.