Different airlines have different policies when it comes to the flight benefits that employees receive.
At many airlines in Europe, employees can fly up to business class on a space available basis, but never first class.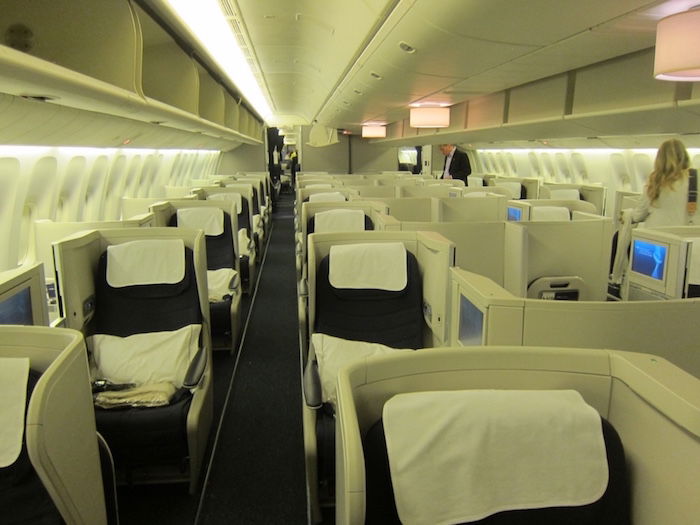 At other airlines it depends on your rank, and only select employees can fly first class. For example, at Emirates only captains can fly in first class on a space available basis, while first officers and pursers can fly business class, and all other employees can only fly economy.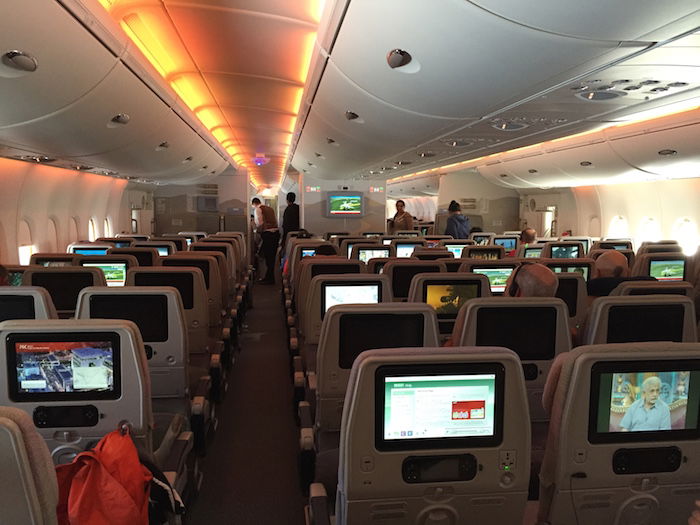 Meanwhile at American and United, all employees can fly any cabin, including international first class, on a space available basis.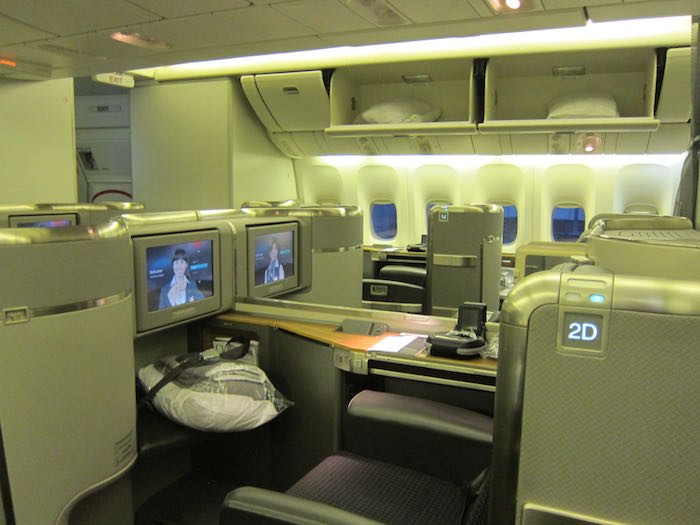 In the above examples I'm of course excluding select management employees, who may get first class benefits regardless of what the airline's policy is otherwise.
So, which system is right? I don't know the answer, though I'm curious to hear what you guys think.
I'm writing this post live from American's 777-300ER first class on a London to Los Angeles flight. This is what the seatmap looked like this morning, when there was both award and upgrade seats available (in other words, no one was waitlisted for anything):

Not surprisingly, by the time the door closed every seat was taken, which I find to consistently be the case in American's first class. I've never seen an empty first class seat on an American 777-300ER flight I've been on.
This reminded me of my Sydney to Los Angeles flight I took on American in January, where I had incredible service. American has a nicely enhanced product on this route, which actually made me feel like I was on a different airline. It was great to see what American could be like with some effort on a good day.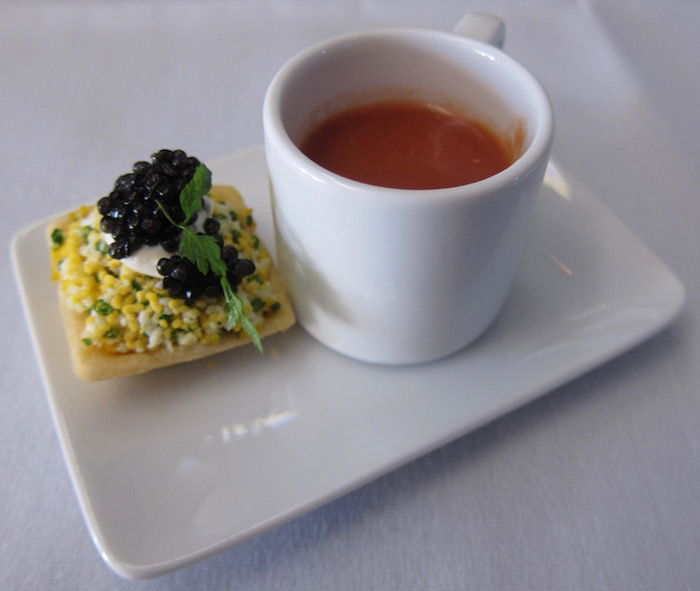 American is considering expanding this improved service to first class on all international routes, which would be fantastic. Of course that still doesn't guarantee you a great crew, like I had on that Sydney to Los Angeles flight.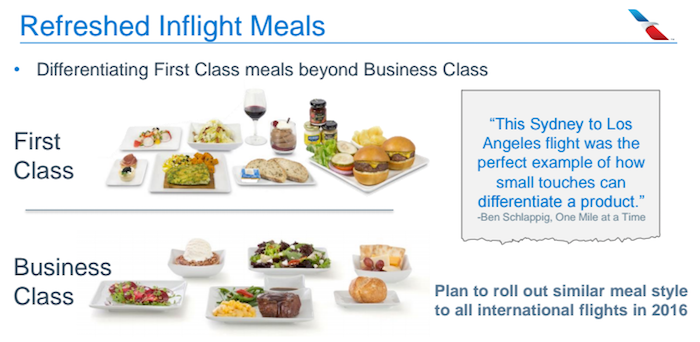 From Doug Parker's recent presentation #humblebrag 😉
With award prices increasing and the number of systemwide upgrades which Executive Platinum members receive decreasing, I suspect first class cabins will have even fewer confirmed passengers in the future, including on the A321s between New York and LA/SF.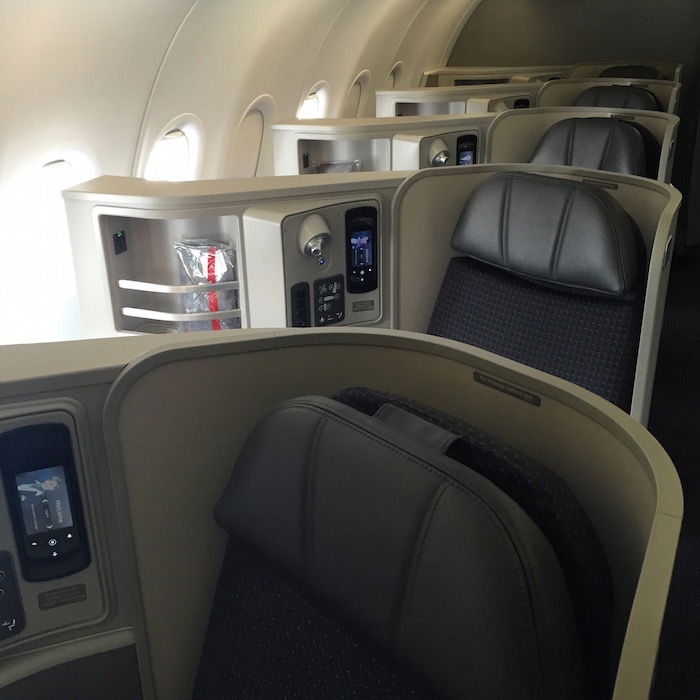 So does it make sense for American to invest in improving these products if they're going to be filled with employees to an even larger extent?
More generally, should airline employees be able to fly first class for "free" (or minimal fees)?
Some people might be surprised to hear that I actually don't have a problem with non-revs in first class in general. Space available seats in any cabin is part of their contract, so they're paying for that perk indirectly — it's not "free." Airline employees put up with a lot and many are paid quite poorly, so it's a nice treat for them.
But does consistently having full cabins diminish the experience and take away the exclusivity? I try not to be too quick to judge on that front, since many people make similar arguments about people redeeming miles, saying that shouldn't be possible because it takes away from the exclusivity of a product. They prefer the systems which Air France and Swiss have, where non-elites can't redeem for first class.
So I really don't know where I stand.
On one hand I think employees are paying for those seats, just in a different way. And I'm not a person who derives pleasure from having access to a good which other people don't have access to.
At the same, I think that if American wants to truly improve their international first class soft product, not having full cabins on every single flight would help with the service execution. And it would also make the investment more justifiable, since they wouldn't always have to provision catering and amenities for all eight seats.
Where do you stand — what kind of travel perks should airline employees receive? Does having consistently full cabins diminish the experience in any way?
I figured it would be an interesting topic to discuss, though I suspect it may be as controversial as seat recline, who owns the rights to the window shades, etc.
Let's hear what you guys think!