I love a good fifth freedom flight, where an airline from one country operates a flight between two other countries, where they have pick-up rights. These include flights like Cathay Pacific's New York to Vancouver flight, Singapore Airlines' New York to Frankfurt flight, SriLankan's Hong Kong to Bangkok flight, etc.
The London to New York City market is a hyper-competitive one, and it looks like it's about to see a new entrant.
According to The Times Of India, Air India will start flying between Ahmedabad and London, with a connecting fifth freedom flight to Newark, as of August 15, 2016.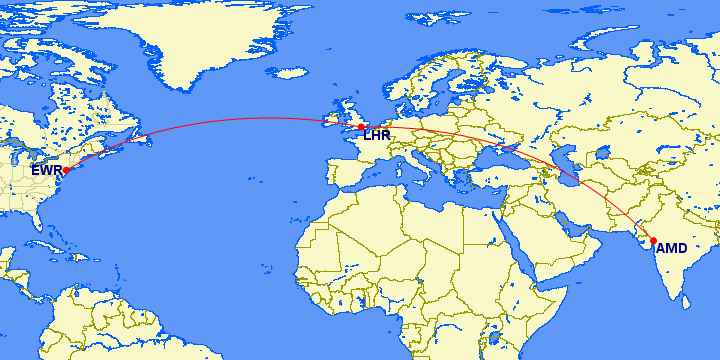 The flight is scheduled to be operated 3x weekly by a Boeing 787-8, featuring 18 business class seats and 238 economy class seats.
The flights between London and Newark will have the following schedule:
AI171 London to Newark departing 12:30PM arriving 3:00PM
AI72 Newark to London departing 12:20AM arriving 12:05PM
This will complement Air India's existing service to the New York City area, which includes daily nonstop flights between Delhi and New York JFK, as well as daily nonstop flights between Mumbai and Newark.
Presumably a large motivator for Air India operating this additional flight to Newark is that it's a United hub, so they'll have the potential for Star Alliance feed.
The flight is now open for bookings, and seems to have one business class award seat available per flight. I suspect we'll see more award seats become available in the future.
The flight apparently has a strong business case, but why credit the market with something when the prime minister can instead view it as his "gift to the Gujarati community:"
Senior AI officials admit that while there has been a compelling business case for this flight but the "inspiration came from the PM and this flight is Modi's gift to the huge Gujarati community in UK and US." AI's decision comes close on the heels of Modi's visit to Washington early next month and during his previous visits to US and UK, the PM has announced AI flights to those countries while addressing the Indian diaspora there.
It's also worth noting that by September Air India will switch to Terminal 2 at London Heathrow, which is the Star Alliance terminal. That will be a huge upgrade over their current setup, especially since passengers can then use the Star Alliance lounge rather than the Air India Lounge, which is not so great.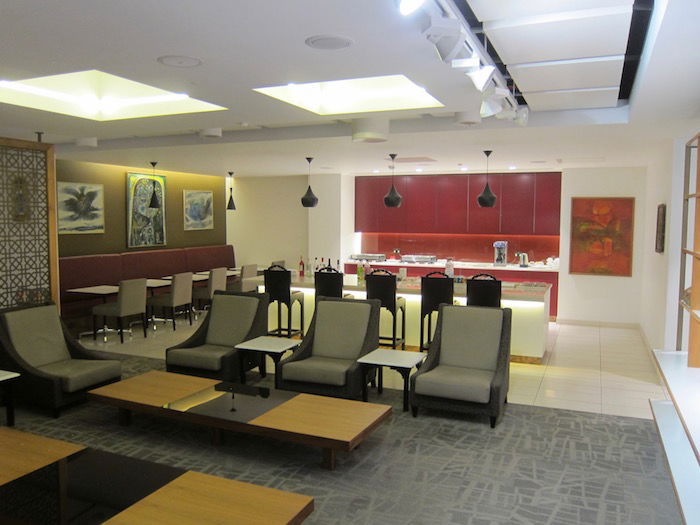 Air India Lounge London Heathrow
In all honesty, I am sort of excited about Air India launching this route. I recently flew Air India first class from London to Delhi and from Delhi to San Francisco, but I'd love to review their business class as well. In general I really like fifth freedom flights, since it gives you a bit of exotic flair on what could otherwise be a boring flight.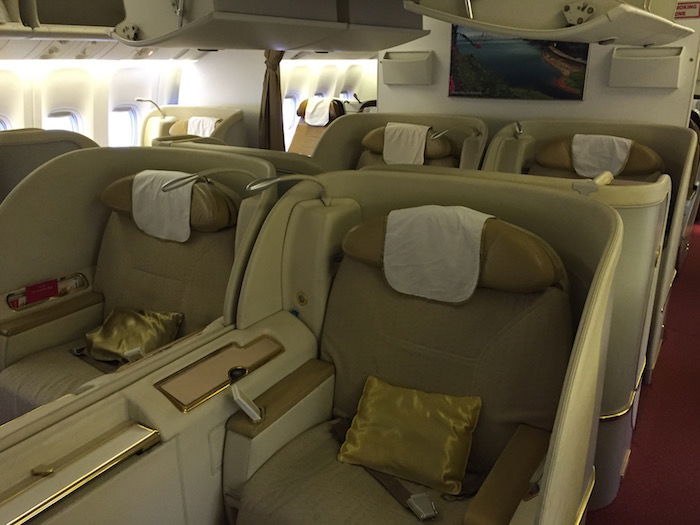 Air India first class
While introductory fares aren't great, I suspect over time we'll see some really attractive fares between Newark and London. Airlines operating fifth freedom flights often have better fares, especially airlines considered to be less desirable. For example, Kuwait Airways operated a London to New York flight for years, and fares were consistently excellent. Actually Kuwait Airways still operates the route, they just don't have pick-up rights because they refuse to transport passengers with Israeli passports.
Would you consider taking Air India's flight between London and Newark?
(Tip of the hat to @deovratk)