Last September, Air India announced that they would launch 3x weekly flights between Delhi and San Francisco as of December 2, 2015. This is Air India's longest route, at 7,706 miles in each direction. While Air India's other US flights (to Chicago, New York JFK, and Newark) are operated by 777-300ERs, the San Francisco flight is operated by a 777-200LR. This is a fairly sparsely configured aircraft, with just 238 seats.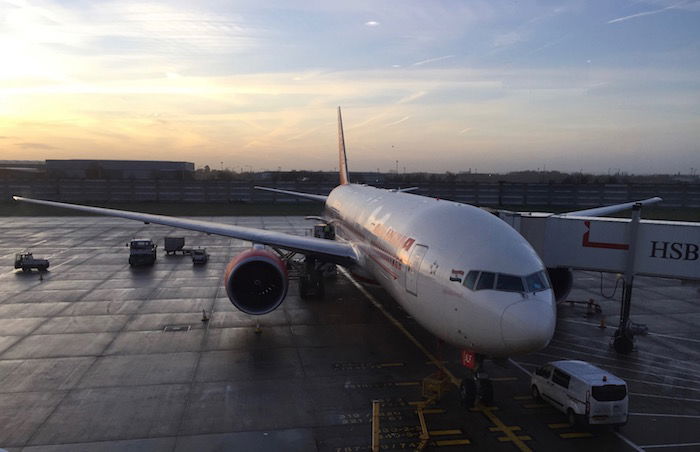 I had the chance to fly the route in first class shortly after it launched, and was both impressed and disappointed by the product. The part that really impressed me was the incredible ground experience in Delhi, as well as the warmth of the crew working first class.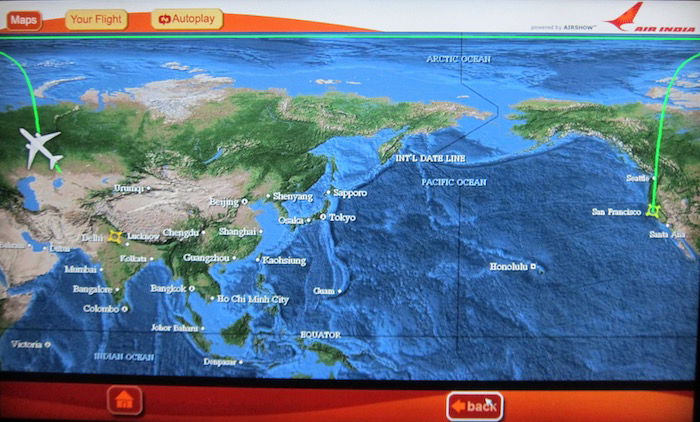 Anyway, I've been curious about how Air India is doing on their new route. Turning a profit on ultra longhaul flights can be very difficult even for a well run airline. Air India, on the other hand, has made horrible financial decision after horrible financial decision, so I think there's a slightly different threshold for defining what makes an Air India route "successful."
Air India's San Francisco flight is going daily
It looks like they've been doing quite well on the route, as Air India is planning on making their Delhi to San Francisco flight daily as of winter 2016. That's some pretty major expansion on their part, especially for a flight as long as this one.
However, it has been rumored for a while that Air India would resume their flight between Delhi and Washington Dulles, though that's being shelved for now, though will be reconsidered next year.
Per The Times Of India:
Buoyed by the response to its nonstop connection between Delhi and San Francisco (SFO), Air India has decided to make it a daily flight from this winter. The Delhi-SFO route was launched last December as a tri-weekly flight. It has been getting high occupancy despite premium pricing over the one stop options given by Gulf, European, southeast Asian and American airlines.

With Delhi-SFO becoming a daily option, AI has deferred its plans to launch Delhi-Washington nonstop from this winter, said a senior official. "We already have flights from Delhi and Mumbai to New York JFK and Newark (EWR). We will look at the Washington connection next year," the official said.

"All our US nonstop flights are getting healthy occupancy levels of over 80% and contribute almost one-fifth of our total revenue from international flights. In addition, from Independence Day onwards, we will have a one-stop flight to Newark from Ahmedabad via London," said the official.
Air India is commanding a price premium on the flight?!
Air India claims they're able to command a price premium over European and Gulf carriers operating one-stop flights between San Francisco and Delhi. I find that claim curious. While there's no denying that a nonstop flight is convenient, and could generally command a price premium. However:
Air India doesn't have fully flat business class seats, so I imagine most business travelers would rather connect once and have a fully flat bed, rather than have an angled seat for ~17 hours
Most Indian leisure travelers I know avoid Air India at all costs, and far prefer the service on Emirates, Etihad, etc.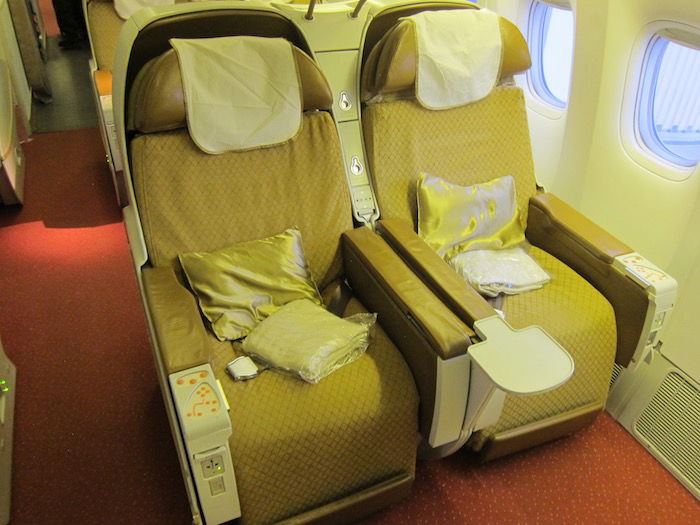 So I do wonder who these passengers paying a premium for Air India are.
In looking at Air India's fares over random dates, it seems like economy runs ~$1,000 roundtrip, while business class runs ~$4,000 roundtrip.


There are certainly cheaper fares out there. For example, Turkish has fares of ~$700 roundtrip in economy, or ~$3,300 roundtrip in business class.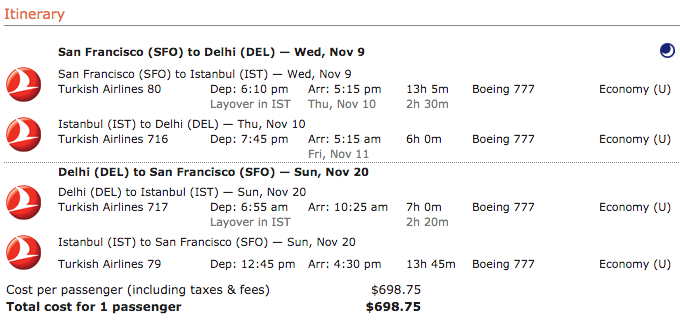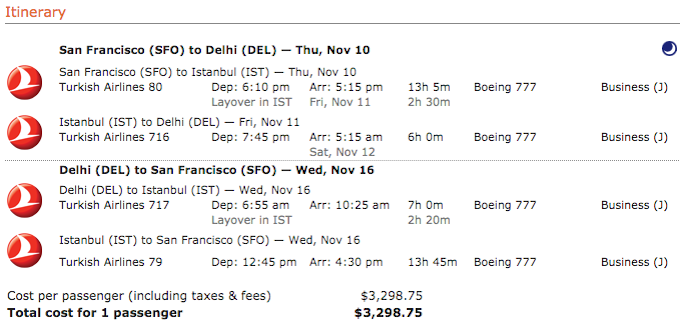 So yes, I suppose Air India is commanding somewhat of a premium premium over the competition (which has dirt cheap fares), though this route is still a long ways from being high yield, even with good load factors.
Air India's IFE woes
Air India is notorious for having issues with their inflight entertainment, which seems to be especially problematic on this new route, given how long it is:
Passengers who have flown these routes say there are two main problems on AI planes regarding IFS: not all the sets work and often the entire system is down for long periods of time.

"AI chief Ashwani Lohani has set a target of 100% serviceability of IFE on widebody aircraft used for long flights. AI's electronic overhaul shop has got more resources to make this happen. A forecast of spares requirement for next two years has been made and provisioning is being done to ensure delivery and availability at the time of need," said the official.
I can appreciate them wanting to set a goal, but I feel like 100% might not quite be realistic. Even the world's best airlines don't achieve 100% reliability on their inflight entertainment.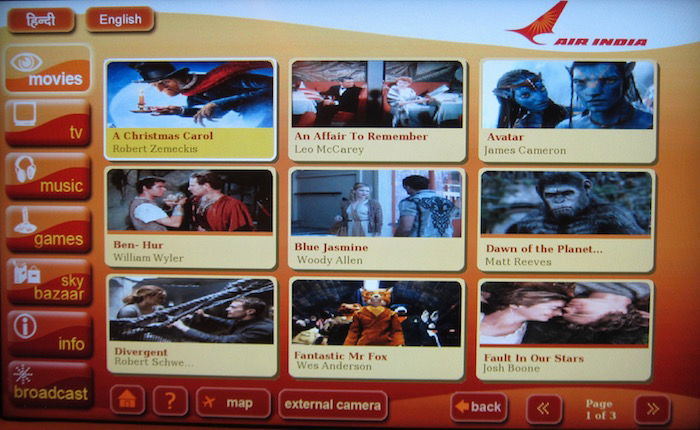 Is Air India still cutting first class to San Francisco?
One other interesting thing to note is that back in January, Air India announced that they'd eliminate first class on their 777-200LRs, as a way of adding additional economy class capacity. With these changes, Air India was planning on increasing their economy capacity from 195 seats to 298, which is a staggering increase of 103 seats.
However, in looking at seatmaps, it doesn't look like this has happened yet, and even looking at flights for next year, first class is still on sale. So perhaps this idea is on hold for now.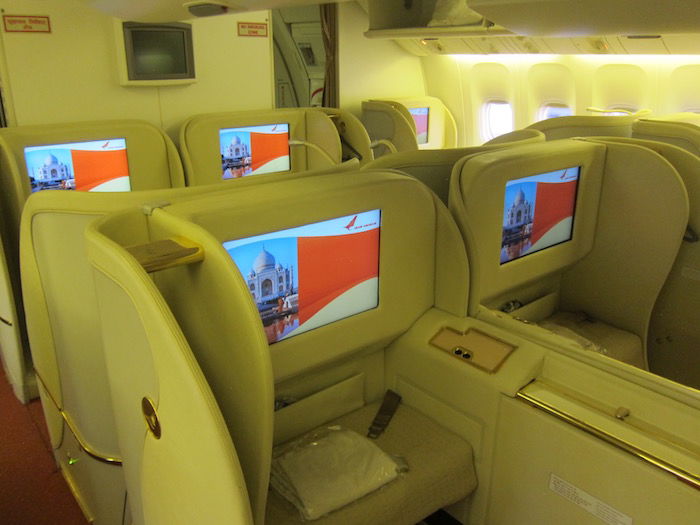 Bottom line
Congrats to Air India for their success on this new route, whatever that might look like in practice. It's impressive that this flight will be doing daily, especially given their small 777-200LR fleet. I'm surprised United hasn't entered this market as well with a Boeing 787-9, given that there's clearly demand for the market. United might actually be able to command a real price premium in the market, given that they have fully flat beds.
Are you surprised by Air India's "success" on their new San Francisco route?