Air Greenland was making headlines a few weeks ago for their transatlantic turboprop flights, but they've just operated a flight that's in a league of its own.
Air Greenland's Copenhagen link
In late March I wrote a post titled "Air Greenland's Fascinating 8-Hour Turboprop Flight," about the way in which they were operating flights between Greenland and Copenhagen:
Air Greenland has suspended regular passenger operations
The airline continued to operate a link to Copenhagen for medical staff, COVID-19 tests, and more
The airline has a single A330 that they usually fly between Kangerlussuaq and Copenhagen, though the plane is currently undergoing maintenance, and offers way too much capacity anyway
As a result, Air Greenland has been operating nearly eight hour flights between Nuuk and Copenhagen, with a stop in Keflavik, Iceland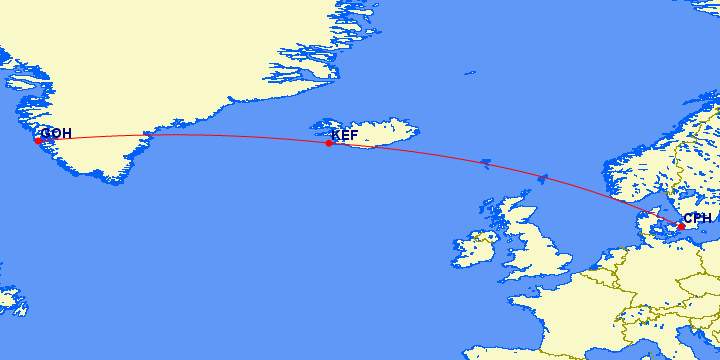 Air Greenland flies 7hr52min nonstop on Dash 8
In recent days Air Greenland took Copenhagen service to a whole new level:
On Sunday, April 19, 2020, Air Greenland operated a 7hr25min nonstop flight from Nuuk to Copenhagen
On Monday, April 20, 2020, Air Greenland operated a 7hr52min nonstop flight from Copenhagen to Nuuk
The flight was operated by a 23 year old Dash 8-200 with the registration code OY-GRP. The 2,200+ mile flight overflew Denmark, Norway, the Shetland Islands, the Faroe Islands, and Iceland. In the event of an emergency, they had plenty of diversion airports, including Stavanger, Vagar, Egilsstadir, Keflavik, and Kulusuk.
The flight from Nuuk to Copenhagen was being operated as an evacuation flight for an insurance company (with a patient onboard, in addition to the crew), and then the return flight became historic. The return flight had four people, including two pilots, one flight attendant, and one doctor.
The 7hr52min flight on Monday is historic for a couple of reasons:
It's allegedly the longest Dash 8-200 flight ever
It's the first ever nonstop flight from Copenhagen to Nuuk (the airport only has a runway of 3,100 feet)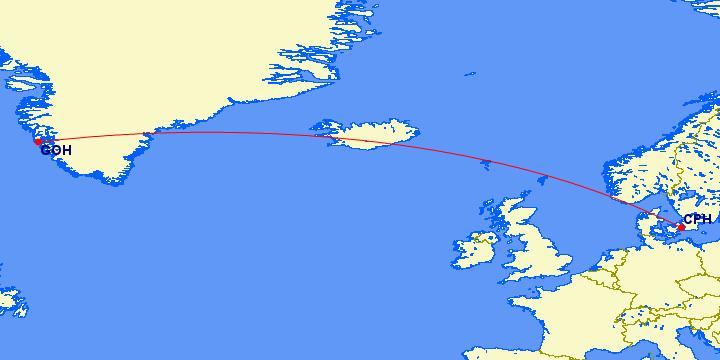 How is this nonstop flight possible?
Believe it or not, the plane wasn't reconfigured with extra fuel tanks, or anything, but rather because the plane was so empty it was able to operate this journey nonstop. The plane landed back in Nuuk with another 400 kilos of fuel, and the captain says that they could have flown for another hour.
He also said that they could fly nonstop from Nuuk to Copenhagen with up to 10 passengers, assuming the winds aren't unfavorable.
Since the plane had no cargo, they actually had to weigh it down a bit for weight and balance.
The Copenhagen link is being cut for now
As of April 17, 2020, Air Greenland is cutting the "air bridge" between Greenland and Denmark. As mentioned above, the primary reason for this was that COVID-19 testing wasn't possible in Greenland.
Now Greenland has their own testing equipment, and therefore the link is no longer needed between the two places. You can expect some flights to continue, but not as many as in the past.
This also means that they can shut down their temporary Copenhagen base. The way the airline had staffed these flights is quite interesting — Air Greenland had crews temporarily based in Copenhagen, and crews based in Nuuk (as usual).
The plane would refuel in Keflavik, and they'd trade crews there. That meant that one crew would fly from Nuuk to Keflavik to Nuuk, and the other crew would fly from Copenhagen to Keflavik to Copenhagen. This was intended to minimize the movement of crews as a preventive measure for COVID-19.
Bottom line
What an unbelievable nonstop flight Air Greenland operated. I've been dreaming about being on many of the cool one-off flights we're seeing right now (like the Titan Airways A318 to Saint Helena), though I have to say that an eight hour turboprop flight isn't one that tempts me very much.
What a cool journey, though!
(Tip of the hat to Matthias, featured image courtesy of Quintin Soloviev)