This is an interesting development, and I'm not quite sure what to make of it.
Booking Aeroflot with SkyMiles has always been complicated (though possibly not as complicated as visiting the ticket office in Minsk). Aeroflot gives painfully little award space to SkyTeam partners, Delta levies fuel surcharges on Aeroflot awards, and the flights themselves haven't been consistently bookable online.
So we didn't think much of the fact that we really haven't seen any Aeroflot space through Delta lately — sometimes there just isn't inventory.
Then reader Stanley commented on my post about using miles to Europe that it wasn't just that availability with Aeroflot was limited. Rather, the relationship is completely shut down.
After a few calls to Delta I was able to find an agent who would dig a little bit and find the relevant memo, and sure enough:
"Huh. 'Award travel suspended on Aeroflot as of 8/16/18.'

That's…all it says. Generally it gives us information on the reason, or an estimate as to when functionality will be restored, but that's the entire note."
This could be a temporary(ish) technical issue that just hasn't been well-documented. And for what it's worth, Delta still lists Aeroflot as not only a redemption partner, but one that can be booked online: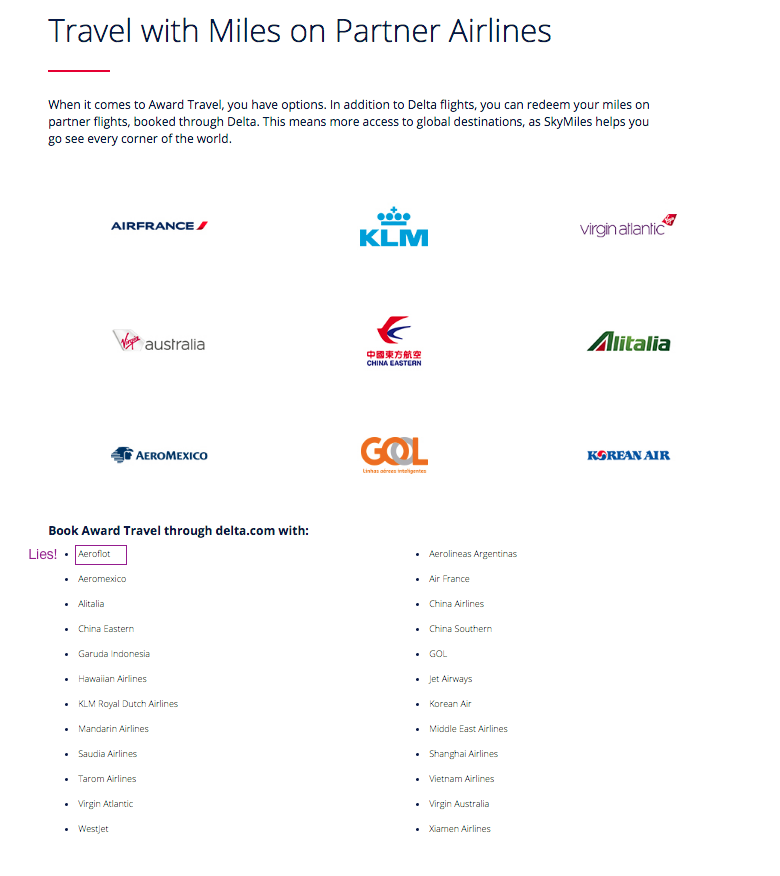 To be clear, award inventory is theoretically being made available to SkyTeam. Looking at ExpertFlyer for next week, for example, there are six business class seats and at least seven economy seats on the flight between New York JFK and Moscow SVO: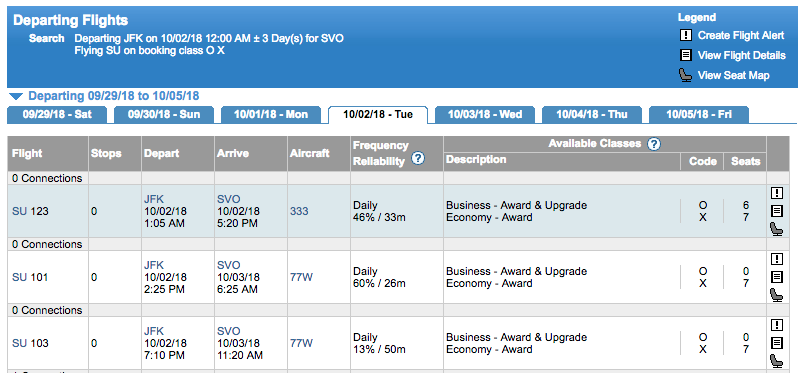 And (somewhat shockingly, given that booking Aeroflot through FlyingBlue is difficult-at-best), Air France can see the space as well:

So it does seem to be an issue between Delta and Aeroflot. Though booking through FlyingBlue would be a better value here regardless!
Bottom line
This is highly unusual, particularly within an alliance. We sometimes see technical issues (both shorter and longer term), and the debacle of Aeroplan and assorted Star Alliance partners is a great example of that. And of course carriers choose how much inventory (if any) to make available to partners.
But we don't typically see redemption agreements just end when both carriers are in the same alliance.
We'll try and get some more information, and will update when we know more, but I wanted to make folks aware in case you were considering one of these awards.