---
In January a US customs and immigration pre-clearance facility opened at Abu Dhabi Airport.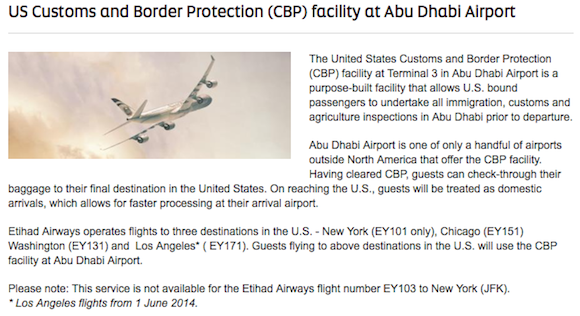 In theory there are a couple of potential reasons for adding pre-clearance facilities:
In the event that there are immigration problems, it's easier to turn someone away before they board the plane than upon landing
It's more convenient for passengers to land at their destination as domestic passengers, so that they can reliably make connections
Of course this comes at a big cost as well. Staffing US CBP officers for just a few daily flights is costly, though in fairness the UAE is picking up 85% of the cost of the facility, thinking that this will be a selling point for passengers.
My experience with Abu Dhabi US pre-clearance facility
I figured I'd share my experience yesterday at the Abu Dhabi Airport US pre-clearance facility prior to the inaugural Etihad Airways flight to Los Angeles.
After spending some time in the Etihad Airways First Class Lounge I was advised to head to the gate about two hours before departure.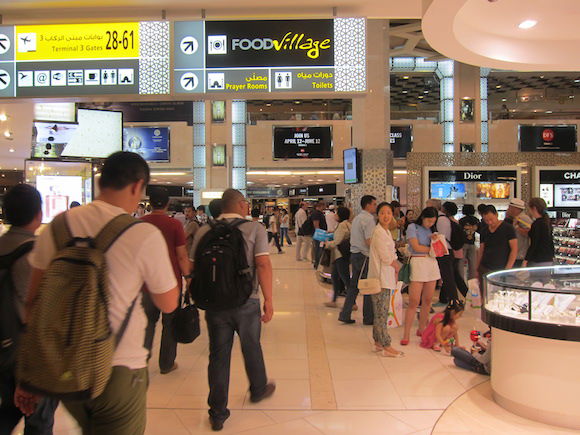 Abu Dhabi Airport terminal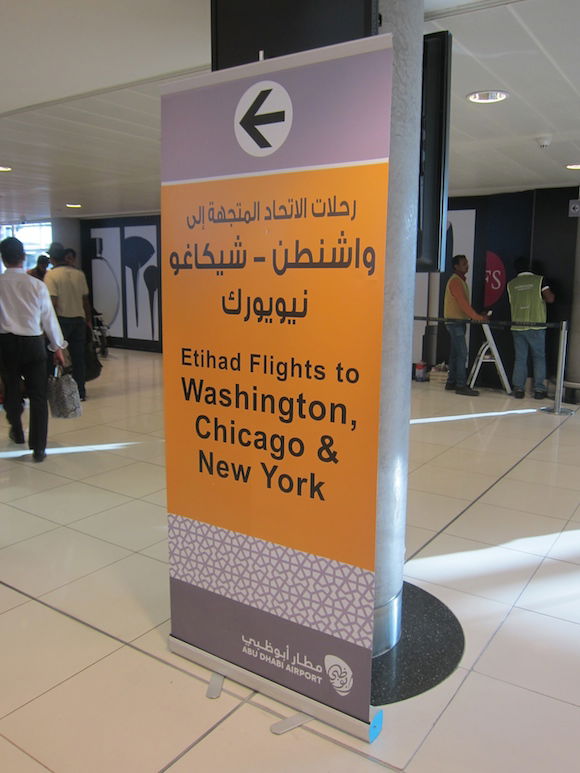 Abu Dhabi Airport US pre-clearance signage
Etihad's gates for US bound flights have long been at the far end of the terminal, about a 10-15 minute walk from the lounge, which is just past security. That has always been the case, so the only thing that has been changed is that you now can't directly access gates 58-61, but instead have to go through a "maze" in order to get to them.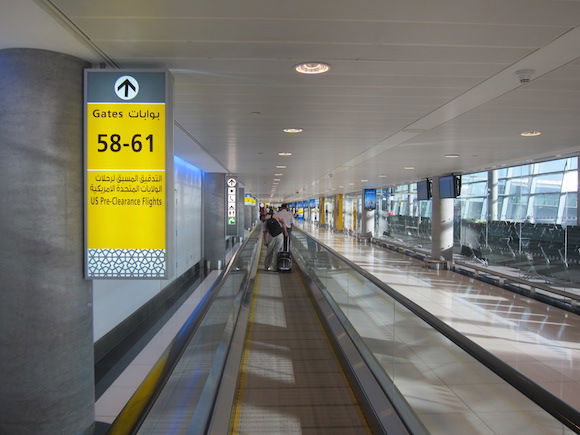 Abu Dhabi Airport US pre-clearance signage
So as you approach the gates your boarding passes are checked, and you're directed down a hallway which leads to an escalator, to the lower level.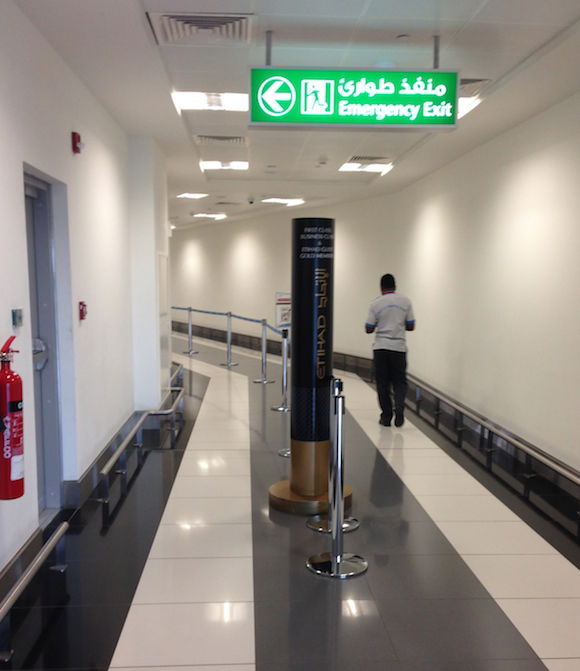 Abu Dhabi Airport US pre-clearance facility entrance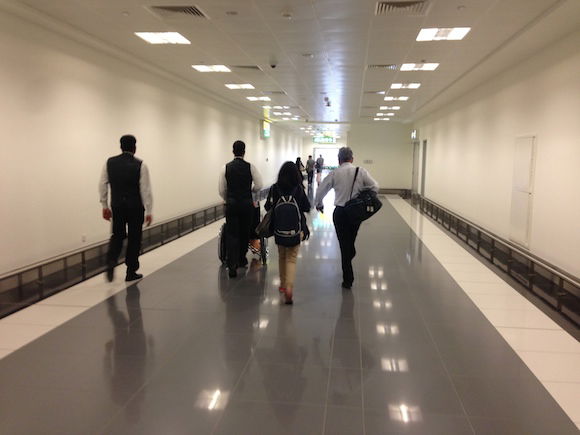 Abu Dhabi Airport US pre-clearance facility hallway
My experience with Abu Dhabi US pre-clearance security
Once there you first have to clear security. For what it's worth they now have a premium line for first and business class passengers, which they apparently didn't previously have.
There was no queue and I was helped immediately, though the security screening was in stark contrast to the initial one I went through before accessing the lounge. Airport security screening in the UAE is a joke in my experience, and when I went through the first security checkpoint the agent wasn't even looking at the computer screen as the bags went through the x-ray.
Meanwhile the agents here are quite possibly the most obnoxiously thorough I've ever seen anywhere.
I live out of a carry-on, and I pack it damn well. One of the most useful packing tips is to always put your shoes at the bottom of the bag and stuff them with socks. When I get to the checkpoint not only do they want me to remove the shoes I'm wearing, but they also want me to remove any shoes in my bag. That's the first time anywhere that I've been asked to do that.
So I unpack my entire bag to access the shoes and put them in a bin, and then he proceeds to take the dozen pairs of socks I have in my shoes and place them in a separate bin.
On top of that, they searched every square inch of my laptop bag. I keep all my cords and electronics in separate "pouches" in order to stay organized (mostly Delta's Tumi amenity kits). The officer proceeded to unzip the pouch of each bag, and literally just dump it in a bin as if it were going into the $1 DVD bin at Wal-Mart.
He took out my electric toothbrush and shaving kit, and placed them all in the bin "bare." Eek!
And then after screening the bag multiple times, he proceeded to repack it by literally throwing all my electronics back in the laptop bag without putting them in the pouches first. I stood there throughout the process with this look on my face: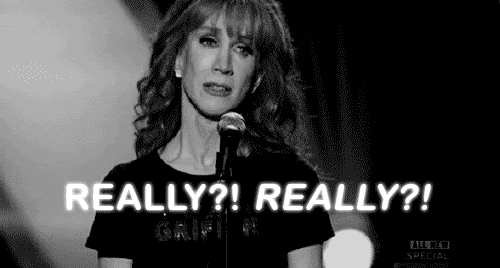 When he saw how I felt about the process, he called over the one female screener at the facility and had her pack my bag. I told them that I could just repack it, and when I proceeded to do so they said "you can't do it here, you need to take it somewhere else." Mind you, at this point I had my laptop bag, carry-on, and roughly six bins full of crap.
I wouldn't be exaggerating if I said the security process took 25 minutes even though I didn't have to wait at all in line.
My experience with Abu Dhabi US pre-clearance immigration
When they first opened the facility they didn't have Global Entry kiosks. Now they do. So I headed to one of the two kiosks located at the far left of the facility. Once that was complete I stood in the Global Entry queue, which was otherwise empty.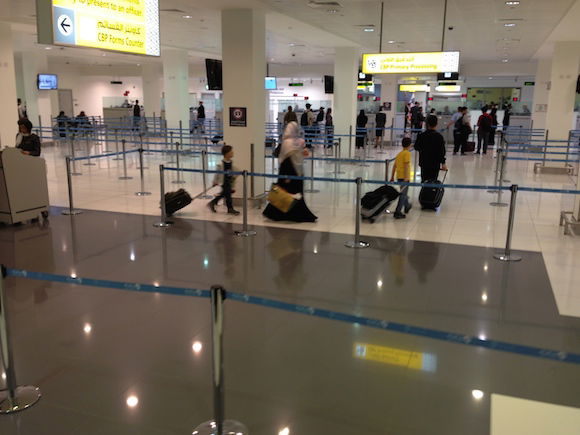 Abu Dhabi Airport US pre-clearance facility

The "policy" for what people with Global Entry are supposed to do varies substantially by airport. At some airports they just want you to walk by, at some airports they want you to "wave" it at an officer and establish eye contact, and at some airports the officers still question you.
I didn't know what the policy was here, so decided to wait till I was called. That turned out to be interesting, since the Global Entry line is immediately next to the handicapped line, and the roughly 15 wheelchair pushers in line seemed absolutely convinced I was trying to cut them. So they'd kind of stand there to block me off, even though I wasn't trying to cut them.
Once you clear US pre-clearance in Abu Dhabi
Once you've cleared customs and immigration you take the escalator back up the main level of the terminal, where you'll find the few gates that are "partitioned off" from the rest of the terminal.
There's a small concession cart with drinks and light snacks for purchase, and then there are toilets and a prayer room on the lower level of the terminal.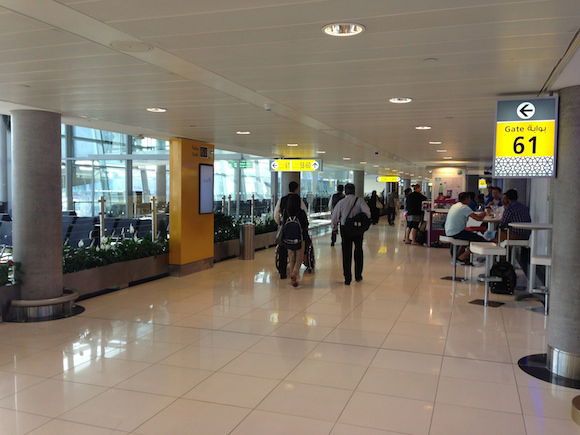 Abu Dhabi Airport US departure gates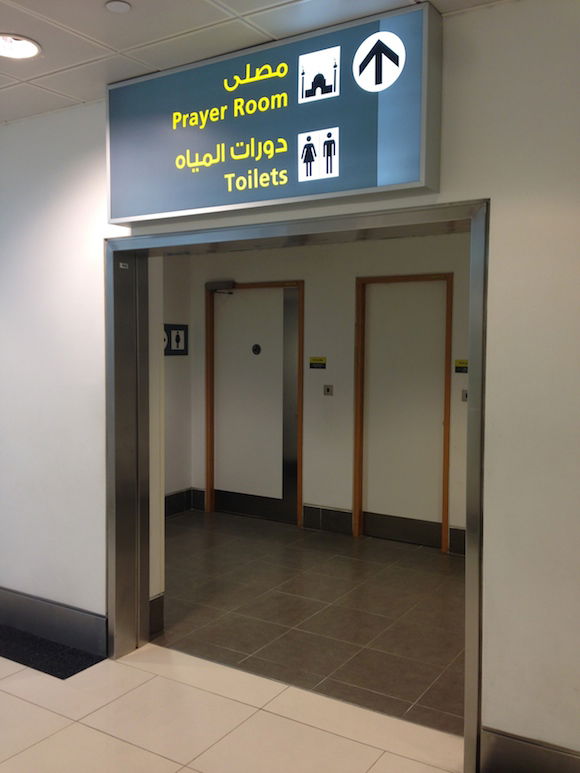 Abu Dhabi Airport US departure gates toilets and prayer rooms
There's nothing else to do in the gate area, other than to wait.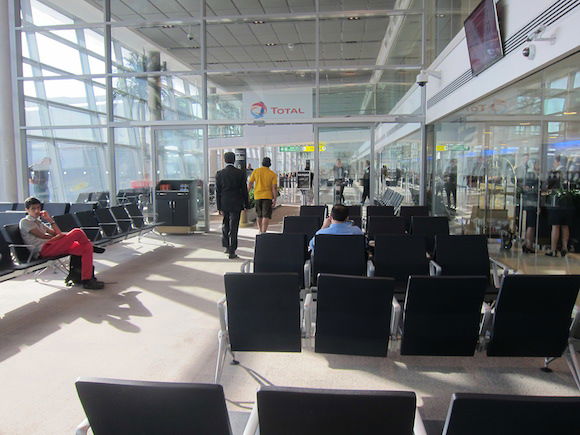 Abu Dhabi Airport US departure gates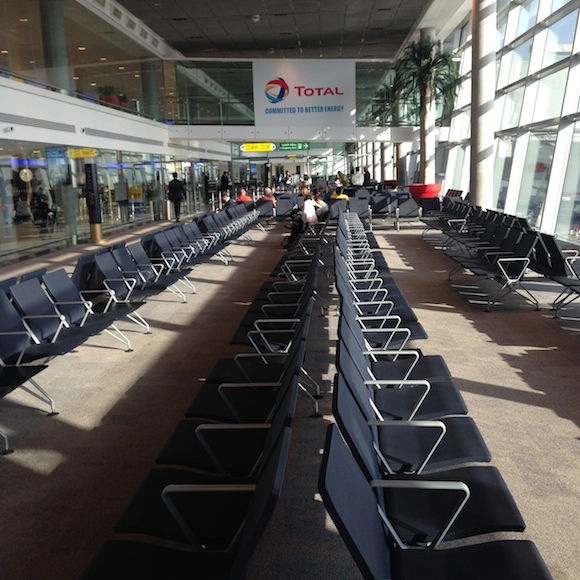 Abu Dhabi Airport US departure gates
Since I was on an inaugural flight I left about two hours before departure thinking there would be a party of some sort at the gate, though there was nothing.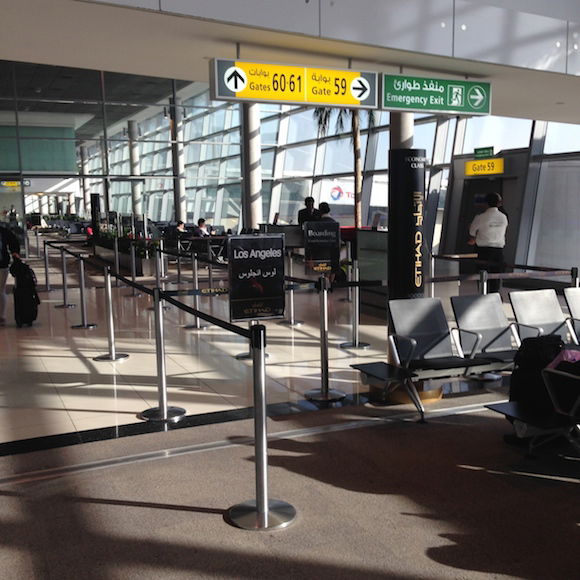 Abu Dhabi Airport LAX inaugural flight departure gate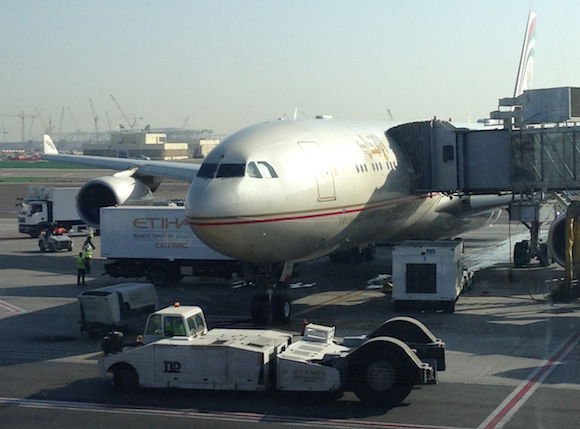 Etihad Airways A340-500
Bottom line on US pre-clearance facility in Abu Dhabi
Since introducing Abu Dhabi pre-clearance in January they've already made it much better than it was, by adding a priority security line and adding Global Entry kiosks.
When I used the facility yesterday it was under perfect conditions — there were virtually no lines for anyone at security or immigration — and it still sucked. Since this program started, many US bound flights have been delayed 60-90 minutes due to immigration hold ups and passengers not allowing enough time to get to the gate.
To be clear, let me take the perspective of someone that doesn't have Global Entry. I think it goes without saying that if you have Global Entry then immigration is a non-issue anyway, and it's just as easy to do it on arrival, since it only takes a couple of minutes.
But especially if you don't have Global Entry or are in first/business class, you have to leave to the gate two hours before departure, and there's absolutely nothing to do there. I guess really my biggest beef is with the security process as opposed to immigration as such.
Anyway, they've made the decision and I experienced it at its best and still was far from impressed. I'm not sure what problem they were trying to solve with this facility or how they think it will be a selling point, but…
Have you experienced the US pre-clearance facility in Abu Dhabi? What was your experience like?