In and of itself an aborted takeoff isn't a big deal. I've had several of them over the years, and even a few (fairly) high speed ones. They're a bit more "exciting" than go arounds, but really not a big deal. When a takeoff is aborted it means the pilots know there's enough room to stop, which is better than continuing if there's a potential problem.
Qatar Airways flew an A350 to the US for their "pivotal announcement" this week, which would "usher in a historic moment in American aviation." The announcement? That Qatar Airways is launching a new brand campaign. As usual, more interesting than the "announcement" itself was what Akbar Al Baker, Qatar Airways' CEO, had to say. He's probably the least "reserved" guy in the airline industry, and he had a lot to say.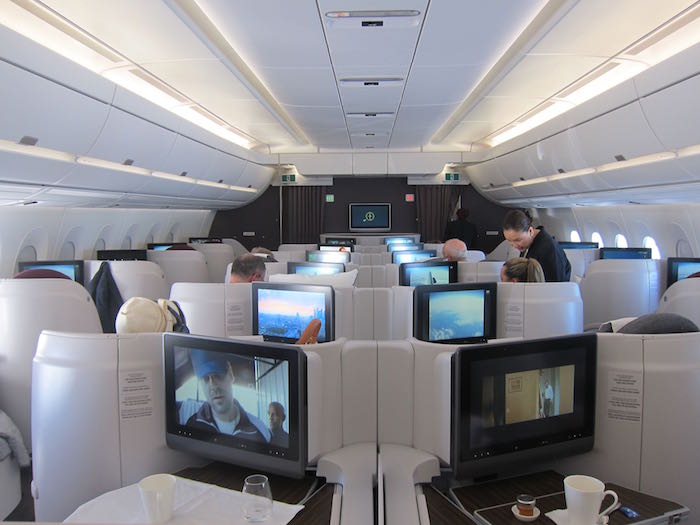 Qatar Airways A350 business class
Qatar's 777 incident at Miami Airport
Perhaps the most troubling was what Al Baker had to say about the Qatar Airways "incident" which happened at Miami Airport a few months back. During this incident a Qatar Airways 777 overran the runway at Miami Airport, hit the runway lights, had 90 scratches and dents, had a 46cm tear in the fuselage, and the plane lost some cabin pressure. The most concerning part? The pilots didn't realize any of it happened until they landed in Doha 13+ hours later.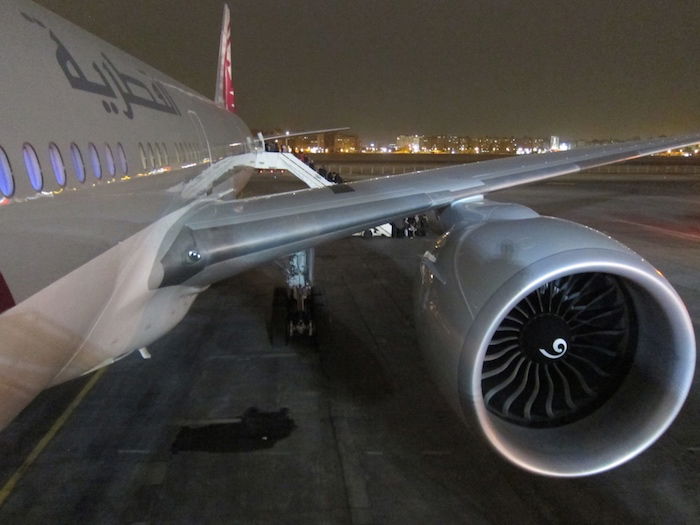 The Qatari Civil Aviation Administration released their report about what happened, and put the blame squarely on the pilots. The four pilots miscommunicated terribly, and had even discussed the exact takeoff procedure during their briefing, which they didn't end up following.
Actually, more concerning than anything else is that the airline's CEO doesn't take the incident seriously at all. He claimed:
"Such kinds of incidents happen quite often" (false)
"It was an instruction given to our pilot by the air traffic control, which he should have refused to accept" (false)
"However, he had enough runway for getting airborne and it was only an unfortunate incident" (ummm… if they had enough runway, why didn't they take off without hitting objects on the other end of the runway?)
"At no time was the aircraft or the passengers put in any harms way" (that's a real stretch)
Fortunately everyone was okay, though Al Baker's perspective on this is troubling, in my opinion.
The irony of Qatar's aborted A350 takeoff
Yesterday Qatar Airways operated an A350 charter back from New York JFK to Doha, which had a bunch of media people aboard. This was technically the first "passenger" A350 departure out of the US, so was a pretty big deal.
Well, on departure out of JFK the A350 had an aborted takeoff, which Zach Honig (editor of The Points Guy) captured on video:
The reason for the high speed aborted takeoff? Apparently the A350 got a signal indicating that the runway was too short and it auto-braked… at least that's what the airline's CCO claimed. Per the blog post:
Qatar's Chief Commercial Officer, the highest ranking executive on the flight, came over to reassure us, explaining that an "indicator" was responsible for the abrupt abort. As I understand it, for some reason the A350 decided that our 11,000-foot runway was too short to support the takeoff, and the plane applied the brakes at full force — all on its own.
Ultimately this wasn't a big deal (in the sense that no one was in danger), as it was clearly just a glitch in the system, and you're always better safe than sorry. It was clearly a very "abrupt" incident, but there's not really much which can go wrong when you abort a takeoff.
Still, there's something hilariously ironic about an indicator going off claiming the runway was too short (when it clearly wasn't), while the airline's CEO claims the runway in the Miami incident was long enough (when it clearly wasn't).
Other interesting tidbits from the "incident," according to Zach on Twitter:
Some passengers wanted to deplane, and even though they returned to the gate, the CCO wouldn't allow them to deplane, as he wanted to save face
Zach was told to stop recording during the aborted takeoff… a somewhat odd request on a media flight
A passenger (who Zach thinks was an airline executive) came up to him and asked him to "stop Tweeting for now"
Bottom line
Like I said, an aborted takeoff isn't really a big deal, in the sense that no one was in danger. Still, you can't help but sort of chuckle at the irony of the reason for the aborted takeoff — an indicator going off that the runway was too short — when just two days prior the airline's CEO denied any responsibility for their "incident" which happened for exactly that reason.
The attempt to restrict media coverage on a media flight is also sort of funny. I'll give the flight attendant the benefit of the doubt in saying he should stop filming (since it's possible they were preparing for an evacuation), but if he was told to stop Tweeting at a later point, well, there's no excuse for that…
What an airline!