Business Insider had an amusing story today about how to avoid jetlag. They get their tips from John Thompson, who has worked as an executive in the tech industry for eons.
I rarely spend more than a week on a single continent and so far this year have spent more time outside the US than in the US. So I'm always curious to see what jetlag tips others have.

Tokyo skyline at night
How crazy is Thompson's travel schedule?
In a two-week period in February, he will travel from the Bay Area to Detroit to Toronto back to the Bay Area and then to New York, London and to Columbus, Ohio with his wife, "to see our granddaughter in her first play." Then back to the Bay Are for one night, and then off to Singapore, Australia, and Hong Kong for ten days. And in between, he'll romp off to Seattle for a Microsoft board meeting.
So, what are his tips?
Does he ever suffer jet lag?

Nope. "Jet lag is psychological," he tells us, "If you don't think you're gonna have jet lag, you won't."

That said, he does have a few strategies for avoiding it. There's the classic one: "live on local time," he says.
The other tip is also essential. "At some point over the course of about 2 or 3 weeks, you do need to kind of catch up," he says. So plan on taking your nap and/or going to bed early for a night or two every few weeks.
And possibly the best tip of all?
And the best tip of them all: own your own plane.
Hah!
While my strategy is slightly different, I think Thompson is spot on. Before I (very briefly) share my tips, I should explain that when I travel I always try to keep at least some overlap with the US east coast business day, since that's when most "news" in the industry breaks. I guess you could say I always stay on "call center hours" when traveling. So for my own needs, I don't ever try to fully adjust to local time.
What's the best way to not be miserable and stay sane while transiting lots of timezones?
I totally agree jetlag is psychological. In 2015 I think we're all perpetually tired as humans, so it's not like exhaustion is limited to when you're traveling. If you want to stay awake and beat jetlag, tell yourself it's the only option. Have coffee, get as much natural light as possible, and make sure you leave plenty of time to get a good night of sleep.
Nap early in the day, not late in the day. This is of course different for everyone, but I'm not a good napper. Some people can do 20 minute naps, while I can't. If I do nap, it needs to be for a minimum of two hours. So for the rare occasions I do nap, I make sure it's early in the day rather than late in the day, or else I won't be able to sleep at night.
Land at your destination around dinnertime when possible. For me the absolute best way to beat jetlag is to land at my longhaul destination around dinnertime. That way you can get off the plane, unwind, walk around a little bit, and have a great night of sleep. If you arrive too early you may end up napping. If you arrive too late, it might be so late that you can't unwind and fall asleep.
Get a lot of sleep some nights. This is key. You're not going to get a full night of rest every night you're traveling, but if you can, take at least a couple of nights during a longer trip to hibernate for 10-12 hours.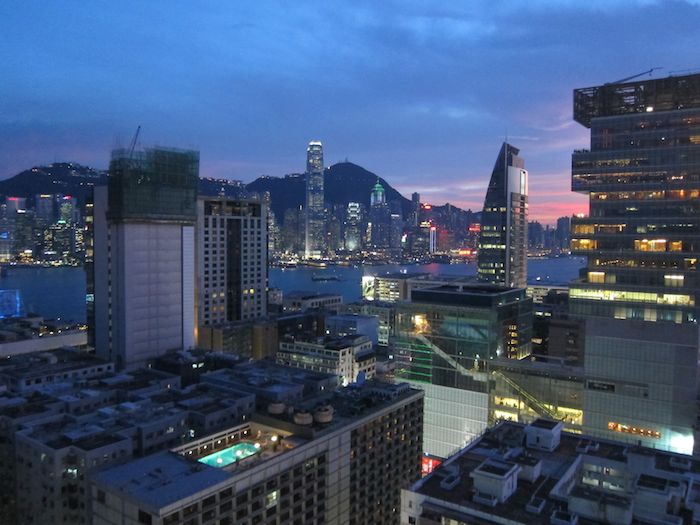 Hong Kong at dusk
How about you? What are your top tips for avoiding jetlag?