Update: The email I received suggested this was just for Diamond members, though it seems the offer has been extended to some Platinum members as well. Please report your eligibility/status below.
Through August 18, 2014, Hyatt is offering Gold Passport Diamond members up to a 40% bonus on purchased Gold Passport points. The bonuses are tiered, as follows:
Purchase 5,000 to 19,000 points and receive a 20% bonus
Purchase 20,000 to 39,000 points and receive a 30% bonus
Purchase 40,000 to 55,000 points and receive a 40% bonus
If you max out the promotion and purchase 55,000 points you'd receive a total of 77,000 points at a cost of $1,320, which is ~1.71 cents per point. Hyatt recently increased the maximum number of Gold Passport points you can purchase per year from 40,000 to 55,000.
While it's targeted, this is one of the best bonuses we've seen on the purchase of Gold Passport points. Some recent offers included:
I value Hyatt Gold Passport points at ~1.5 cents each, though they can definitely be redeemed for a lot more than that. I just think that's a "fair" number. In this case there are some circumstances under which it can be really lucrative to purchase points.
For example, at the rate of ~1.7 cents per point, you can purchase enough points for a free night at the Park Hyatt Maldives (which is a Category 6 property, making it 25,000 points per night) for ~$430, while paid rates are $1,000+ per night.
You can potentially get even more value out of your points by using Hyatt Points+ Cash redemptions.
As a Gold Passport Diamond member, Points + Cash redemptions are especially awesome because:
Confirmed Diamond suite upgrades can be applied on Points + Cash reservations
Points + Cash reservations are eligible for elite stay & night accrual, as well as points accrual
Points + Cash reservations count as qualifying nights for the purposes of promotions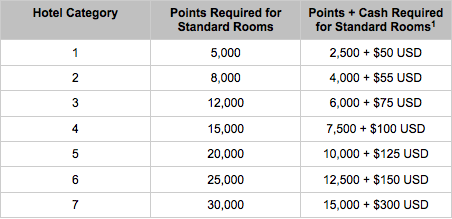 Using the same Park Hyatt Maldives example, pending Points + Cash availability (which is capacity controlled), you could redeem for a free night for just 12,500 points plus $150. The 12,500 points could be purchased for under $220, so that's like paying ~$370 for a night at the Park Hyatt Maldives.
On the other end of the spectrum, it can also make sense to purchase points for some lower category hotels. For example, I've stayed at the Grand Hyatt Santiago, which is a Category 2 property going for just 8,000 points per night.
That means you could purchase enough points for a free night for under $140. Meanwhile sometimes paid rates at this hotel are more than double that.
As is always the case in this hobby, you should crunch the numbers and see if this promotion works for you. If you're a Diamond member but don't have a huge stash of Hyatt points (or Chase Ultimate Rewards points which you can transfer to Hyatt) then it could make sense to purchase some points, assuming you have time to redeem at some of the better value properties in the near future.
As a reminder, Hyatt points purchases are processed by points.com, so wouldn't count as hotel spend for the purposes of credit card spend.