Update: Wyndham completely changed their program in 2019, destroying the innovative structure outlined below, and moving to a fairly generic tiered system.
---
Wyndham Rewards is a program that I don't cover very much, largely because I don't consider it to be an especially "aspirational" program. When I earn Hyatt Gold Passport points I can redeem them at the Park Hyatt Sydney. When I earn Starwood Preferred Guest points I can redeem them at the St. Regis Bal Harbour.
When I earn Wyndham Rewards points, I can redeem them at the… well, I'm not actually sure.
I didn't see this coming, but Wyndham Rewards will be radically changing their loyalty program as of May 11, 2015… and it's potentially really good news.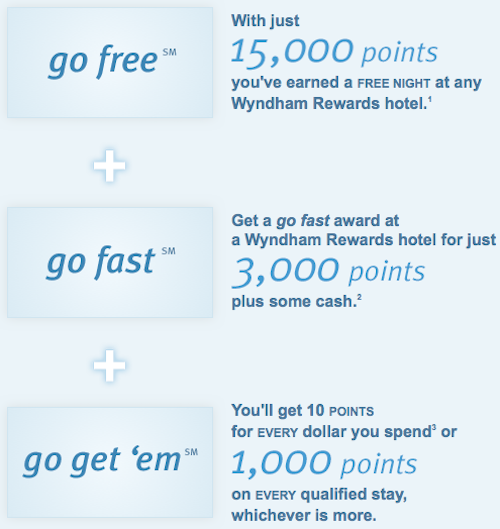 Wyndham Rewards is making three changes — two are relatively minor, while one is borderline earth-shattering when it comes to hotel loyalty programs:
Earn at least 1,000 points per stay
With Wyndham Rewards you presently earn 10 points per dollar spent at their properties, with no minimum. Under the new program, you'll continue to earn 10 points per dollar spent, but will earn a minimum of 1,000 points per qualifying stay. That means if you stay at an $80 per night hotel, you'd still earn the 1,000 point minimum.
Wyndham Rewards will introduce Points + Cash
While the exact numbers haven't yet been revealed, Wyndham Rewards will be introducing Points + Cash redemptions, whereby you can redeem 3,000 points plus cash for a hotel stay.
The 3,000 points is consistent, while the cash amount will presumably vary by hotel. As is the case with most loyalty programs, Points + Cash availability will be capacity controlled, so don't expect it to always be available.
All award redemptions will cost 15,000 points per night
Here's something that's truly revolutionary. I'm not sure if it's the greatest or worst change a hotel loyalty program has made. It's that revolutionary.
All free night redemptions will cost 15,000 points per night, regardless of which hotel you stay at.
Presently Wyndham has nine tiers of hotels, which range in cost from 5,500 to 50,000 points per night, as follows: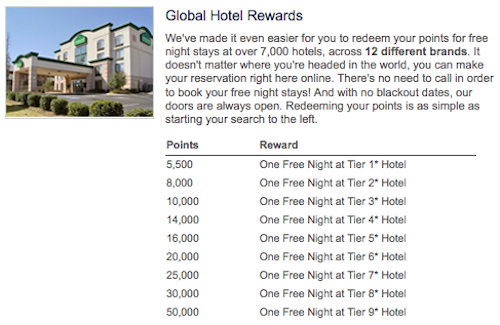 Instead the cost of a free night redemption will be between the current cost of a Tier 4 or Tier 5 property. This obviously means that:
The cost of free night redemptions at low end properties is going way up
The cost of free night redemptions at high end properties is going way down
For those of us that accrue points for the purpose of aspirational redemptions, this is great news. To give a comparison to airline miles, it would be like paying the same number of miles for American economy class from Los Angeles to San Francisco as for Singapore first class from San Francisco to Singapore (or since we're talking about Wyndham here, perhaps Singapore Airlines premium economy would be a better comparison for their "high end" properties). 😉
What are the implications on reward night availability?
While Wyndham doesn't have blackout dates on redemptions, I'm not sure whether they have capacity controls or not. If they do, obviously it means there will be more people competing for the same (limited) number of rooms, which may lead to disappointment. If they don't have capacity controls, then I'm very curious to see how on their end they handle the cost of high end redemptions.
Will this change piss off most members?
It's always important to keep things in context and remember that we don't represent the average consumer. Just as most people redeem their miles for domestic economy awards, most people want to redeem their hotel points for non-aspirational awards. And in some cases the cost will be going way up, and presumably a large portion of the membership will be disappointed.
If you usually redeem your points for free nights at a 5,500 point per night property, imagine how disappointed you'd be if the cost of that redemption nearly tripled overnight.
But given how many of Wyndham's properties are budget properties and how big their footprint is, I'm not sure how many people would actually vote with their wallet and stay elsewhere, given that they don't have much competition in many markets.
At the same time, I think it might actually attract some business travelers that have discretion over where they stay and may not have otherwise considered Wyndham.
Bottom line
Kudos to Wyndham for this gutsy move. Wyndham really, really thought outside the box here, and for that they should be commended.
For consumers these changes aren't universally positive. The changes are great news for those of us chasing aspirational awards, and not-so-great news for many members that weren't as focused on aspirational awards.
But what makes this brilliant from Wyndham's end is that I bet they will come out way ahead under this system. Since a vast majority of people redeem for lower tier properties, I'd be willing to bet the average cost per redemption actually goes up, and not down.
What do you think Wyndham Rewards' motive is here, and would you like to see other loyalty programs adopt a similar scheme?