I've actually never seen a startup airline quite like this before. The rebirth of WOW Air is odd because it seems to me like the people running it are serious about the airline (unlike Baltia), and they have the cash (unlike Global Ghana Airlines #LowAltitudeFlightAttendants), yet I keep thinking this whole thing is a practical joke.
WOW Air's bizarre relaunch up until now
For a bit of background, WOW Air ceased operations in March 2019, and the airline is making a comeback. The person behind this is an American businesswoman, Michele Ballarin, who is otherwise best known for negotiating with pirates and warlords.
She recognized the original WOW Air wasn't profitable, but will make the changes needed to make the new airline work.
How? By investing in the passenger experience. They'll have a lounge for all passengers, they'll work with a Michelin chef to bring better nutrition on planes, and they'll have biometric boarding. You know, the usual if you're running an ultra low cost carrier…
Beyond that, the way they've gone about relaunching is odd:
Coming soon: WOW Italy
Well, yesterday WOW Air shared an announcement dated February 24, 2020, indicating that WOW Italy is "landing soon in Rome and Sicily." As it's explained:
"We are proud to announce the establishment of WOW Italy offices for passenger and cargo operations to commence in the very near future. We welcome the WOW Italy team of extraordinary aviation professionals to WOW World."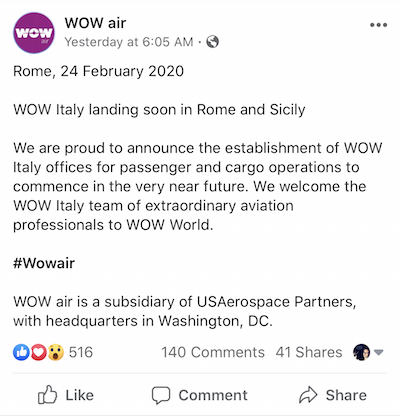 This at least explains why earlier in the month someone was announced as "Director of WOW Italy."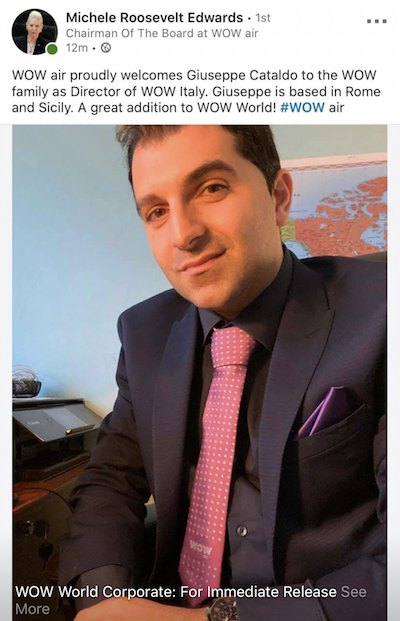 What is WOW Air even talking about?
We have absolutely no clue what WOW Air is even talking about, which is why this whole thing is so strange:
Is WOW Air planning on launching operations out of Italy not to Iceland, as they perhaps see that as a market with potential? If so, are they setting it up as a separate subsidiary with a different operating certificate?
Is Italy going to be WOW Air's first destination out of Iceland other than Washington? If you're launching a transatlantic airline, making Sicily one of your first two transatlantic destinations certainly seems unusual
Bottom line
WOW Air 2.0 deserves an award for being one of the most unusual airline (re)startups ever. First they were going to be a passenger airline out of Washington, then they were going to be a cargo airline, then they were going to open a coffee shop, and now they'll be Italian. 😉
Maybe a gelato stand is next?
(Tip of the hat to @simply_aviation)