That lady who purchased defunct WOW Air? Well, she allegedly did an interview in a $30 million house that didn't belong to her (all while claiming it did), and is also allegedly one of the people behind an election fraud conspiracy theory. I'm sorry, but this is one of the wildest airline industry stories ever, and I feel like we need a documentary about this, or something.
The quirky entrepreneur who purchased WOW Air
Icelandic low cost carrier WOW Air ceased operations in March 2019. A few months later, some American investors purchased WOW Air's assets. The most prominent person behind this was Michele Ballarin (who also sometimes goes by Michele Lyn Golden, or Michele Roosevelt Edwards). I'll just call her Michele going forward, since she doesn't otherwise seem to have one consistent identity.
While Michele is probably most well known for negotiating with Somali pirates, she's also a real estate agent, and one of the owners of USAerospace, which offers "solutions in the aviation industry."
Everything about her plan to relaunch WOW Air was bizarre. For one, she recognized the original WOW Air's business model didn't work, but had plans to make changes that would make the airline sustainable. How? By investing in the passenger experience (as ultra low cost carriers do), including:
Having a lounge for all passengers
Working with a Michelin chef to bring better nutrition to planes
Having biometric boarding
Over two years after WOW Air went out of business, WOW Air still hasn't relaunched. However, all kinds of new concepts have been thrown around by the company's owners, including starting operations as a West Virginia cargo airline, opening a cafe in Washington, and launching a subsidiary in Italy.
One would assume the whole thing is a joke or scam, if it weren't for money having actually been spent to purchase WOW Air's assets. Well, this story just got even stranger.
WOW Air owner faked living in $30 million house
Earlier this year, Michele did an interview with Icelandic media about WOW Air, and she even invited the crew to (what she claimed was) her $30 million home.
The mansion in question is in the North Wales farm in Warrenton, Virginia. She had been questioned at the time about the lack of personal items in the house, and how the house was still listed as being for sale. She claimed that the property was a recent acquisition, and that it was not for sale.
Well, it's now being confirmed that this wasn't in fact Michele's home, but rather it belongs to an estate that's owned by a company belonging to the late David B. Ford, who passed away last September. His widow was asked if she knew Michele, and she said she didn't.
As a matter of fact, the widow was shocked to see the footage of Michele in her home, and wondered how she got in there. While that mystery hasn't officially been solved, Michele is a real estate agent who sells homes in the area, which suggests that perhaps that's how she got access to the house.
When Michele was confronted about this lie, she stated she's not giving any media interviews at this time. Unfortunately this is arguably the less troubling of the two things that have come out about Michele.
WOW Air owner involved in ItalyGate election conspiracy theory
There have been all kinds of conspiracy theories about fraud in the 2020 election, and one of those is known as ItalyGate. According to this conspiracy theory, an Italian defense contractor teamed up with the United States Embassy in Rome to use satellite transmissions to change millions of Trump votes to Biden, thus stealing the election. This was something that was taken seriously (by some) at the time, and Trump had even asked the Department of Justice to investigate this.
One of the companies behind this conspiracy theory was the Institute for Good Governance, which is… also owned by Michele. The Institute for Good Governance had apparently done an investigation into this fraud, which "yielded the long-awaited proof that a flawless plot to take down America was executed with extraordinary resources and global involvement." Of course conveniently the "proof" hasn't actually been released.
I mean, this is just… wow. Also, now I can't help but wonder if WOW Air Italy had something to do with this conspiracy theory? In early 2020 plans for WOW Air Italy were revealed, yet nothing actually came of that airline. Is it a coincidence that WOW Air set up "offices" in Italy ahead of the election, and the only thing to come from WOW Air's owners in Italy is an election conspiracy theory?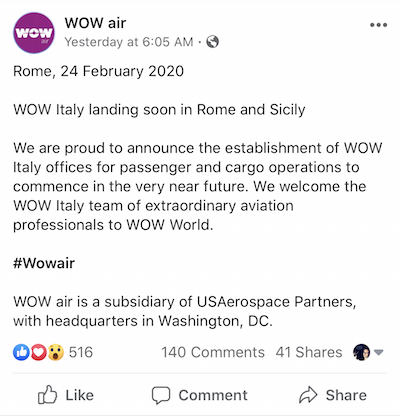 Bottom line
There have been a lot of questions about the legitimacy of the reincarnation of WOW Air, and I think we now have all the answers we need. WOW Air's founder did an interview in a $30 million mansion that she claimed was her own, when it in fact wasn't. And on top of that, the founder's other business is peddling election conspiracy theories.
I still can't actually figure out Michele's angle with buying WOW Air's assets. It doesn't seem like this is a genuine effort at launching an airline, but what exactly was the motive for buying the carrier's assets? Is this all a scam, is there some sort of mental illness here, is she just a pathological liar, or…?
Wild, wild, wild…