At 5:10AM on Sunday morning, the world's new furthest flight will operate for the first time. Specifically I'm talking about Qatar Airways' new route between Doha and Auckland, which covers a distance of 9,032 miles in each direction.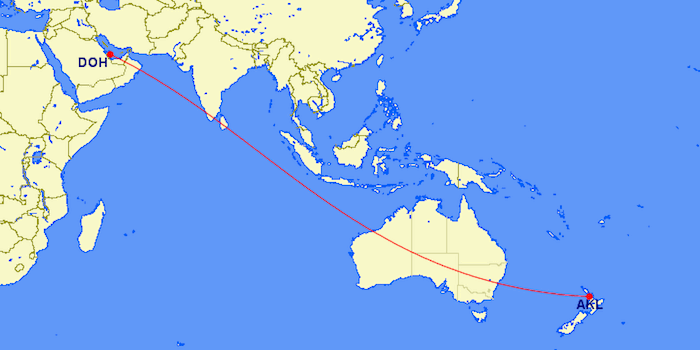 The flight is blocked at 16hr20min eastbound, and 17hr30min westbound. It will be operated by a Boeing 777-200LR, featuring 42 business class seats and 217 economy class seats.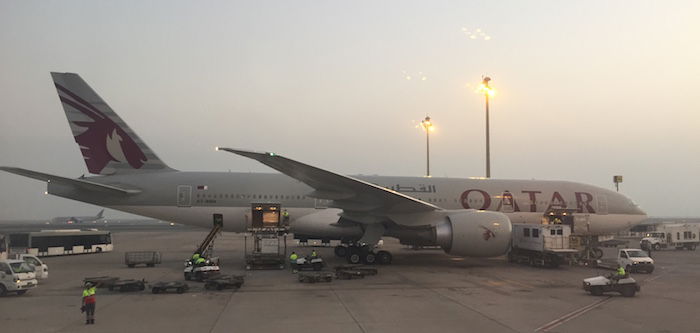 This route beats out the previous furthest route in the world, which is between Dubai and Auckland — this route is about 200 miles further. Prior to that the world's longest route was between Dallas and Sydney.
However, none of these routes are as long as the world's longest route a few years back, between Newark and Singapore. That route is expected to relaunch in 2018, at which point it will once again be the world's longest route by about 500 miles. Qantas is also expected to launch a route between Perth and London next year, which will be just a few miles shorter than the Doha to Auckland route.
Interestingly, Air India claims to operate the world's longest route as well, between Delhi and San Francisco. Even though the flight covers a direct air distance of ~7,700 miles, they now operate the westbound flight via the Pacific, meaning the flight regularly covers a distance of 9,300+ miles. However, the way I see it, a flight's distance should be measured by the direct air distance between two cities, and not by how many miles the plane actually flies.
Anyone planning on taking Qatar Airways' new flight between Doha and Auckland?