The information and associated card details on this page for the Hilton Honors American Express Aspire Card has been collected independently by OMAAT and has not been reviewed or provided by the card issuer.
We're seeing the major hotel groups try to get creative in order to fill rooms, given the huge drop in both business and leisure travel. Hilton has just launched one such initiative, and there's even a pretty nice incentive to give it a try.
The WorkSpaces by Hilton day-use concept
With the WorkSpaces by Hilton concept, select Hilton-family properties can be booked for day-use, with the intent of them being used as offices. Maybe you're just looking for a quiet place to work from, and a hotel room could do the trick.

Here are some basic things to be aware of when it comes to WorkSpaces by Hilton:
This is available at select properties in the United States, Canada, and the United Kingdom
You earn Hilton Honors points and stay credits in the same way you would for an overnight stay, and can also take advantage of any promotions
Elite members, including Hilton Honors Gold and Hilton Honors Diamond members, can take advantage of elite perks including executive lounge access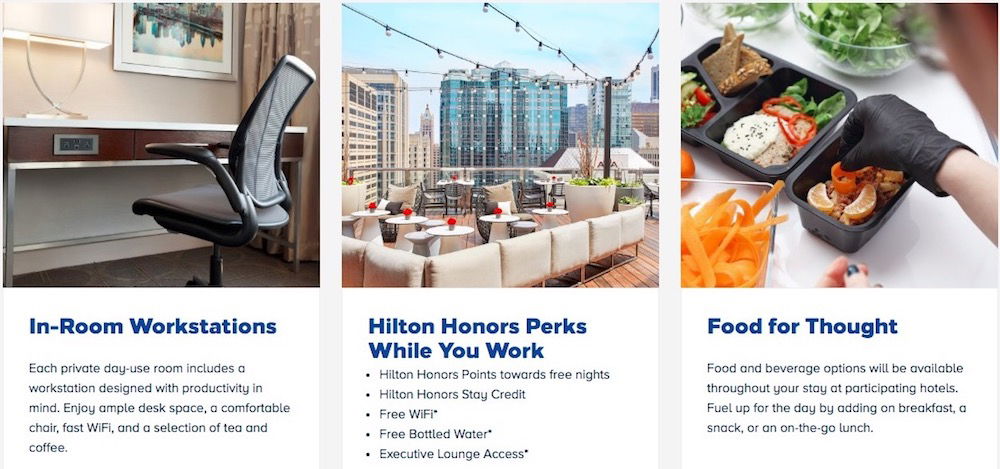 How to book WorkSpaces by Hilton rates
To book a WorkSpaces by Hilton rate, just select an eligible hotel, and then enter the check-in and check-out date as the same. If availability shows, then a WorkSpaces by Hilton rate is available.

I see many hotels that seem to start at $55 per day for this rate.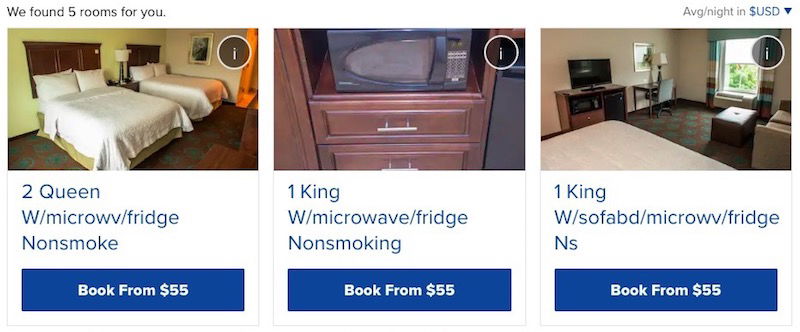 The rate codes for this are SRP DU and 1DY, but those should automatically populate.
Earn 10,000 bonus points for your first stay
Through March 31, 2021, Hilton Honors members can earn 10,000 Honors bonus points after their first stay with the WorkSpaces by Hilton rate.

Now, I should note that the terms state that to be eligible you must have received the offer directly from Hilton Honors, but this offer literally shows up on the WorkSpaces by Hilton homepage, so I feel pretty comfortable saying that I would assume this is open to all Honors members.
This is potentially a great deal. I value Hilton Honors points at ~0.5 cents each:
While a stay with this promotion won't likely be highly profitable for the points alone, it could be breakeven or let you come out slightly ahead. For some people this might be worth it, especially if you're looking to get out of the house for a day.
Bottom line
Hilton has launched the WorkSpaces by Hilton concept, whereby you can book day-use rates at select hotels, with the intent of using them as offices. Personally I couldn't see myself doing this regularly, especially as so many hotels have spent the past few years installing less comfortable desk setups in rooms.
However, many may enjoy giving this a try, especially with the current promotion for your first booking.
What do you make of the concept of using a hotel room as an office, and could you see yourself booking one of these rates?