I know it's Valentine's Day next week, but that's not really the angle at which I'm coming from this…
Booking Hilton day rooms is easy
There are all kinds of situations where it can be useful to book a day room (I'll talk more about that below), yet the major hotel groups often make it pretty hard to reserve rooms in this way. So I wanted to give Hilton a shoutout.
Among the most popular hotel groups in the United States, Hilton is the only one that consistently lets you book hotel rooms for a day use directly online, either through the website or app.
Just search the location you want to stay, and select the same check-in and check-out date, and you'll see any options that might be available (Hyatt, IHG, and Marriott, all don't let you search same day stays in this way).

Not all hotels will have day rates, though you'll find that this is pretty common at airport hotels. For example, using the above search for hotels around London Heathrow, you'll see a variety of options.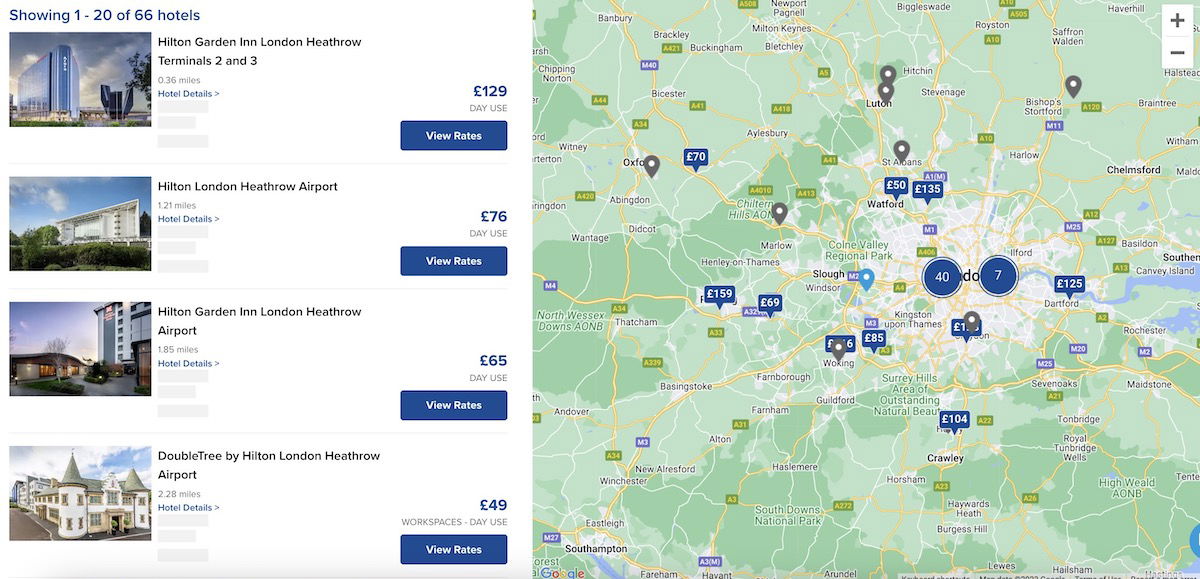 When you select a specific hotel, you'll see the exact terms associated with this. The hours vary — at many hotels you can stay from 9AM until 6PM, while other hotels might only let you stay from 10AM until 4PM.


If inventory is managed properly, this can be a win-win. Guests can get a day room when it's useful, while hotels can maximize revenue.
It's worth noting that hotels belonging to other major hotel groups also sometimes sell day rooms without actually showing them online. You often need to call or email, but that's so much less seamless than being able to book online.
Hilton Honors elite benefits & points on day room rates
Hilton Honors Gold and Hilton Honors Diamond benefits should also apply for day use rates, so this includes perks like executive lounge access, room upgrades, etc. Note, however, that you generally won't get a restaurant breakfast or food & beverage credit for these kinds of stays.
Furthermore, you should earn points for your stays at the same rates you otherwise would. Anecdotally you also earn elite night credits for these stays, though that seems to be more of an unofficial policy than anything else, since you're not actually staying the night.
When it's useful to book a day room
Around the start of the pandemic, we saw some hotels trying to market day rooms as an office for the day. However, there are lots of uses beyond that. Personally I value a day room at an airport hotel if I have a long layover.
There's nothing quite like being able to take a nap and shower, and just generally escape the hustle and bustle of the terminal.
Just as an example, I have an upcoming 10-hour daytime layover at Rome Airport, and I see that the Hilton Rome Airport has day rooms for around 100 Euro. To me that's well worth it to be able to nap for a few hours and have a quiet place to relax.

Even with a layover that's shorter than that, I'd personally pay a fair bit just to have four or so hours in a hotel room.
Bottom line
Hilton deserves credit for making it easy to book day rooms directly on its website. I appreciate the booking process, as other hotel groups make you call or email. I find day rooms to be super useful, especially when transiting an airport with a long layover.
Under what circumstances do you find hotel day rooms to be useful? Anyone else appreciate how easy Hilton makes it to book these?