Road Warriorette wrote a post yesterday linking to a Yahoo Travel article entitled "10 things never to say to a flight attendant." One of the 10 things is as follows:
Fetch Me …
We all wish we had a personal butler we could summon with the ring of a bell. But despite the presence of a call button above every airplane seat, the flight attendant is not that butler. "Fetch me a blanket" is a sure way to get on a flight attendant's bad side. Use the call button only when it's really necessary. If you want a glass of water, walk back to the galley and ask for it in person.
Now, in many cases I agree the above is accurate. Some US airlines are absolutely ridiculous, and I've even heard flight attendants go so far as referring to the call button as "the emergency call button." But I think it's far from being the case across the board. And in some cases I'd argue you're actually doing the flight attendant a courtesy by pushing the call button.
I think there are two major things at play here — whether you're flying a US airline or not, and whether you're in a premium cabin or not. Hear me out:
Pushing the flight attendant call button in economy (on a US or non-US airline)
So in economy class I agree you should generally avoid pushing the call button. The flight attendant to passenger ratio in economy class is often worse than 50:1, and when you factor in that midflight half of the flight attendants are often on break, you may be looking at a ratio of 100:1. It's not feasible for the flight attendant to provide "butler" service to everyone, as the article suggests.
On most airlines they'll set up a tray with drinks in the galley and invite people to serve themselves. That being said, if you're not in an aisle seat (and especially if the people you'd have to pass over to access the aisle are sleeping) and haven't seen a flight attendant pass by for a good amount of time, I don't think it's unreasonable to push the call button. This is probably generally viewed as being more acceptable on a foreign carrier than on US airlines.
Pushing the flight attendant call button in first or business class (on a non-US airline)

On non-US airlines I think it's always acceptable to push the call button for something service related. And I'll take it a step further. Aside from airlines that have onboard bars, I find most crews actually prefer that you push the call button rather than coming to the galley, at least between meals.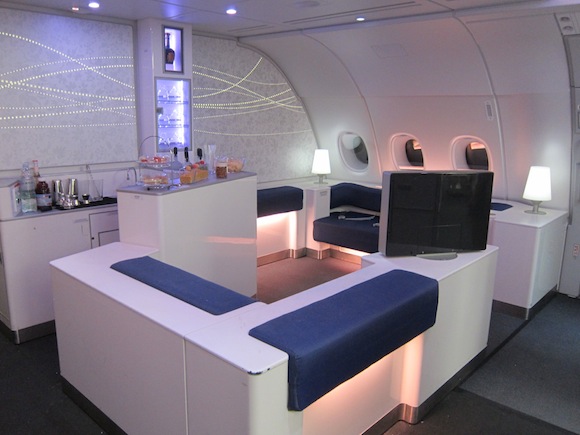 Korean Air A380 business class bar
What you might notice on most international carriers is that they have thick curtains between the galley and the rest of the cabin, so most of the time between meals the crews will draw the "curtains" around the galley. I've walked in on some really awkward situations while thinking I was doing them a favor by going to the galley to request something rather than pushing the call button.
Now if I'm going to the lavatory and see a crew member in sight then I might ask them for something, but I've found in the galley they're often eating, applying makeup, or doing other less kosher things. So by pushing the call button you're letting them present themselves to you as they'd like to be seen rather than basically opening their "curtain" uninvited.
Beyond that over the years I've enjoyed observing and getting to know the cultural differences between airlines when it comes to service approaches. For example, on Singapore Airlines I generally don't push the flight attendant call button, since even on a longhaul flight a crew member seems to pass through the cabin every 10-15 minutes throughout the flight. The service is just so proactive, and while they pass through several times an hour so you can easily "flag" them down, I find they're also extremely proactive in asking whether you want anything.
Cathay Pacific is exactly the opposite — they're spectacularly reactive. And that might sound sarcastic, but it's not. On Cathay Pacific you (hopefully) won't see a flight attendant once between meal services without calling them, and that's so that your privacy is maximized. But if you push the call button a flight attendant will cheerily appear within seconds.
Really the ideal middle ground is Emirates, which has in-seat phones from which you can order room service. 😉

Emirates A380 room service phone
Pushing the flight attendant call button in first or business class (on a US airline)
For premium cabins on US airlines I kind of take a hybrid approach between economy on foreign carriers and premium cabins on foreign carriers. Generally the galleys on US airlines don't have real curtains (they're more like nets), so the crews can't really hide from passengers. As a result I usually just get up to request a drink because I appreciate the opportunity to stretch my legs. Domestically I try to avoid pushing the call button, while internationally I don't mind pushing it in first or business class, though rarely do since I don't have much reason to do so.
Anyway, those are just my thoughts — I'm not claiming that my methods are right, but rather just that they were developed over millions of miles of premium cabin travel. 😉
Where do you stand on pushing the flight attendant call button? Would be great to hear from both passengers and flight attendants!