Update, 6AM Tuesday — Further details have been announced by DHS, please read this post for more information.
Update, 10PM Eastern — The Associated Press is reporting the electronics ban will apply to flights from Amman, Abu Dhabi, Cairo, Casablanca, Dubai, Doha, Istanbul, Jeddah, Kuwait City, and Riyadh. Developing.
---
What a bizarre day…
Earlier I posted about how Royal Jordanian announced that in-cabin electronics would would be banned on flights to/from the U.S. starting tomorrow, March 21, 2017. With the exception of cell phones, all electronics would have to be checked through to the final destination.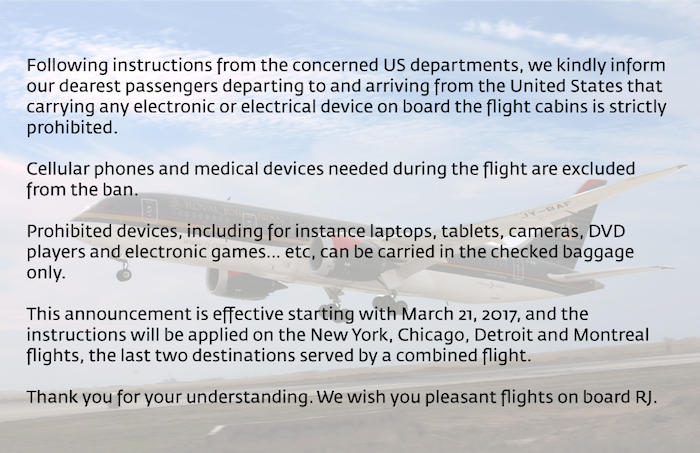 As more information emerged, it became clear that Royal Jordanian wasn't just misunderstanding some policy, but that they were in fact following some sort of directive, which is apparently impacting people traveling from 13 different countries to the U.S.
What have airlines & authorities said about the electronics ban?
What makes this story even stranger is that Royal Jordanian has in the meantime deleted their Tweet about the electronics ban, instead Tweeting that more information will be announced soon.
Further updates will be announced soon regarding #electronicsban.

— Royal Jordanian (@RoyalJordanian) March 20, 2017
At the same time Saudia has posted about the new policy (though only in Arabic). What the heck?! The communication here is just horrible — can passengers traveling to the U.S. on Royal Jordanian tomorrow show up with electronics in their carry-on, or no?
تنويه لضيوف #الخطوط_السعودية بشأن منع اصطحاب أجهزة الحواسيب المحمولة واللوحية داخل الطائرة على الرحلات المتجهة للولايات المتحدة الأمريكية pic.twitter.com/GSJ47hJgpU

— السعودية | SAUDIA (@Saudi_Airlines) March 20, 2017
EgyptAir has also been asked about the ban, and responded by saying that they only issue airline tickets, and to ask the "corresponding authorities." Helpful. 😉
https://twitter.com/EGYPTAIR/status/843950012467953664
The Department of Homeland Security has only released a statement saying that "we have no comment on potential security precautions, but will provide any update as appropriate."
I understand that they don't want to reveal what the threats are, etc., but you'd think it would at least be in everyone's best interest to outline the policy, so that travelers can prepare properly.
What's the logic behind the electronics ban?
While there has been a lot of speculation about what the actual policy is, I haven't seen too much discussion about what the logic behind such a policy could be. I'm sure I'm not the only one who is scratching their head, trying to understand this better.
Let me be the first to say that I'm horrible with technology and am also not a security expert. So I'm talking out loud here, and am hoping some of you (who are actually experts in this area) can chime in, so we can all better understand what's going on.
Is the fear that a bomb will be masked as an electronic device? This has long been a fear, and is usually solved by requesting that all electronics be powered on during a security inspection. Heck, I have to do this every time I go through a secondary inspection.
Furthermore, if the fear is that bombs are masked as electronic devices, then how is having them checked solving anything? At least in the past, some bombs have been detonated in the cargo hold using a timer.
Furthermore, let's keep in mind that in the past there were regulations banning lithium-ion batteries from being checked in the cargo hold. I don't personally know how real that risk is, though if the ICAO put out a directive regarding that in the past, I assume there was some merit to it. Are airlines now supposed to encourage passengers to check lithium-ion batteries?!
Is the fear that an electronic device will be used to somehow hack an aircraft system? If that is in fact a possibility, couldn't that also be done from a smartphone? What's the logic behind banning an iPad Mini but not an iPhone 7 Plus?
If only passengers traveling on certain routes are being banned, what's to prevent them from traveling though a third country to get to the U.S.? For example, instead of traveling from Amman to New York they could travel from Amman to Frankfurt to New York, and then bring on those horribly dangerous laptops and iPads?
Everything about this situation seems so poorly executed:
I understand them not wanting to reveal possible risks, but they could at least communicate the policy clearly so that passengers can prepare properly
I'd love to know what I'm missing about how this could possibly be enhancing safety; according to the ICAO there's a risk to checking lithium-ion batteries, so how are we safer by telling people they can't carry-on an iPad Mini, while saying that an iPhone 7 Plus is okay?
Please chime in, security experts — I'm sure I'm not the only one who is curious!