I'm quite conflicted about whether I should give a perfectly fine Uber driver a 1-star or 5-star rating for the ride I just took. Let me explain.
A few things I'd like to acknowledge about Uber first
Before I share my specific situation, I'd like to acknowledge a few things:
I realize Uber drivers depend on a good rating to make a living. If their rating falls below a certain number they get kicked out, and I certainly don't want that to happen (unless they're actually bad)
When Uber first started there was absolutely no expectation of tipping. However, over time they've softened their stance, and now it has gotten to the point where many drivers expect tips. I'm not opposed to Uber adding in-app tipping, though I find it so annoying that the only option for tipping is in cash, since I rarely carry cash. It's sad that taxis provide more of a cashless experience than Ubers do nowadays.
In many markets I think UberX is too cheap, to the point that I almost feel guilty. For example, in some markets an UberX is about a third the price of a taxi, and in many cases the drivers probably aren't even making minimum wage if there's no surge or incentives in place.
Why am I conflicted about how to rate an Uber driver?
Yesterday I took an UberSELECT in a market where UberSELECT is priced more than 2.5x as much as UberX (it was a fairly short ride and I had a credit to redeem, so it didn't really "cost" me extra). So I actually didn't feel guilty not tipping, since I thought the price was fair to begin with. As a matter of fact, one of the reasons I ordered an UberSELECT is because I didn't have cash on me, and without surge pricing, I would have felt like I should have tipped an UberX driver.
The ride was fine, and I'd like to think that I was being a good rider:
I was waiting outside for the driver as he pulled up.
When I got in the car I thanked the driver and asked how he was doing. He wasn't very talkative, so I got the hint.
I didn't make any phone calls, didn't take anything out of his car, and just quietly sat there looking at my phone.
When I exited the car I said "thanks very much," and closed the door gently.
I'm super careful when it comes to how I behave in others' cars, and I don't think there's anything he could have faulted me for in terms of how I acted as a passenger. However, I didn't tip, primarily because I didn't feel it was necessary.
Just recently Uber made changes to their ratings system, and now your rating is very clearly displayed in your profile, so you don't even have to search to find it. Before I took this ride I saw my rating, something I noticed specifically because it was the first time my rating proactively popped up in my account.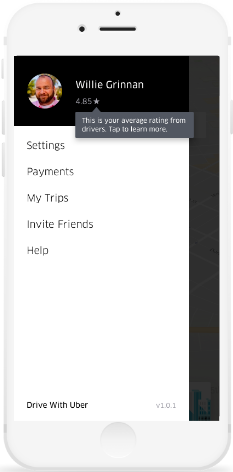 Then when the ride was the complete I was going to rate the guy, but on the same page it also showed my rating. I wasn't even going to look at it, but I noticed that it had dropped by 0.01 stars. Now, I've taken at least a thousand Uber rides over the years (if not more), so I know he didn't give me five stars, and I suspect he probably gave me one star.
So I'm conflicted. On one hand, the ride was fine, and unless something goes horribly wrong, I give 5-stars. But I also know that he gave me a bad rating, so why would I give him a good rating? I suspect he did so because I didn't tip, in which case this all seems like a vicious cycle. I think I was being reasonable by not tipping in an UberSELECT, but if he thinks not tipping is unacceptable, then I'm not sure he's someone I'd want to ride with again (and clearly the feeling is mutual).
Maybe I'm being petty and even vindictive here, and that's not the intent. However, I suspect this will become a much more common experience, now that passenger ratings are prominently displayed. For me the concept of Uber is about mutual respect, and if a driver is trying to punish me for Uber's policies, then it seems like that's a one-way street.
What say you guys — if an Uber driver gives you a low score for not tipping, do you give them a 5-star score anyway, or…?