Frontier Airlines is a whole different kind of animal. Or so claimed their marketing campaign way back in 2003. That was back when they were sort of a quirky regional airline that managed to attract a loyal following among the anti-corporate crowd common to the mountain west. They went head-to-head with United in Denver for years, becoming equally famous for the lovable animals on the tails of their planes and the chocolate chip cookies baked in their onboard ovens.
Nowadays, Frontier is still an animal. But instead of that cuddly koala, they are now more like a raccoon or opossum that skitters around the edges of civilization, tipping over trash cans in search of a meal made from someone else's leftovers. That's because Frontier's current strategy is to dart in and out of juicy markets that were once dominated by the legacies. If a route works after a few months, they keep it. If not, they pack up shop and head elsewhere. For sure, they offer some incredible fares, but then try to sell you everything and the kitchen sink along the way.
I've flown Frontier a few times, but certainly not much. As a United Premier 1K, I'm willing to pay a little more for my ticket since it will come with an Economy Plus seat, the chance at an upgrade, more valuable miles, and better protection in the case of travel snafus.
But even I have my price.
And for a recent work trip to the east coast, Frontier was offering a fare that was several hundred dollars less than United, even when I included the $30 fee I'd have to pay to check a bag. Sure the schedule sucked — a redeye leaving after midnight — but for that kind of savings, I figured I could survive.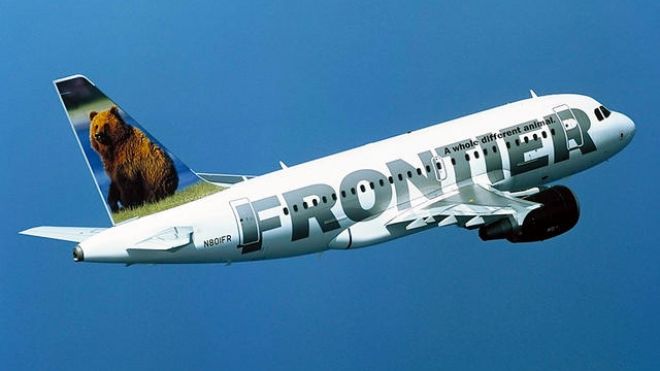 Seat assignments on Frontier
For my flight, Frontier wanted an extra $12 to select a seat in the back of the plane. Or I could pay $24 to select a regular seat towards the front. Or $40 for an extra legroom seat in the first couple of rows or the exit. It's possible that Frontier offers a few middle seats in the back for free, but I didn't see any on my flight.
As much as the extra space seemed nice, my thinking was that if you're gonna go cheap — and I was most assuredly going cheap on this trip — you gotta go all-in. Plus, I was leaving my wife and three young kids at home for once, meaning that even the middle seat next to the lav was going to seem like a spa compared to constantly adjusting someone's tablet or opening endless packages of string cheese.
At the time I bought my ticket — about a month in advance — the seat map showed the plane was mostly empty. I mistakenly took this to mean that the flight was lightly booked, which seemed to make sense considering this was a miserable redeye leaving at 1:20 AM on a Sunday morning. I wish I had taken a screen shot of the seat map at the time, but basically there were just a smattering of occupied seats in the $12 section, with almost no one in the premium seats.
Here's what the seat map looks like for an upcoming flight on this route:


Frontier seat map for a future flight on this route
Anyway, I decided to save the $12 and take my chances.
Frontier's online check-in opened 24 hours prior to departure
As the day of the departure approached, I periodically checked the seat map to see if my gambit was going to pay off. The back of the plane definitely had a few more seats occupied than before, but still not that many.
But then when check-in rolled around, the back started to fill rapidly. That's because Frontier automatically assigns seats to those who haven't paid for a seat assignment — and apparently that includes just about everyone. I'm not sure what the seat allocation algorithm looks like, but I imagine they more or less go front to back handing out the $12 seats, all the while hoping they can entice a few folks to buy-up to the premium seats.
By perhaps midday on Saturday — 12 hours from departure — all of the cheap seats were taken. But the $24 seats were mostly available. I started to realize that this flight was not nearly as empty as I had hoped. A quick check on the Frontier website indicated that they weren't even selling tickets for it anyone. Ruh roh.
But I still didn't see much benefit to completing check-in. I mean, if I'm just going to end up in a middle seat, it might as well be in the front of the plane.
So I stuck to the strategy of monitoring the seat map, but not actually checking in.
Coming down to the wire
As I left for the airport, nearly all of the $12 and $24 seats were occupied. Two $12 seats momentarily became available as you'll see below, but they soon filled as well.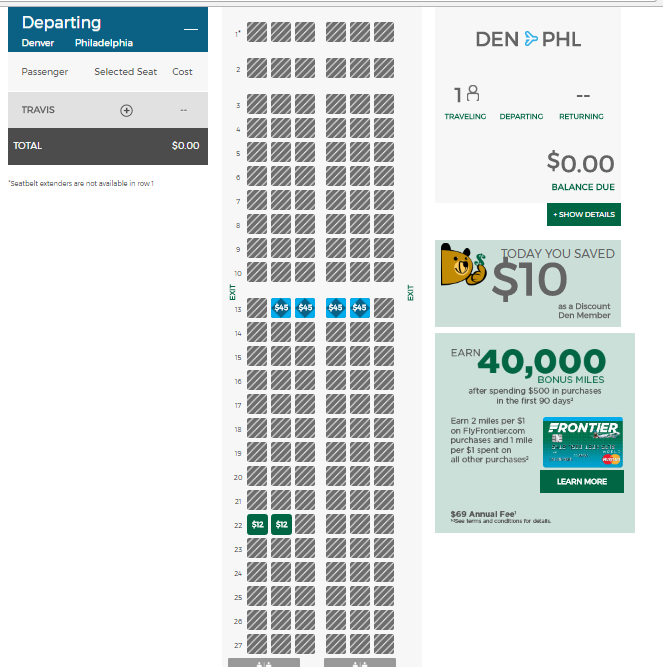 Seat map for my Frontier flight a few hours prior to departure
By the time I got to the airport, the only seat on the entire flight that was open was an exit row aisle. I was sure hoping it had my name on it.
I decided it couldn't get any better, so I decided to finally take my shot and completed check-in, now barely an hour before departure. I held my breath as the app displayed my boarding pass — I had been assigned seat number "0." Did that mean I got to sit in the cockpit?
Actually, I figured that meant I still had a chance at assigned that awesome exit row seat. Or it might mean I'd be the first passenger to get involuntarily denied boarding (since I didn't have a seat assignment and was flying on a rock-bottom fare). It would be feast or famine.
A few minutes later I arrived at the counter, ready to check my bag. The friendly agent chatted a bit, typed, and then asked if I could lift 35 pounds. I hadn't been to the gym that week, but assured him I could. He then handed me boarding pass for seat 13 D, the exit row aisle. Arguably the best seat on the plane.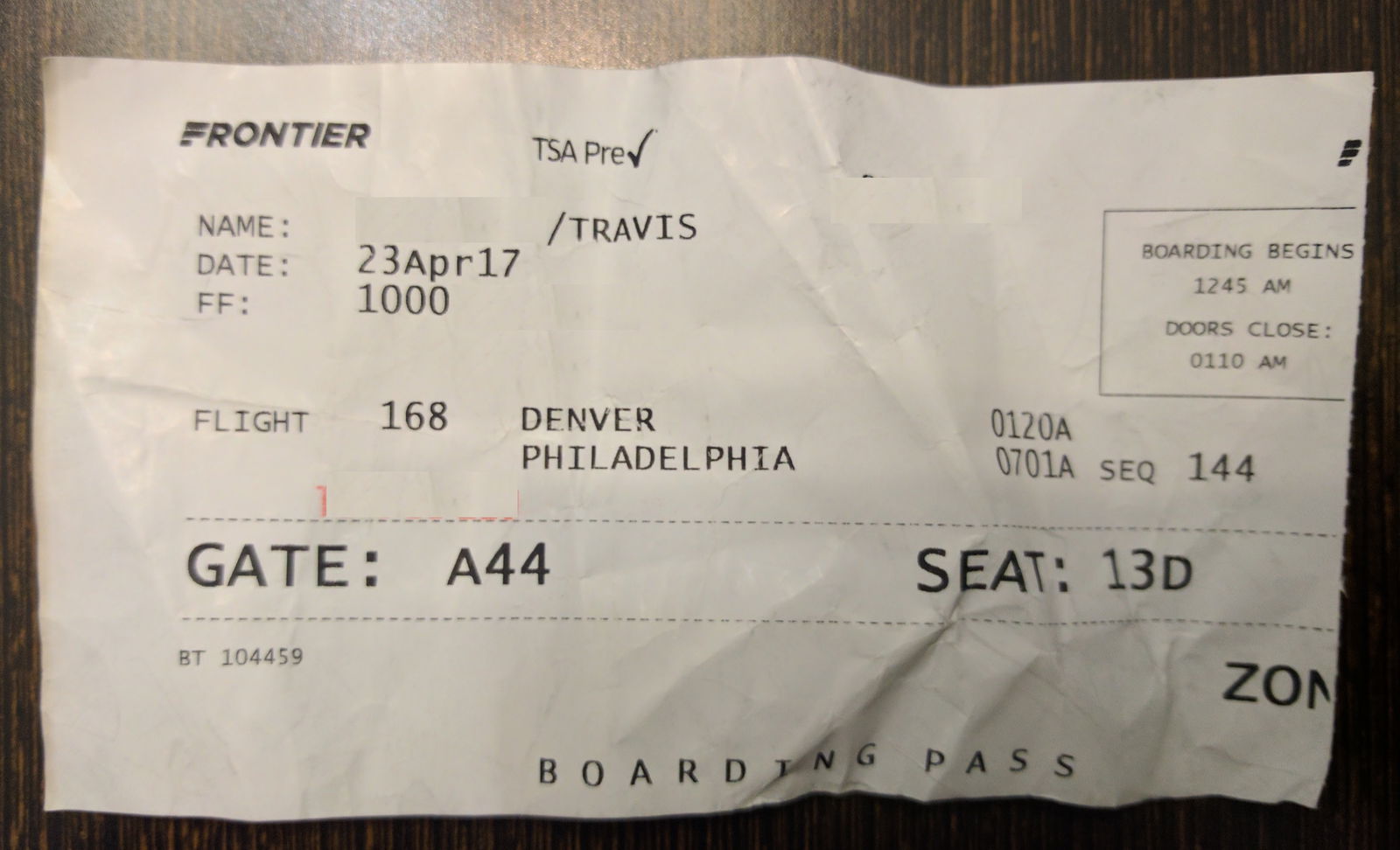 But now I was curious. How close had I come to getting IDB'ed? The agent said the flight was overbooked by two. And he had just assigned me the last seat. He said he hoped the two guys behind me weren't going to Philly. (I think they were.)
In the end, I presume everyone got on since the exit row aisle across from me remained empty. In fact, I think that was the only empty seat on the plane.
Bottom Line
By waiting until all of the regular seats had been assigned, I was able to game the Frontier seat allocation algorithm to score a $40 exit row seat for free.
This strategy isn't without risk, however, as I imagine that I might have been one of the first passengers to be denied boarding should the flight have ended up oversold since I didn't have a seat assignment. But given that I didn't need to be in Philadelphia until the following day anyway, I figured it was worth the risk.
Have you ever tried to game the seat allocation algorithm on a low-cost carrier? How did it turn out?