While overall demand for air travel is low at the moment, we are seeing a number of rescue and repatriation flights to pick up stranded travelers, as well as a bunch of extra cargo flights to get supplies around.
Wamos Air is a Spanish charter airline that has a fleet of over a dozen planes, including four 747-400s. They often operate these on behalf of other airlines. One of those planes has been in Central America the past few days.
The 747-400 in question has the registration code EC-KXN, and is 26 years old. The plane flew:
From Madrid to Guatemala City (10hr20min) on Thursday
From Guatemala City to San Salvador (26min) on Friday
From San Salvador to San Pedro Sula (35min) on Friday
From San Pedro Sula to Madrid (9hr19min) on Friday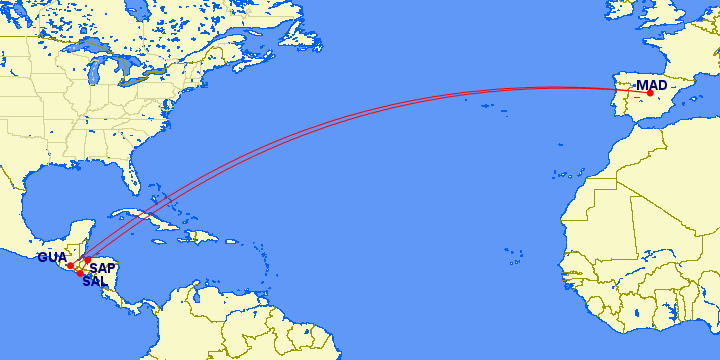 The plane was apparently carrying about 400 tourists who were looking to get back to Spain, presumably from all three of the countries in the region.
While exact details of the situation aren't known, there's video footage of the 747-400 being pushed back manually in San Pedro Sula yesterday. While a pushback tug would ordinarily be used, in this case people were pushing back the plane. I can count at least two dozen people helping out.
You can see the video below:
While I have no inside knowledge here, my assumption would be that they didn't have a pushback tug that worked for the situation. I'm not sure if that's because the airport just doesn't have one for a 747, if they didn't have the part needed to connect the plane to the tug, or what.
The airport does see regular Boeing 787 service from Madrid on Air Europa, so it's not like the airport doesn't get big planes. However, a fully loaded 747-400 has nearly double the weight of a fully loaded 787-8, and can weigh over 900,000 pounds.
Kinda cool, eh?