I'd like to think I'm fairly in tune with what's going on in the merger between American and US Airways. Both because I cover it in great detail on the blog, and because I fly ~200,000 miles per year on the combined airlines. I get the operational differences between the two airlines, and how you can't book codeshare flights if you want to upgrade.
And I get that the airlines are on separate reservations systems, which is the biggest hurdle remaining in the merger (and that will be solved later this year).
But I was caught off guard today, which is entirely my fault. Because I made an assumption. And as my high school science teacher said "you know, an assumption is just making an "ass" of "u" and "me."
As of 2015, AAdvantage added complimentary same day confirmed changes as an Executive Platinum perk. In my opinion this was an area where American was really playing catch up, since Alaska, Delta, United, etc., all have considerably more generous same day confirmed change policies.

Well, I was scheduled to fly US Airways today, and wanted to change around flights. I saw there was availability on the later flight I wanted to take, and phoned up the US Airways Executive Platinum desk. I told the agent I wanted to make a same day confirmed change, and she said "we don't have that."
I was puzzled, since I thought this was an Executive Platinum benefit which applied on both American and US Airways. After she explained the rules to me I said "okay that's fine, I'll just standby for the later flight then." She said "you can't do that either, you can just standby for an earlier flight."
That truly puzzled me, so I dug into US Airways' standby and same day change policy. The only sort of flight changes which they allow are under the MoveUp program:
We allow you to move up to an earlier flight on the day of departure on US Airways flights. You must be at the airport to MoveUp. The MoveUp fee is $75 for flights within the United States, Latin America, the Caribbean and Canada. It's $150 to move up on flights to/from Europe, Israel and/or South America.
You can move up for $75/$150 if the flight is:

Within 6 hours of your original scheduled departure
On the same day (departing after 3 AM) with the same number of stops
All flights have open seats (if you have connecting flights)
Flights that depart after midnight and before 3 AM count as the previous day.

We waive the MoveUp fee for AAdvantage elite status members. However, the same rules apply: the flight must be within 6 hours of your original scheduled departure, and on the same day with the same number of stops.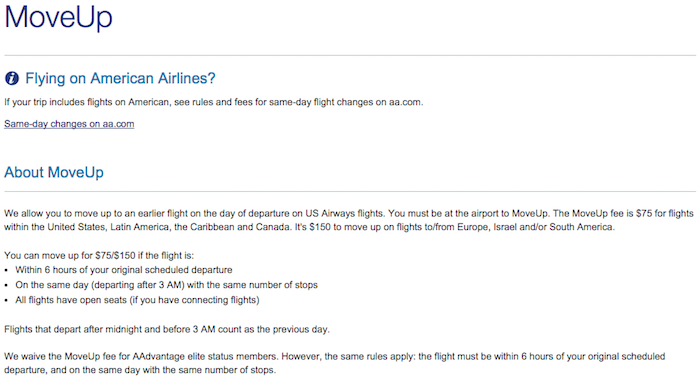 So to recap:
Rather than allowing same day changes, US Airways only lets you make a confirmed change to a flight up to six hours before your original flight
This can only be done at the airport, and not over the phone or online, which kind of eliminates much of the benefit of making a confirmed change
You can't even standby for a flight which departs more than six hours earlier or even a minute after your original departure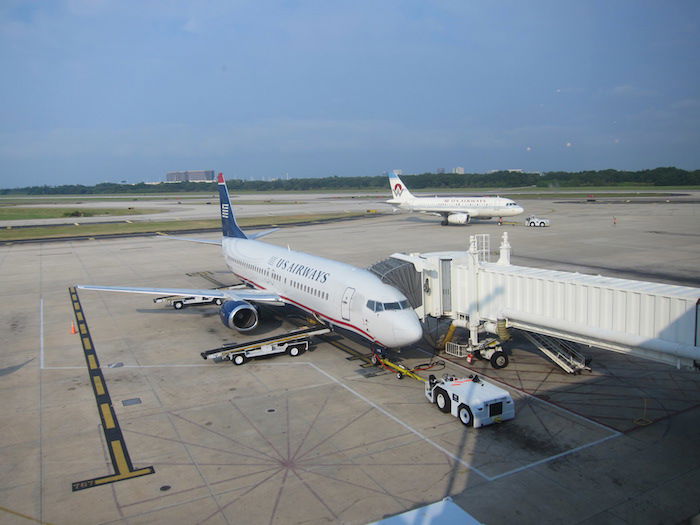 Bottom line
That's a really customer-unfriendly policy, though ultimately it's on me for not reading the terms carefully. And I figure if it's something I didn't know, there are at least some other people out there who didn't know either.
I'm still trying to decide whether to pay the $200 to make the change, or if I should try out the "flat tire" rule in this instance, and hope they'll book me on the next flight.
I guess this is another thing I'm looking forward to with both American and US Airways getting on the same reservations system later this year.
Am I the only one who had no clue US Airways' same day change policy was so bad?